Meet the Researcher – Oliver Scourfield (BSc 2018, MSc 2020)
16 September 2021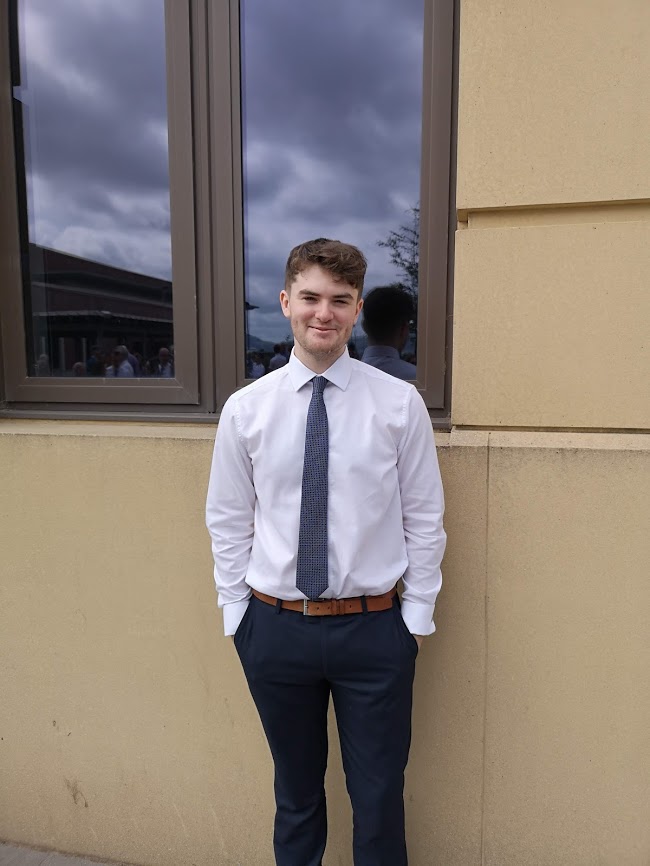 Oliver Scourfield (BSc 2018, MSc 2020) is a PhD assistant in the Gallimore/Godkin lab in Cardiff University's School of Medicine. His research focuses on malignant mesothelioma, a type of cancer that affects the lungs, generally caused by asbestos exposure, which in the majority of cases proves fatal. 
Tell us a bit about your research? 
The Gallimore/Godkin lab focuses on the relationship between the immune system and cancer. Our immune system, which protects us from viruses and other diseases, also helps to destroy cancers. We are looking to develop new treatments which will boost particular cells of the immune system, called "T cells", and promote the targeted killing of cancers.

My PhD focuses on a particular cancer called "Malignant mesothelioma". Mesothelioma typically affects the lungs and is almost always caused by exposure to asbestos. Unfortunately, a mesothelioma diagnosis is usually fatal so there is urgent need to research and develop new treatments.
Over the course of the PhD, I will be investigating the relationship between the immune system and mesothelioma and looking for ways to improve the immune response to this cancer.
What is your hope for your research and how it might benefit people in the future?
Mesothelioma cells display a particular molecule, called 5T4, which is rarely displayed on healthy cells. Manipulating the immune system to target this molecule could offer a really specific therapy, which would offer much fewer side effects than chemotherapy.
What drew you to cancer research?
I've always enjoyed science throughout my education and as I progressed through university, I soon realised that I wanted to work within the field of cancer research. Cancer affects everyone and the opportunity to contribute to an exciting field of science really motivates me.  
What made you come to study at Cardiff?
I thoroughly enjoyed my previous studies at Cardiff University and felt that this was the right place and environment for me to conduct my PhD. Cardiff is world-renowned for its academic research and I believe that studying here will provide me with great experiences for my future career.
What role have donors played in your research?
I am fortunate enough that my research has been funded by a donor, which allows me to carry out a fully-funded PhD scholarship. I hope that throughout my studies, I will achieve exciting new findings in the area of mesothelioma and cancer immunotherapy, which I can share with my donor, who has an interest in this disease.

What are your favourite things about Cardiff? 
Cardiff is a vibrant city with lots of things to experience and enjoy. As a young person, I appreciate the wealth of opportunities for a great social life which will help my work-life balance as a PhD student. I enjoy being within a diverse capital city, as well as being so close to coastal areas, as I grew up near the coast in Swansea.
What do you enjoy doing in your spare time?
I'm an avid sports fan and particularly enjoy watching football, tennis and rugby. I often go and watch my local team, Swansea City, play on the weekends. Aside from sports, I also love watching the latest film releases in the cinema and attending live music events.