Examined Life: Agnes Xavier-Phillips JP DL (LLB 1983)
23 June 2021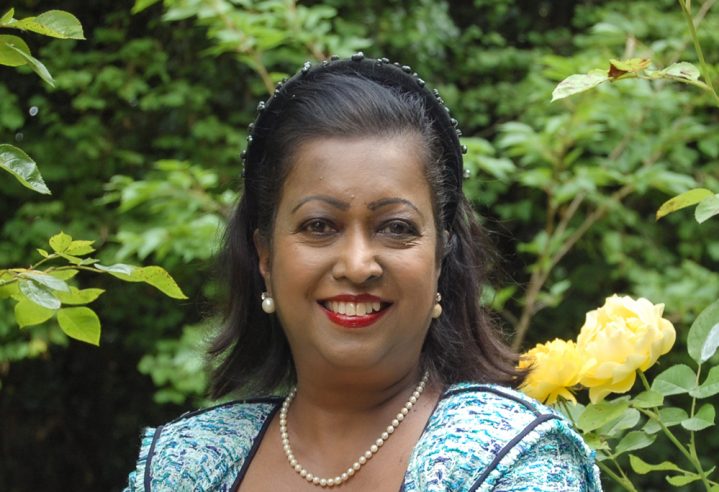 Agnes Xavier-Phillips JP DL (LLB 1983) is a woman who's not afraid to say yes to an opportunity. During her career she's worked as a teacher, nurse, lawyer, and now volunteers her time and expertise to support a range of organisations including Cardiff University. Currently she is a Justice of the Peace, Deputy Lieutenant, Trustee, Director, Liveryman, and Chair of the PR Committee and Senior Court Assistant of the Worshipful Livery Company of Wales. Agnes talks to us about her life, and what has driven her to succeed in such a wide range of roles.

Each of my careers have taught me a different skill set. And the skills I learnt in each of those different roles, were essential for the next. Each career paved the way for the following one. But I'm probably the only solicitor who's delivered 60 babies!

I am best described as a British Malaysian Indian; born and bred in Malaysia, been in the UK for over 40 years, and my ethnic origin is Indian. When I married, I retained my maiden name Xavier, in honour of my father, who was my biggest influence, my mentor, and I'm the woman I am today because of him.

I went to a convent school in Malaysia and after finishing my studies, an opportunity arose at my school for a supply teacher. It was too good an opportunity to resist and set me on a path to teaching. I thoroughly enjoyed it and taught for almost two years. At the end of my two years, I was asked to consider a career in teaching and pursue the teacher's training course which I declined, as my ambition was to be a lawyer.

At the time, many of my classmates and colleagues were coming to the UK to train as nurses. They would send me postcards from their trips around Europe and I was green with envy! What better way to travel the world and still have an occupation? So I decided I would become a nurse, travel and then study law later. I was accepted at the King Edward Memorial Hospital in Ealing and came to London.

Nursing was physically hard work but not to be beaten, I persevered, excelled in my work, and started to enjoy it. I set myself a three-month trial period which turned into three years, and I qualified as a State Registered Nurse (SRN), and after a further 10 months training qualified as a State Certified Midwife. Subsequently I was offered the role of Staff Nurse and later promoted to Senior Staff Nurse of a gynaecology ward. After six months I was promoted to Ward Sister and I took responsibility of a busy 33-bedded ward attended by 3 Consultants, 3 Registrars, 3 House Doctors, medical students and 10 nursing staff. I was very proud of my ward which ran like clockwork! I continued in my role as Sister for two years and was then given the option to become a Nursing Officer. This was an accolade, but I had to turn it down as by then I had already secured my place at Cardiff University to pursue my ambition to read law! I was very proud of my meteoric rise in my nursing career.

I came to Cardiff, which was difficult to get used to after London, but after three months of weekend trips back and forth, I settled down. I completed my law degree and went to Guilford to complete my Law Society finals. I then returned to Cardiff and completed my training contract with Edwards, Geldard and Shepherd and qualified as a solicitor and stayed on as an assistant solicitor for two years specialising in civil litigation.

An offer came by which I accepted to work in-house for NatWest Bank in Cardiff as a Senior Legal Counsel. I really enjoyed my job and represented the company at trade bodies and was a member of the Access to Justice Working Party on the Woolf Reforms – the most radical reform of the rules of the courts in 30 years! I also qualified as a Mediator and spent the next 12 years at NatWest, and rose from Senior Legal Counsel to managing the litigation department.
Following a merger, I was given an opportunity to work for Abbey National in London. As that meant relocation, I agreed to oversee the transition for a three-month period only. But I enjoyed the challenge, decided to take on the role permanently and was promoted to Head of Legal. After another couple of years, we had another merger and this time it was GE, a global multi-national company. I worked for them until 2015 during which time I was promoted to General Counsel and was part of the Senior Executive Management Team. I was also appointed the Hub Leader of the GE Women's Network and was responsible for successfully embedding it into the newly merged business.

By 2015 I'd been commuting back and forth between Wales and London for almost 15 years, and having reached the peak of my legal career, decided it was time to stop full-time work. I embarked on a three-year travel plan and travelled the world with no plans of working. In the interim, as I was repeatedly head hunted, I decided to pursue a portfolio career mainly based on volunteer work. I wanted to give something back and use my skills, expertise, and experience to benefit other organisations and the community.

After a long absence I had to reconnect with Cardiff, and joined the Cardiff Business Club, and became Vice President Member. I then became a member of Welsh Water Dwr Cymru and it was very refreshing after years of working for financial institutions to support a not-for profit company.
I was later appointed a JP/Magistrate to the Mid Wales Bench and subsequently appointed a Council, Audit and Risk and Honours Committee Member of Cardiff University. In addition to being a Freeman of the City of London, I am a Liveryman of the Solicitors, Arbitrators and Welsh Livery Companies and a Senior Court Assistant and Chair of the PR Committee of the Welsh Livery. I'm a Director of Ffin Dance, professional dance company and in 2019 I was honoured to be appointed Deputy Lieutenant of Gwent.

I wear a lot of different hats, but I only put my name to things where I can deliver and make a difference. I am very passionate about the work I do and set myself high standards, as I always aim to succeed and excel.

My motto is; you are what you are because of the choices you make in life. I am what I am today because of the choices I have made. They brought me here!