Meet the new Head of the School of Engineering
28 April 2021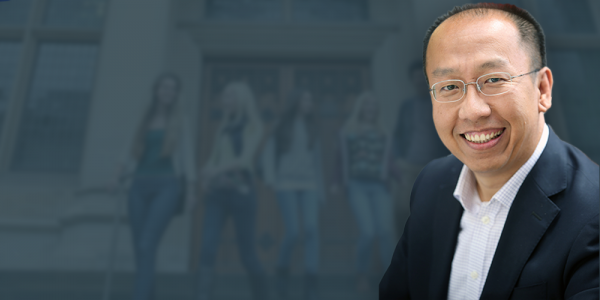 After twelve years at the School of Engineering, Professor Jianzhong Wu was appointed Head of the School in September 2020, amid the pandemic. We spoke to him about leading the School through these challenging times, his priorities, and ambitions for the future.
In 2008 Cardiff University received funding from the UK Research Council to set up a new renewable energy centre. Jianzhong Wu came from the University of Manchester to join the centre as a Lecturer.

He developed his career in Cardiff and was promoted to Senior Lecturer in 2013, Reader in 2014 and Professor in 2015. Previously he spent two years as Research Fellow in the University of Manchester, a year as Associate Professor and two years as Research Associate in Tianjin University.

How have you found the first eight months of being in post?

I am really enjoying my new role, although it has been challenging due to the COVID-19 pandemic. I am lucky to have a strong team and have received excellent support from the School, College and the University. All the staff at the School of Engineering have been extremely busy since the start of this academic year but have successfully manged to reopen our building to our staff and students, with strict safety measures in place. We worked hard to establish an effective way to deliver blended teaching and keep our students and staff safe.

We have also been working hard to finalise our Research Excellence Framework 2021 submission, and I am glad to say that what we have delivered is strong.

What were your initial impressions of the School and its people?

I joined Cardiff University as a Lecturer in 2008 and had a great experience of benefiting from the supportive environment of the School, especially as an early career researcher from an ethnic minority background. Colleagues in the School made me feel at home. I am keen to help ensure that present and future students and staff in the School can benefit in a similar way.

What are your thoughts on Cardiff as a city?

My hometown is Tangshan city in China, which is famous for coal mining which began in 1879. Similarly, South Wales has a long coal mining history and Cardiff was a major coal-exporting port to the world. Interestingly, I found I have an inherent emotional connection with Cardiff, and I started to like this city from the first time I visited.

How do you see working with the alumni community in future?

We keep in frequent contact with around 20,000 School of Engineering alumni. I enjoy watching the transition of our alumni from graduate to professional, and many then onto leaders in their institutions. I am proud to see that our education is making a big difference in their career development, and that through our alumni, our education is making contributions to the progress of communities around the world.

As graduates of the School, our alumni have a special connection with the University as loyal supporters and our best ambassadors, offering invaluable promotion across their personal and professional networks. I am extremely keen to strengthen the links with our alumni community, which allows both the School and our alumni to benefit from the skills and experience of our graduates.

We want to celebrate the successes of our alumni as much as we can and would love to share alumni stories and news, which serve as shining examples of the kind of people that the School produces.

We would also like to involve our alumni to offer practical support to our students by way of work placements and mentoring to help them launch their careers. We invite our alumni to share their experiences with our prospective and current students both digitally and in person where possible.

What are your hopes and priorities for the future of the School?

Engineering is a driver of progress of civilisation and improving the quality of life, and is an engine of innovation, productivity, and growth. The world is on the verge of a new green industrial revolution with a great deal of uncertainty and change ahead, but also great opportunities. We plan to work closely with our students, staff, alumni, and other stakeholders to create and implement a new plan for future of the School.

Our School mission is to drive a sustainable and brighter future for Wales, the UK and the world through the development of engineering leaders, creation of innovative technology, and delivery of real impact. Our vision is to be a thriving, supportive and inclusive international centre of excellence in new engineering education, and to deliver impactful research and responsible innovation that addresses the key global challenges.

For teaching and learning our priority is to continue pioneering an exciting new approach to undergraduate and postgraduate education focusing on problem-based active learning, enhancing creativity, interdisciplinarity and learning experience.

We hope that our enhanced undergraduate and postgraduate programmes, which are more globally attractive and locally relevant, will attract gifted and inspired students from a diverse range of backgrounds.

In the future we will strengthen our academic base and continue to build depth, capacity and critical mass in our five key interdisciplinary priority research areas – Sustainable Energy, Advanced Manufacturing, Civil Infrastructure, Compound Semiconductors and Applications, and Engineering for Health – to enable large-scale collaborative projects that deliver a wide range of impact.

We plan to invest strategically in modernising our buildings and infrastructure, particularly enhanced teaching and learning spaces, new research labs and improved facilities.

We are thankful to our alumni for the valuable contribution they make to our engineering community and hope to maintain a strong connection with our alumni community in the future.
Find out more about volunteering your time to help inspire and support the next generation of Cardiff University students and alumni.