Meet the Volunteer – Glyn Lloyd
26 February 2021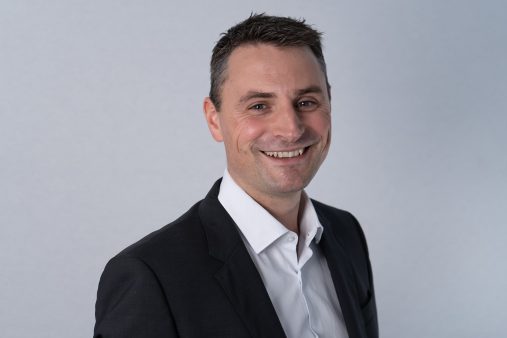 Glyn Lloyd (LLB 2002, MSc 2003, PGDip 2007, PhD 2008) is Partner and Founder of Cardiff-based Newfields Law, a firm which specialises in immigration law. Having volunteered as student, Glyn has continued to do so as an alumnus, sharing his experience and expertise to help support students realise their potential, regardless of their background.
What inspired you to offer your time to support the University?
I'm from a non-higher education background myself and can empathise with the challenges that brings. I had no professional connections or any family within the legal sector, and I didn't truly understand what a career in law involved until I started applying for training contracts after graduating.
This has certainly shaped my outlook and as an employer now myself, I feel particularly strong about promoting equality and diversity in law. It's vital that we support aspiring lawyers by raising awareness of the opportunities in the profession.
Can you tell us a little about the volunteer roles you've undertaken for the University?
As a student I volunteered in the widening participation team at the University, which aimed to break down the barriers to higher education and support students to realise their potential. After spending some five years in private practice as a solicitor, I returned to the University to take up the role of Head of Advice in Student Support. My remit brought me back into contact with student groups and communities from various backgrounds, providing dedicated support to those joining the University and to existing students.
Since leaving the University, I have established my own firm, but I remain passionate about widening participation and continue to collaborate with the Law School. I speak at events as a volunteer and engage with students through various initiatives that raise awareness about studying law and pursuing a career in the legal profession.
Through Newfields, I've been able to offer work experience placements in addition to paid employment to those studying at Cardiff University including its graduates. As well as supporting the students, our collaborations have helped to diversify the business which means our clients can better relate to our advisors. It is great to be working within an environment that breaks down the traditional hierarchies that still exist in many legal and non-legal organisations.

How has volunteering helped or benefitted you personally and professionally?
I undertook many volunteering opportunities whilst I was a student and as a graduate. These experiences have collectively shaped my perspective, and are the reasons we make a concerted effort, as a firm, to provide opportunities to others. These include work placement, pro-bono services and opportunities for paid work. We have engaged students to support us on IT and web projects, including support roles for our advisors.
I expose our junior staff to many initiatives and work matters that would be confined to senior partner level at conventional law firms. Engaging volunteers and staff at all levels of the business is great for morale and removes hierarchies, to ensure a level playing field in which everybody shares not only responsibility and accountability, but also the credit for the work we do. A happy team made up of a range of backgrounds and which works together towards shared goals is truly inspirational to see. We recently won Boutique Law Firm of the Year in the Wales Legal Awards, and without question, this is down to the commitment of the team.
What made you come to study at Cardiff?
The majority of my friends went to another university, but Cardiff's Law School has an excellent reputation. That, and a sunny Open Day helped me decide on Cardiff in 1999. After graduating, I continued my studies with an MSc, PhD and LPC. Cardiff is a small but vibrant city that has so much to offer and is where I now live and work. I really haven't looked back since making the decision to move to the Welsh capital.
What are your best memories of Cardiff?
I was lucky enough to start at Cardiff during the year of the Rugby World Cup. I enjoyed making friends for life, leaving the institution with confidence to apply my trade!

What do you enjoy doing in your spare time?
My firm takes up so much of my time now. In four short years, Newfields has grown from a practice led by a sole practitioner to nine staff, based in Cardiff and in Hong Kong. This journey has been incredible. Growth in any pandemic is extraordinary, and I put this down to my great team, our approach and expertise. Outside of work I thoroughly enjoy watching rugby, hiking in the hills, and spending outdoorsy time with my two amazing daughters.
What would you say to a fellow alum thinking of giving their time to support the University and its students?
Having set up and managed my own business, I feel a sense of duty to share my knowledge and experience to help the next generation of professionals. We live in unprecedented times and recovering from the pandemic will not be an easy ride. The need for supporting students is at its greatest. I would encourage any employer to consider offering opportunities. It is a humbling and rewarding experience. You feel as though you really do make a difference.
If you'd like to get involved and volunteer for Cardiff University then there are several ways that you can do this, and you will always be welcome as part of the Cardiff University team.