Building a sustainable future for both the environment and the economy
17 August 2020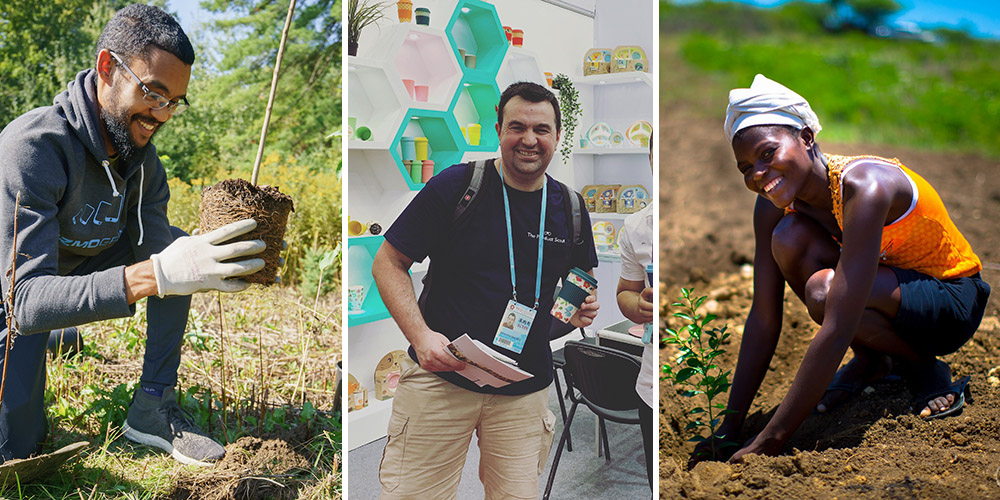 Founder of award-winning start-up Ecoslurps, Gerwyn Holmes (BSc 2005), talks to us about reducing our reliance on single-use plastic, lessons learnt in business, the effects of COVID-19 and his advice for the Class of 2020.
As a proud Welshman I wanted to study and live in our nation's capital. Cardiff is recognised as having one of the best business schools in the UK, and whilst I moved here to study, I now consider it my home. I love this city and think it has huge potential to expand in the future.
I've always been passionate about recycling. My first job as a marketing manager for a recycling start-up gave me a tremendous insight into how much we depend on single-use plastic products in our day-to-day lives, and the complexities of recycling plastic. I also came to understand that recycling wasn't going to be enough. To build a sustainable future we need to move away from being reliant on single use plastic products and begin using biodegradable alternatives that require less energy to produce.
Ecoslurps' mission is to become carbon positive. We offer our customers eco-friendly alternatives to single-use plastic products like bamboo toothbrushes, cotton buds, and reusable coffee cups. We have ambitions to expand our range to include products made from new forms of eco-plastic, which biodegrade quicker than traditional ones when sent to landfill. As well as this, for every product we sell, we pledge to plant a tree. This not only supports reforestation programs around the world, but also helps us we offset the carbon footprint created during manufacturing and delivery. 
As a start-up, every day presents you with a new challenge. The biggest lesson I have learnt so far is, be first, be better or be the cheapest. Within the saturated online marketplace if you don't fall into any of these categories your products will fail.
It's essential you do your research and use data to make informed decisions. If you put your customer at the centre of everything that you do, you will have a successful business. But I've also learnt that you can't do everything yourself. To sufficiently scale a business you need to outsource and automate operations where possible.
Being an entrepreneur can be lonely at times. You're accountable for so much and too often success is short-lived as you collide straight into your next challenge. Winning and being shortlisted for awards means being recognised by a panel of experts for doing good work. It gives me an overwhelming sense of pride and increases awareness of our new business in the wider community.
We hope we can use this positive success to help keep momentum going as we look ahead. We currently market directly to consumers, but I would love to work with some of the large retailers who share similar passions for reducing plastic waste and supporting reforestation. I'm also determined to see us expand to become a global brand by the end of the year and start selling in the USA, Australia, Middle East and Central America.
The global response to COVID-19 has shown it is possible for change to happen. When you see how quick governments have been to issue lockdown and introduce substantial economic packages to support businesses and their employees, it poses the question why this level of urgent action hasn't been rolled out to tackle the climate change crisis. We know what's coming, and we know that we won't be in a position to reverse it overnight. A lot more commitment and actual action needs to happen. More support needs to be offered to help create a sustainable green economy.
It's clear COVID-19 is going to create a lot of challenges for this year's graduates. But there are things everyone can do to help develop their experience, connections and confidence. I can't emphasise enough the importance of networking. Use websites like Eventbrite and Meetup to begin integrating into different communities and build your contact list. You might end up working with some of these contacts in the future and you will learn a lot from listening to different experts in their fields.
Start a side hustle and start selling your skills straight away. Sites like Upwork connect businesses with freelancers. With a move to remote working and outsourcing I use it a lot for all kinds of different tasks, and it's a great way to diversify your skillset without the need for an employer.
Most importantly, try to do something that you're passionate about. The happiest people I know spend their days working in jobs they enjoy. Try and find an organisation that aligns to your values as a person and get your foot through the door. If you're willing to work hard and learn, you will soon move up the career ladder.