The family full of Cardiff alumni
19 June 2020
Dr Abdul C.M. Rasheed is a first-generation immigrant from a small rural village in Sri Lanka. He worked as a Research Officer for the School of Chemistry between 1975-78. He is now a retired Senior Development Engineer, but still remembers his time at Cardiff fondly. So fondly, in fact, that he encouraged all four of his children to attend Cardiff University.

The Rasheed family reunited (digitally) to explain what it's like to work at Cardiff University, study at the same time as your siblings, and have such a fantastic network of support.
Father: Dr Abdul Rasheed
How did you come to work for Cardiff University?
Dr Rasheed: The University had an excellent reputation, so I applied to work there with a view to continuing my postgraduate studies. I was offered a research post within the Applied Science Department in the School of Chemistry to undertake a project for recovery of organic waste streams.
Although it was a long time ago, I clearly remember that the entire period was enjoyable, not only for my academic pursuits, but also for the numerous pleasant personalities I encountered.
Why did you encourage your children to study here?
Dr Rasheed: I encouraged my children to enter Cardiff University mainly for the high standard and reputation it has established over a long period of time. Having experienced it first-hand, I knew that it would be a great asset to their future careers.
Children: Hisham (MPharm 2018), Hana (MPharm 2006), Zahra (BSc 2010, MSc 2016, PGCert 2018), and Uzman (BSc 2014)
How did your father's enthusiasm for Cardiff University impact your experience as a student?
Hisham: I always had a lack of understanding of what my father's occupation was, but around the age of 12 I gained a better understanding of how far he had progressed with his education to get where he was.
There was a sense of honour, being able to say I studied in the same place as the rest of my family. I can clearly remember the day I secured my place at Cardiff, and how delighted I was. It meant a lot to everyone, being the last sibling of four to study at Cardiff!
Hana: Our father wanted us to make our own decisions about our future, but it was certainly a positive influence seeing how enthusiastic he was about Cardiff University. It was nice to be able to go to places that he had gone while he was at the University. Although lots had changed, there were a few things that were the same and it was special that we could talk about them.
There was a lot of crossover when you were students. What were the benefits of studying at the same time?
Hana: My sister was studying in the School of Optometry at the same time as me, so it was nice to be able to meet up for lunch or coffee. As I was coming to the end of my degree, and she was starting out, it was also nice to be able to offer her advice and tips from my experiences at university.
Zahra: It was really nice to be able to meet my sister for coffee when things felt overwhelming as a fresher.
If you needed to know the best coffee places, the hard to find free parking spots, the quietest library during exam season – one of us would have the answer!
Uzman: It was helpful because if I needed to borrow something or pass along an item, I could just meet Zahra between lectures.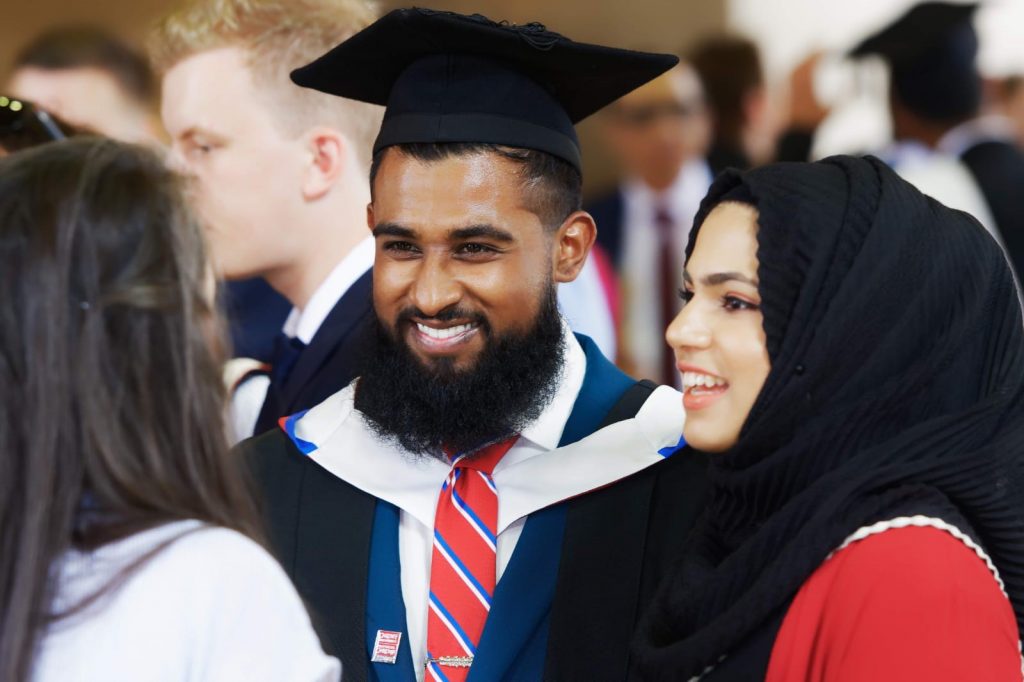 Zahra and Hanna, you have both followed in their father's footsteps and worked at Cardiff University. What was it like to go from studying at Cardiff to teaching?
Zahra: Working as a teacher in the same school I studied at was quite daunting at first, as my old lecturers were now my colleagues and I felt like I wasn't much older than my students! But Dad gave me some tips on mastering confidence and the importance of bringing real-world applications to your field.
Hana: I loved my experience teaching at the University and found it extremely rewarding and fulfilling. The student experience is completely different to working for the University and teaching. It's eye opening to see how much hard work, dedication and enthusiasm goes into teaching at the University.
What inspires you about your father?
Hisham: His dedication and motivation towards pursuing education, having come from a background where this would not have been an easy feat.
Hana: As a first-generation immigrant in the 1970s, my father faced many barriers with no support network, and I can only imagine how difficult that was. Despite this, he went on to have many successes and never lost his positive attitude.
One of the biggest legacies he's given us is the understanding that education is a privilege and should never be taken for granted.
Do you think your own children will be part of the next generation of Cardiff University alumni?
Hana: I will certainly speak very highly of my experiences at Cardiff University when it comes to them selecting where they will study. It would be nice to have another generation of our family attend Cardiff, but ultimately the decision will lie with them.