Rachel Mason (BMus 2003) shares her experiences of being a judge on a TV singing show
3 November 2017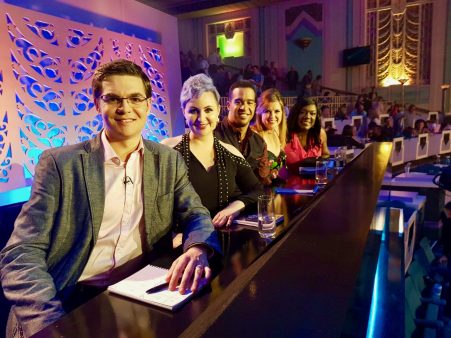 Rachel Mason (BMus 2003) is a judge on new Sky TV show Sing: Ultimate A Capella. Rachel shares with us her experience of judging the show and her excitement of being nominated for a National Television Award and how her Cardiff degree has helped her carve out a career in the music industry.
I was astonished to have been selected as a judge for Sing: Ultimate A Cappella, as the production team contacted me completely out of the blue! They had been looking for people with the right knowledge and experience, who could also be truly impartial.  They decided that, due to my experience judging and leading workshops for Show Choir championships and A Cappella contests all over the world, they wanted me for the role. The astonishment was tinged with sadness, I thought I would have to turn down the opportunity as I had an eight week old baby and filming was due to start just six weeks later in London. Fortunately the production team were determined to make it possible for me to come and film the series, at the end of July I travelled to London with my wonderfully supportive husband and baby to begin filming.
I'm honoured that the show has been nominated for a National Television Award. There's a lot of tough competition in our category so I'll be excited to see if we're shortlisted in January.
I really enjoyed my time studying at the Cardiff School of Music. It was wonderful to study a wide range of musical genres and learn from such experienced and knowledgeable lecturers. As a songwriter I always had an interest in the roots and development of pop and rock music which was nurtured at Cardiff University by the late Professor Kenneth Gloag. This has led me to gain a Masters in Songwriting from Bath Spa University and co-write with some fantastic songwriters, BBC Introducing artists, The Voice alumni and a Canadian Idol star in addition to setting up a singer-songwriter duo with my co-writer called Tucker and Mason.
The entire experience of working on Sing: Ultimate A Cappella has been wonderful. The whole team from the presenter Cat Deeley right through to the amazing hair and make up team are all so kind. The highlight of working on Sing: Ultimate A Cappella was getting to work with my co-judges Carol Pemberton, Joanna L'Estrange, Aaron Lee Lambert and Ben Sawyer. I learned so much from each one and felt honoured to be on the judging panel alongside them.
Being a part of this show has been a highlight of my career. I was chosen to be a judge due to all the skills, qualifications and experiences I've accumulated throughout my time in the music industry. It's lovely to look back across my career and know that each step, every success and failure has led me here failure has led me here.