Becoming business leaders
29 August 2017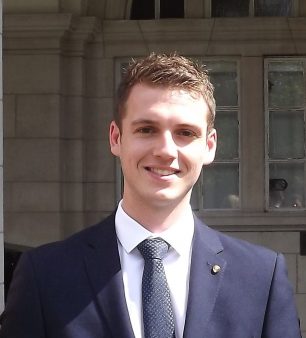 Gary Partridge (BSc 1989) is co-founder and director of Cardiff-based financial advisory firm Lexington Corporate Advisors, following over 25 years business experience with companies like PWC and BT. He has recently been opening the door for Cardiff students to join Lexington through a variety of internship opportunities.
He said: "As an alumnus of Cardiff University, there is a close affinity with the institution that I wanted to strengthen – when Lexington was looking for a graduate to join our business, it was an obvious choice to look to Cardiff's Business School given the high reputation it has both within Wales and the rest of the UK.
"Our aim is to offer internships to students who will thrive in a fast moving, dynamic environment, with close access to clients. I find that Cardiff graduates share a common desire and eagerness to learn and have a real spark of entrepreneurism that is a real attraction to us."
22-year-old John Tose (BScEcon 2016) is one such Cardiff graduate taking advantage of an internship via the Santander Universities SME Internship Programme. John is working alongside Lexington's co-founders Nigel Greenaway and Gary Partridge on corporate finance projects, where is responsible for assisting with financial analysis, transaction project management and corporate research.
He said: "Prior to my university studies, I undertook work experience in Hong Kong for a real estate firm where I got my first taste working at a fast growth boutique firm very much like Lexington. After experiencing first-hand how exciting it can be working for a start-up firm, I couldn't resist the opportunity to become involved in another. The Santander Internship Programme helps connect local graduates to local opportunities and I was fortunate enough to get this internship at Lexington where my ambitions are matched."
Such internships can be a huge stepping stone on the path to a career – in 2015 almost 75% of those who took part in the scheme were offered further employment by their provider. In 2015/16, 43 Santander internships and work placements have been set up in areas as diverse as Music Production, Museum Curation, Pharmacy, Ecology and Geophysics.
Gary explained: "Employing and working with good people is at the heart of Lexington's strategy – finding talented individuals at all stages of their career development is absolutely key; the Santander Internship Programme fits exactly with Lexington's strategy to help identify and bring on board that talent."
Thanks to partnerships with alumni like Gary who are offering up their expertise and experience, Cardiff students and graduates have the opportunity to equip themselves with vital workplace skills alongside their study at Cardiff University. Working through the Santander Internship Programme, a wide variety of companies like Lexington are creating opportunities specifically for Cardiff students.