Eisteddfod 2017
24 August 2017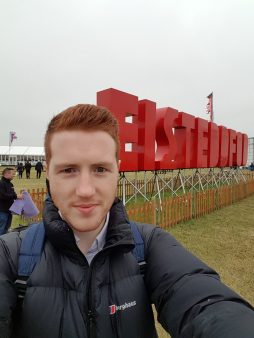 "Hello! I'm Rhys Fletcher, and I am part of the new Alumni Relations Team at Cardiff University.  I look after our Alumni Ambassadors, alumni who wish to inspire the next generation of Cardiff students.
"The first week of August marks an important time for the Welsh community with the arrival of the National Eisteddfod of Wales. The festival, which spans over eight days, is a celebration of Welsh music, dance, literature and culture, attracting 150,000 visitors and over 250 trade stalls. Throughout the week, the Cardiff University tent hosted a range of talks and discussions under the theme Cardiff Connected– how Cardiff University and its students, staff and alumni are connected to Wales and beyond.
"I was fortunate to attend the Eisteddfod this year on behalf of the Alumni Relations team where we hosted the first ever Eisteddfod alumni reunion event. This was a valuable opportunity for us to share our new and exciting alumni volunteering opportunities and encourage attendees to share their favourite memories of studying at Cardiff University.
"The event was a huge success with over 60 alumni attending. I thoroughly enjoyed seeing old classmates, sharing stories about their time studying in Cardiff. The Memory Tree proved a huge success and was adorned with many colourful memories by the end of the event. Ellen Jane Carter (BA 2016) commented that 'the BA and MA in the School of Welsh has given me the skills, confidence and opportunities to secure my ideal job even before I've finished my degree' whilst Cadi Thomas (BA 2012, MA 2015) enjoyed making 'lifelong friends' and the social activities offered by the GymGym.
"Whilst in Anglesey I also took the opportunity to explore the Eisteddfod and the Maes. Having attended the Eisteddfod before, I have always enjoyed the eclectic mix of things to see. New to the Eisteddfod this year was the Artisan tent which featured over 30 specialist shops and stands specialising in Welsh crafts. To finish my quick tour of the Maes, I made the all-important trip to the Food Village which always promises the best meal by local Welsh caterers.
"Next year the National Eisteddfod is being held in Cardiff, and I am excited to see the event transformed from its traditional format into an urban or city Eisteddfod, utilising a combination of permanent buildings in the Bay and temporary structures to create the Maes.
"With Cardiff being the home of the 2018 National Eisteddfod we only see it appropriate to host a bigger and better alumni reunion next year. It will be a great opportunity to celebrate the first anniversary of our Get Involved project and celebrate those who have shared careers expertise with new graduates, established alumni chapters abroad and inspired the next generation of Cardiff University students.
"If you wish to learn more about our Get Involved opportunities, then please see visit this page for more information.
"I look forward to seeing you next year!"