Thanks to Cardiff University, I found my love!
16 February 2017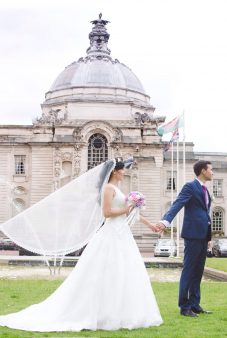 Arailym Mazhit (MA 2014) and Manarbek Askarov (MSc 2014) from Kazakhstan, fell in love while studying at Cardiff University.
'I met my husband at Cardiff University.  We were both international students, originally from different cities in Kazakhstan who came to Cardiff to study for  Master's degrees after we won government scholarships.
Without really realising it ourselves, we became closer and closer during our time in Cardiff. Before we knew it, our friendship had become something more, and we crossed the line between friendship and love.
I graduated with an MA in Translation Studies, and Manarbek with an MSc in Logistics and Operations Management. At the moment, we are both working in Almaty, Kazakhstan.  I work at the United Nations and my husband works at Toyota as a Project Manager.
He proposed to me in Kazakhstan, and we celebrated with a ceremony in Cardiff a year later! I can honestly say that he is the 'one' and thanks to Cardiff University I found the love of my life.'