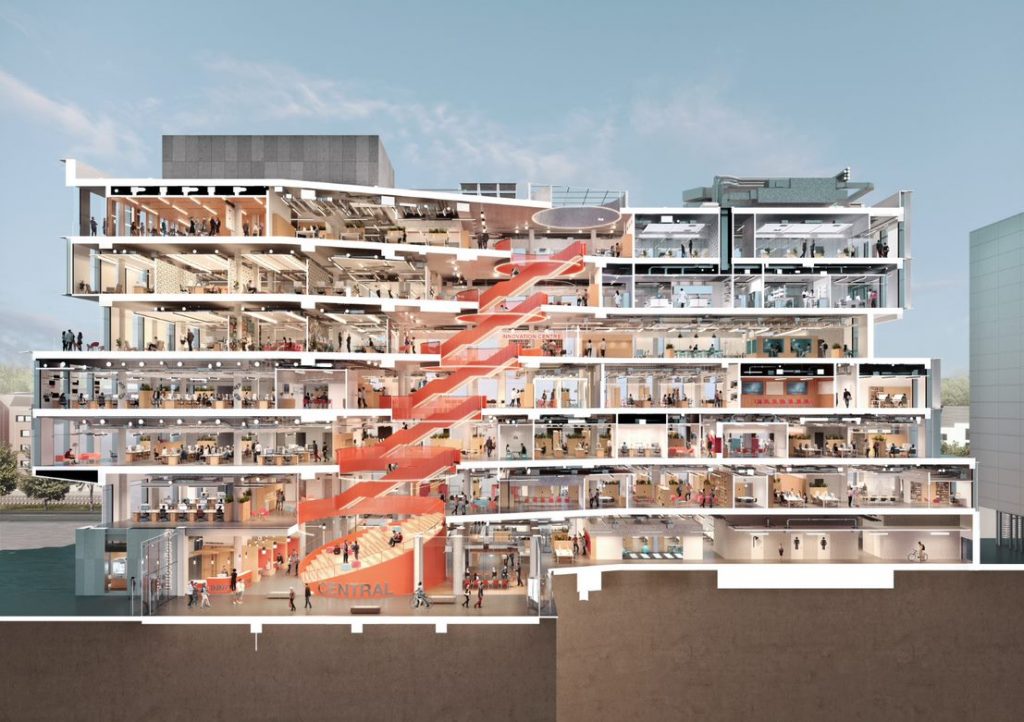 A future centre for start-ups, spinouts, student businesses and social enterprises has reached its highest construction point. sbarc | spark will help enterprising people connect, collaborate and create.  Here, Cardiff University's Dr Nick Bourne outlines how the hub can help drive recovery after COVID-19.   
"Put simply, sbarc l spark will put ideas to work. It is a magnet for commercial and social enterprises in Wales – a place where the right people will come together to build lasting partnerships. Academic researchers, funders, entrepreneurs and students will test ideas and develop solutions with public, private and third sectors partners.  
Currently under construction by Bouygues UK, the centre is impressive in scale – it will be the largest facility of its kind in Wales – providing 12,000m2 of space across six floors, with everything from labs, inspiring creative spaces and breakout areas to offices, catering facilities and a TEDx style auditorium. It has been designed by architects Hawkins\Brown to help us unlock great ideas and get them out into the real world.   
Corporates, SMEs and student start-ups (one of Cardiff's strongest assets) will come together in sbarc l spark, co-located alongside 11 leading social science research centres (SPARK) with opportunities to develop and test new ideas.    
The building will be the university's 'front door' for business – a direct route to collaboration complete with all the professional support services that enterprises need to thrive – from advice on licensing and IP to project management and Knowledge Transfer Partnerships. 
We have been working with industry for over a hundred years, as this photograph from our archives demonstrates. As one of the UK's 24 leading UK research-intensive Russell Group universities, our impact goes beyond learning, teaching and research.  
Cardiff University contributes £3.23bn to the UK economy, mostly within Wales, and we generate £6.30 for every £1 we spend. In 2019, we achieved record research income of just over £116m.  
Since 2008, we've ranked 8th amongst UK universities for interactions with SMEs. And we are 1st in Wales on a range of measures including income from IP commercialisation, graduate start up turnover, income from contract research, Continuing Professional Development, facilities and consultancy. 
When it officially opens in 2022, sbarc | spark will help us do more. As we continue to scope out future partners and projects, now is a good time to find out more about working with us.  
We will be holding a one-hour webinar session at 11am on 15 July, where we'll share experiences of successful innovation and start-up. I'll be joined by Dr Rhian Hayward MBE, CEO of Aberystwyth University's Innovation and Enterprise Campus; Stuart Gall, CEO of Intelligent Ultrasound Group, which began life as a Cardiff University spinout, and Professor Chris Taylor, Director of SPARK, who will talk about SPARK and how social science research can be transformed into innovative policies and processes.  
You can sign up by clicking here.  
Cardiff University works with everyone, from start-ups to SMEs and major corporates.  
Come and join us.  
Dr Nick Bourne, Deputy Director and Head of Commercial Development, Cardiff University