Arriving in SPARK: Y Lab's next chapter
29 November 2021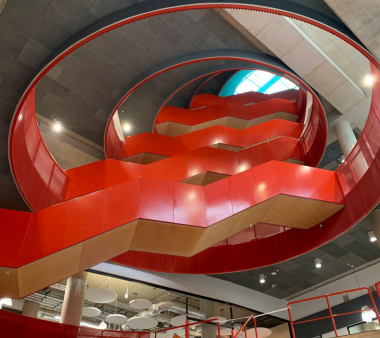 Y Lab (Welsh for 'the lab') is Cardiff University's public services innovation lab for Wales. Their purpose is to support Welsh public services to address societal challenges, which they achieve by combining social science research methods with innovation methods & mindsets. Currently Y Lab's work falls into two main areas – their innovation programmes with public servants in Wales, and their research on the 'how's and whys' of public services innovation (see below for the details). Here Professor James Lewis, Academic Director of Y Lab explains more.
For its first six years, Y Lab was a partnership between Cardiff University and Nesta, the innovation foundation. Nesta have now withdrawn from Y Lab to focus on establishing Nesta Cymru, delivering exciting change in Wales directly aligned to Nesta's new missions. Y Lab will continue as the public services innovation lab for Wales, now solely led by Cardiff University.
We are at the point where we can make a real shift from establishing Y Lab in the Welsh innovation system, to driving systemic change across Wales underpinned by research excellence. Central to this will be our imminent move into SPARK, which offers the opportunity to strengthen our partnerships with other Cardiff University research centres and other familiar faces. However, it will also provide unprecedented access to organisations across all sectors, with potential to establish new networks with innovation practitioners, public servants, and service users. The big societal challenges can not be solved in isolation, and we embrace the opportunity to explore new and creative ways to tackle the sticky issues!
We are really keen to strengthen our partnerships with organisations going into SPARK, so if you are interested in what we do, or want to work with us on driving systemic change in Wales, get in touch at ylab@cardiff.ac.uk, and we can grab a coffee on Zoom, or soon in SPARK's exciting new cafe 'milk & sugar'.
Y Lab's innovation programmes 
Innovate to Save programme, funded by Welsh Government and delivered by Y Lab, worked with 15 teams of Welsh public servants to test ideas that could improve services and generate cashable savings.
HARP programme (Health, Arts, Research, People), funded by the Arts Council of Wales and delivered by Y Lab, Nesta Cymru, and Nesta's People Powered Results team, working with 17 teams across health boards, local authorities, and artists to better understand how arts interventions could have a positive impact on people's health and wellbeing in Wales.
Infuse programme, funded by WEFO and delivered by Y Lab, Nesta Cymru, and Monmouthshire County Council, working with 120 public servants from the ten local authorities in the Cardiff Capital Region to upskill in Adaption, Data & Procurement to accelerate decarbonisation and create supportive communities.
Challenge Fund, funded by the Cardiff Capital Region City Deal and delivered by the Centre for Innovation Policy Research, Y Lab and the City Deal office, to help public services in the region tackle societal challenges while growing the local economy.
Keeping Wales Safe: COVID behaviours programme, funded by Welsh Government and delivered by the Behavioural Insights Team, Y Lab, and Nesta's People Powered Results team, using behavioural insights to support people to reduce COVID risks by increasing testing in key populations.
Y Lab's research projects
Each of our programmes above have an evaluation component focused on research for learning. Here are some examples of other research projects that we are conducting:
Dementia & Diversity, funded by HEFCW, addressed the significant gap in engaging and understanding the needs of diverse communities of people living with dementia and their carers in Wales. It won the Health & Care Research Wales Public Involvement Award 2021.
Barts Shielders, funded by an ESRC IAA award, coproduced a support structure for shielding members of staff at Barts NHS trust, using a social innovation approach. This led to a range of benefits with many referring to the support as a 'lifeline'. It was shortlisted for the Health Services Journal Staff Engagement Award 2020.
Innovation funding & gender, funded by Nesta, has examined Nesta's grantmaking data to describe the gender balance across a range of funding programmes along the pipeline from interest to applications to funding awards, resulting in a detailed report with a range of recommendations.
Participatory budgeting, funded by an ESRC IAA award, looked at how a housing association could run a participatory budgeting exercise with its tenants, and better understand the impacts of the process on tenants.
Community Legal Empowerment in Lesotho, funded by ESRC IAA and GCRF, working in partnership with the Seinoli Legal Centre in Lesotho to understand and capture the impact of their innovative approach to community legal empowerment.
Blockers of innovation spread, funded by a SPARKing Impact award, worked with a Welsh Government official on secondment to Y Lab to better understand why 'good practice is a poor traveller' in Welsh public services, resulting in two facilitated workshops.
Professor James Lewis
Director, Y Lab