Meet Team sbarc|spark!
6 December 2021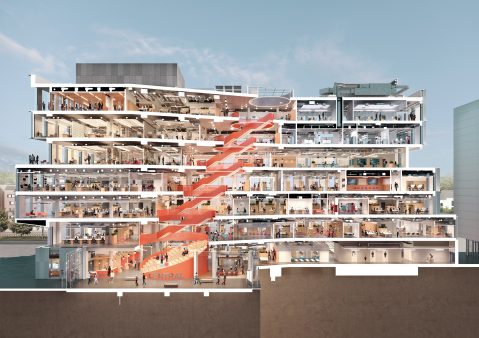 A unique centre of innovation that puts ideas to work is on its way. sbarc|spark has been described as 'society's new superlab.' It brings together Cardiff University experts and entrepreneurs to create spinouts, start-ups, new processes, and products.
The six-storey building, on Cardiff Innovation Campus, is nearing completion. Inside, more than 350 social science researchers, enterprising students and University staff will work with up to 400 collaborators from business and society to create, test and incubate new initiatives.
Designed by award-winning architects Hawkins\Brown, the building brings together SPARK – the Social Science Research Park – and Cardiff Innovations@sbarc, where new ideas will be tried and tested.
Here, some of the building's key staff outline their roles and responsibilities as the building moves closer to opening:
Professor Chris Taylor
I am the Academic Director for the Social Science Research Park (SPARK). My responsibility is to develop and deliver an overarching vision for SPARK by working closely with the research centres and institutes that are part of SPARK, with colleagues from across all the Schools and Colleges in the University, and with our many external non-academic partners. Alongside the SPARK Director of Operations I lead the SPARK team to encourage greater collaboration, interdisplinarity, creativity and entrepreneurship in our research ambitions, to add value to the incredible work of Cardiff University's social scientists and to produce a step-change in our ability to address complex societal challenges.
Contact: TaylorCM@cardiff.c.uk
Sally O'Connor
I am the Director of Operations for the Social Science Research Park (SPARK). My responsibility is to provide leadership, operational oversight and pro-actively encourage new research and innovation activity across SPARK working closely with senior professional services staff in SPARK and academics in the constituent entities, identifying areas of activity which will support delivery of the KPI's. Central to my role is ensuring that the synergies at the heart of SPARK; co-creation and collaboration – people working together across academic disciplines with practitioners across private, pubic and third sectors to address some of society's most pressing problems are realised.
Contact: oconnors@cardiff.ac.uk
Rhys Pearce-Palmer
As Innovation Operations Manager I look after Cardiff Innovations@sbarc and the Medicentre on Heath campus. Businesses wanting to co-locate with the university can access lettable offices, wet labs, and co-working spaces at both sites. As well working more closely with the university, my team and I will curate businesses development opportunities for tenants such as networking, collaboration, and peer mentoring. I'll also ensure tenants get access to partner activities such as with SETsquared and UKSPA.
Contact: PearceR5@cardiff.ac.uk
Emily Travis
As SPARK Community Manager, I have responsibility for managing SPARK's relationships with external partners and our membership model, working across research, innovation, and skills agendas to support resident partners and members with their relationships across SPARK and the wider University. Working closely with the Academic Director and Director of Operations, I am also responsible for leading on sbarc|spark wide events and community activities, for leading our SPARK internal engagement group and for overseeing associated comms.
Contact: TravisE@cardiff.ac.uk
Patricia Bone (Trish)
As the Building Support Manager, I will be co-ordinating and managing the general building security, safety, maintenance, and the welfare of all the occupants within the building by ensuring the building is compliant and meets all required regulations. Day to day activities will also include waste disposal, cleaning, and estate's issues, helping set up for events and booking of pool rooms and public spaces. I have a team of two who will be helping me, Elisha Richards who is the Building Support Team Leader and Rhodri Williams who is the Building Support Assistant.
Contact: Bonep@cardiff.ac.uk
Karen Stapleton
I am the Administrative Officer for the Social Science Research Park (SPARK). My responsibility is to undertake a variety of administrative duties to support the team. This includes planning and organising meetings, events and visits, room bookings and organising catering. I act as secretary where I organise, prepare papers and agendas, attend and take minutes for various meetings including the SPARK Management Board. I oversee the diary management to the Academic Director, Chris Taylor. I also assist the Community Manager with events and activities and will lead the Environmental and Sustainability Forum.
Contact: StapletonK1@cardiff.ac.uk
Our doors are about to open. So come on in! For more information about working with Cardiff University in sbarc | spark, contact Sally O'Connor – OconnorS@cardiff.ac.uk