Professional development at the heart of Semi-Conductor cluster's future growth.
8 April 2021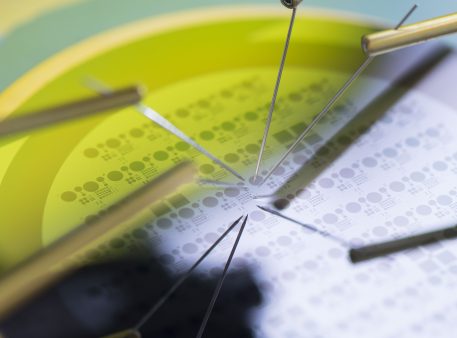 As the UK prepares for its gradual emergence from the pandemic, evidence suggests tech will continue to boom. The global emerging markets for 5G connectivity, electric vehicles, healthcare technologies, robotics and Artificial Intelligence are expected to drive demand for semiconductors to 2025 and beyond. Cardiff University is home to innovation in Compound Semiconductors (CS) – the enabling materials behind next generation technologies.
But developing new CS products and processes demands better professional development for hundreds of staff and new recruits working across the CSconnected cluster in South Wales. Here, Kate Sunderland, newly-appointed Continuing Professional Development (CPD) Project Manager – CSconnected at Cardiff University, explains why professional development will be at the heart of the cluster's future growth.  
"The CS ecosystem in South Wales currently supports approx. 1500 high value manufacturing jobs. However, CSconnected forecasts 3,000 – 5,000 jobs will be created by 2024. There is an urgent need to create a pipeline of talent through upskilling and re-skilling from other sectors, in order to support the growth projected within the cluster. Professional development activities and short courses are an ideal way to deliver the critical skills interventions that are short to mid-term constraints of the cluster."
Cardiff Capital Region's Employment and Skills Plan (2019-22) highlights compound semiconductors as one of its six priority sector areas. Supported by a grant from UKRI's Strength in Places Fund (SIPF), Cardiff University's CPD Unit will be taking a leading role in the skills agenda for CSconnected, by coordinating CPD support for the cluster as well as for organisations up-chain and down-chain.
We will be working with the twelve partners in the consortium, including Swansea University, and with local FE Colleges to develop and deliver a wider and deeper CPD curriculum that builds on the pilot short course previously delivered by Cardiff University's Institute for Compound Semiconductors. Through CPD activities we are aiming to reach over 25% of the expanded workforce by 2025. The intention is also to develop the foundations for a much larger, longer-term intervention around the skills agenda, well beyond the 55-month grant provided by UKRI's Strength in Places Fund.
And we will be working closely with CSconnected who will be leading on other elements of the skills agenda, including a Degree Apprenticeship programme as well as inclusion, outreach and engagement activities to the wider community within the local region. We will also be collaborating with the existing CS Education Group who are coordinating skills for the cluster and developing a pathway of skills at all levels, for school leavers through to post-doctorate graduates. The grant through SIPF will enable the acceleration of the skills activities already carried out to date
The skills agenda is part of the much larger £44M SIPF award, in which Cardiff University is the lead partner, to develop a CS powerhouse in South Wales. As well as supporting skills, the investment from UKRI's SIPF and additional funding from partners is enabling a collaborative Research & Development programme, a 'front of house' home for CSconnected, and investment in CSconnected cluster building support for marketing, branding and engagement activities. The award compliments other activities supporting CSconnected, including the work of the Compound Semiconductor Centre, the Centre for Integrative Semiconductor Materials, the CS Applications Catapult, the MSc programmes offered by Cardiff and Swansea universities, a PhD programme through the Centre for Doctoral
Training in CS Manufacturing, and innovative research conducted through The Future Compound Semiconductor Manufacturing Hub.
CSconnected, the world's first global centre of excellence for Compound Semiconductor, is a not-for-profit organisation founded in 2017 and home to a unique eco-system of high technology capability leading the way in applied research, advanced applications, collaborative innovation firmly cementing Wales' and the UK's position at the forefront of new and emerging material and device technologies.
We're building a new bespoke centre for Compound Semiconductor research. The Translational Research Hub – due to open in Spring 2022. It will be home to the Institute for Compound Semiconductors, which aims to position Cardiff as the European leader in compound semiconductors, providing cutting-edge facilities that help researchers and industry work together.
It's a hugely exciting time, and we're delighted to be able to provide new skills to help the cluster to thrive.
Kate Sunderland, CPD Project Manager – CSconnected
Visit www.csconnected.com to learn more, or connect via LinkedIn and Twitter.
To find out more about CPD at Cardiff, visit the Unit's Homepage