Clwstwr reimagines R&D for creative industries  
29 March 2021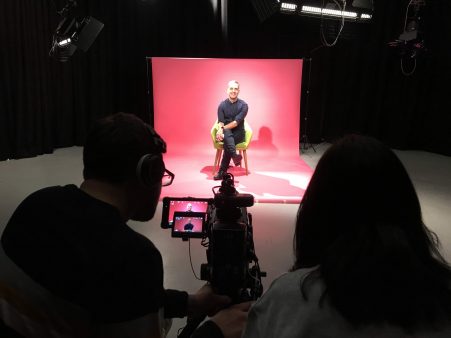 Clwstwr is an ambitious programme to create new products, services and experiences for screen and news. Clwstwr is putting innovation at the core of media production in South Wales to move Cardiff's thriving screen sector from strength to leadership. Here, Professor Justin Lewis, Director of Clwstwr, discusses progress so far at the half-way stage of the screen and news innovation programme
"We're now at the mid-point of the UKRI/Welsh Government funded Clwstwr programme, which aims to embed innovation in the Welsh media sector. We have curated and funded 73 research and development (R&D) projects to date – selected from hundreds of applications and developed in more than 500 meetings with the Clwstwr team – and we are currently in the midst of our final Open Call.
These projects have been wide-ranging and ambitious. Clwstwr cohort members have explored new forms and formats for storytelling across a range of genres (from news and documentary to podcasts to interactive film); and looked into adapting digital technologies to create new products (such as immersive technology to manage pain-relief, AI technologies to enhance journalism, and geolocation to create new forms of media-based tourism) or to improve production processes (from virtual set-building to game engine rendering).
R&D is a long game, but some projects have already borne fruit. For example, Wales' largest post-production house Gorilla, were developing a remote editing capacity as their Clwstwr project when the COVID-19 hit. This innovation enabled their staff to continue working during the pandemic.
The concept of R&D is still new to many people working in the creative industries, and it has been our role to blaze a trail for the importance of R&D in boosting creative innovation. This is, in large part, because most of the 1300 media companies in the South Wales media cluster are small, with a strong desire but little capacity to innovate.
And before Clwstwr came along R&D was, for many in the creative industries, another country, populated by men in white coats, with its own impenetrable language. Building a culture of R&D-led innovation has been one of our key challenges.
Step one was to create a cultural shift, the forging of a common culture of innovation. This meant a wholesale effort to collectively reimagine R&D: what it was, how it worked and the words used to describe it. In Clwstwr's first six months of operation, this effort generated 140 early-stage funding applications to our inaugural Open Call.
Step two was to create an R&D system that works for small creative companies. Our funded cohorts all experience wraparound support: curated sessions based on User Centred Design, an R&D Producer and academic Co-Investigator assigned to each project, and a series of events, training and workshops.
For many smaller companies, this means a structured sequence with multiple Clwstwr touchpoints. Figure 1 shows the stages a successful SME will go through if they progress from an early-stage idea to full R&D project funding.
Figure 1: Successful User Journey
With a raft of completed projects under our belts, we are turning our attention to the broad question that underpins the Creative Industries Clusters Programme (alongside the eight other UKRI-funded clusters across the UK): what does a successful R&D programme in the creative industries look like, and what impact does it have on sustainable economic growth?
Addressing this this will be a matter of statistics and storytelling. We will follow our companies for whom the R&D phase was just the beginning, documenting their progress as they bring new products, services and experiences to market.
Our experience to date suggests that strategic investment in R,D&I is vital if a regional creative cluster like ours – made up of independent SMEs and freelancers – are to compete in a world dominated by global conglomerates."
*Applications for Clwstwr's final round of funding – Open Call 2021 – will open on 15 April and close on 21 May. You can find out more on their website.
Professor Justin Lewis, Director of Clwstwr