Banking on loyalty
12 April 2021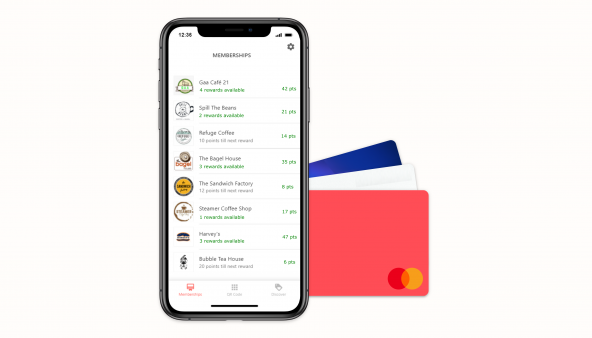 Zeet is an exciting high-growth FinTech start-up that lets customers instantly collect loyalty points as they use their bank cards – spelling an end to purses full of store cards. Founded by Cardiff University graduate Steve McCormick (BSc 2020), and Josh Sparkes, a Technology Consulting Manager at a 'Big Four' firm, Zeet lets customers choose which rewards they can redeem. Launching a new website for sign-ups – www.tryzeet.com – the company is set to revolutionise how we shop, as Steve McCormick explains.
'The founding of Zeet is quite odd compared to how start-ups usually form. After graduating in Business Management from Cardiff Business School, I had my offer for a technology consultant role at a Big Four firm pushed back to late 2021 due to the Covid-19 pandemic, so I was connected to a senior consultant to develop some professional skills in the meantime. During one of our calls, I told him about my idea of linking businesses to customers through their bank cards. We quickly realised the potential, and so we started Zeet.
The original focus for Zeet was instant digital receipts with your bank card. I designed a technology where customers could connect their bank account so that, instead of getting a paper or email receipt, you could receive an instant digital receipt when you pay by card. As a consultant who spends hours photo-scanning paper receipts for expense reports, my co-founder Josh realised the potential cost-saving benefits for businesses with instant digital receipts.
The technology also allowed loyalty schemes to work through bank cards which I thought was a nice side feature, but I never gave it too much thought. But after speaking with businesses and customers, it quickly became apparent that the true value of this technology was this card-linked loyalty capability. Imagine if instead of scanning or stamping a loyalty card, you could instantly collect loyalty points and rewards when you pay?
Now it seems obvious – how many times have you lost a loyalty card or just never bothered using it as you just forget or you're just in a rush? Most shoppers' lives would be so much easier if they could automatically collect loyalty points when they pay by card instead of carrying dozens of loyalty cards.
But the true benefit of this technology will be felt by independent business owners. Zeet will allow business owners to create their own loyalty programmes that differentiates them and gives customers a reason to come back.
Offering a free coffee every 6 stamps isn't going to increase customer loyalty when every other coffee shop does the same thing. But what if you could offer customers a points-based loyalty programme that connects with their bank and gives them the freedom to choose which rewards they redeem? Even the biggest brands can't do that!
By connecting to bank cards, businesses will never fail to identify top customers, and they can provide a truly personalised service for their customers with automated promotions.  Businesses can automatically send birthday rewards and present offers that are tailored to each customer. If a customer shows a preference for buying a certain type of coffee, businesses can automatically send offers for exactly that to guarantee their loyalty.
Our first build has just started development and we hope to release it in the next few months as lockdown restrictions begin to ease. While the Covid-19 pandemic has had an impact on brick-and-mortar businesses, we are confident that Zeet will help independent businesses recover and become stronger than ever before.
We are looking to launch in London but plan for rapid growth within the UK and then the EU and US. We are in talks with the leading UK EPOS providers which will help us reach tens of thousands of independent businesses in the UK. Once we have launched, we will prepare to raise pre-seed funding to help us accelerate our plans of rapid scale.
We have recently begun taking limited closed beta-signups for both customers and businesses, so please visit www.tryzeet.com to secure your place!'
Steve McCormick, Co-founder, Zeet