CARTEN 100 on a nextbike
31 July 2019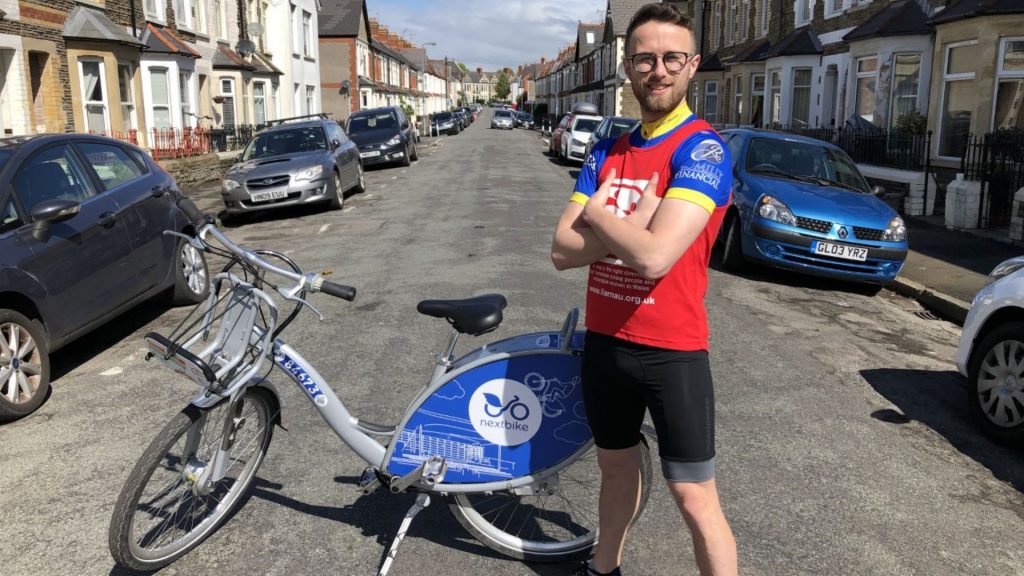 In our latest post, we caught up with PhD student Ieuan Davies who rode a nextbike more than 100 miles to Tenby to raise money for the homeless charity, Llamau as part of CARTEN 100 on 1 June 2019.
JR: So Ieuan, congratulations on an amazing achievement. Quite some feat, what you've done. Tell me, how's the body? Have your legs recovered yet?
ID: Haha, thanks. Well, those seats aren't designed for 10-hour rides I can tell you, although I felt surprisingly good the next day.
Funnily enough, I was resting up on the way back from Tenby while my dad drove me and the bike home to Cardiff and I suddenly got a text from nextbike saying that I'd had the bike for 24 hours.
I started to panic and rung them up to explain that I was about 100 hundred miles away from Cardiff on a charity bike ride. "Oh," they said. "It's you. No worries. We'll cancel that, then!" So, word about my adventure had got around.
JR: So, many of our staff and students use nextbike all the time. In fact, I think the station outside the Aberconway Building here, was recently the most used station in Cardiff. But we're all used to short, city-based trips, not rides of this length. How did you cope?
ID: Well, I started to regret my decision on a particularly long climb into Pembrokeshire, questioning what I had got myself into. But it was just a case of pushing down on the pedals over and over to keep going.
The thing is, I'm a runner, not a cyclist and had never done anything like this before. I mean I can ride a bike, but nothing more than back and forth to work and uni. But that's the furthest I've gone.
So, I put a lot of training into it and went out quite late in the evenings because of my busy PhD schedule. It's not like a run where you can pop out for an hour or so. With rides of about 35 miles, you've got to allocate the time, especially on a nextbike.
And to increase the distance I had to go over to Barry and Sully quite a lot. I can tell you that I got quite a few odd looks as I went through there in the evenings, with the little lights flashing on the front of the bike.
People must've been thinking: "What's he doing all the way out here on that? There's not a nextbike station for miles!"
But that was nothing compared to the event, itself!
I was coming up behind these bikes that must have been worth multiple thousands of pounds, and they were huffing and puffing. When they saw me, they all looked quite surprised, I can tell you!
JR: I can only imagine! I know I'd have felt the same on my bike. "How is this guy doing it!?" How did it feel to finish?
ID: It was incredible! Obviously, I was in the last section of the race – it took me ten hours to get there! But there was still plenty of people out riding. And the crowds in Tenby, I have to say they were amazing. It was such a wave of relief to finish.
People were cheering when I got off the bike, running over to shake my hand and taking selfies. My mum and dad were there, and they were convinced I was some kind of minor celebrity, haha!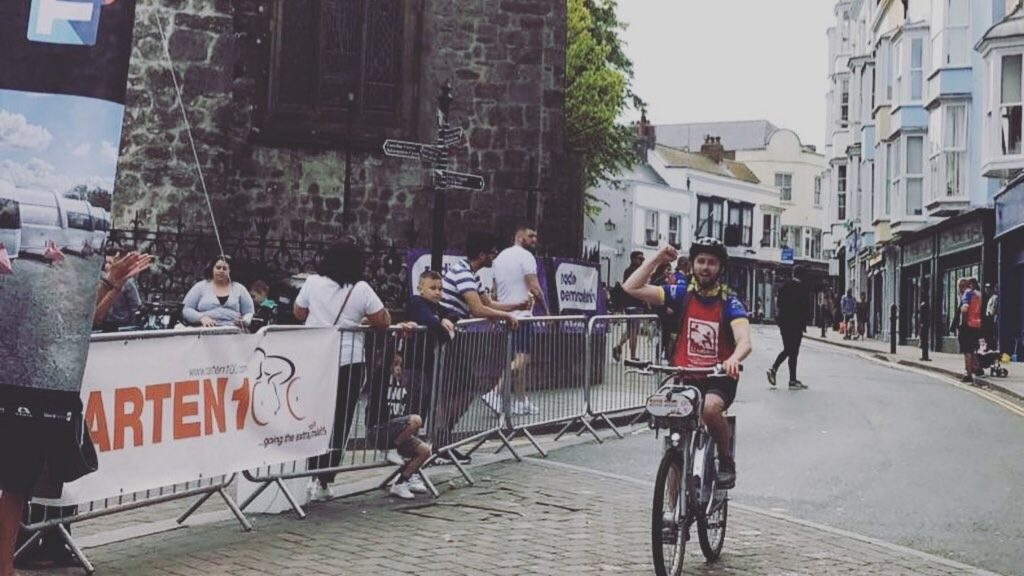 There's also a pub close to the end called the Three Roses. It's at the top of the last big climb and a lot of people stop there to celebrate with a pint.
By this point, I was really struggling. This climb was brutal. Non-stop. I was just looking at the floor concentrating on pedaling. It's probably the closest to tears I've ever been doing exercise.
I finally crested the hill and there's this pub, with everyone in their CARTEN cycling jerseys sat around with their pints. And the place just erupts! Clapping and cheering. And I just got this extra wind which saw me through to the finish.
JR: What an experience! So, you set yourself the challenge to raise money for the School's designated charity sponsor, Llamau. Can you tell us about them?
ID: I got to know Llamau through the School. As you've said, they're the nominated Charity sponsor and my PhD supervisor, Dr Carolyn Strong, organises the sleep-ins with them. I've been to two of them at the School.
But around about the time I was thinking of doing something, homelessness in Cardiff was reaching crisis point with tents in the streets and various politicians saying controversial things in the media.
Against the grain of all that negativity, I thought to myself, let's make something positive out of this. Obviously, the awareness is there now and that means it is something that people will raise money for. So let's find something ridiculous that will encourage people to donate. And, what do you know? It worked!
From day one, Llamau were incredibly co-operative and supportive.
JR: And how much did you raise? Can people still sponsor you?
ID: Well, so far, I've raised £525 but my fundraising page is still open until 7 August 2019, so anyone who wants to donate can on: https://uk.virginmoneygiving.com/100MilesOnANextBike
JR: And what about your lasting impressions of the event? Are you planning on doing it again next year, or is once enough?
ID: Oh, well maybe it's a bit early to decide on that just yet. Especially while I'm still in recovery mode, not to mention my dissertation deadline around the corner.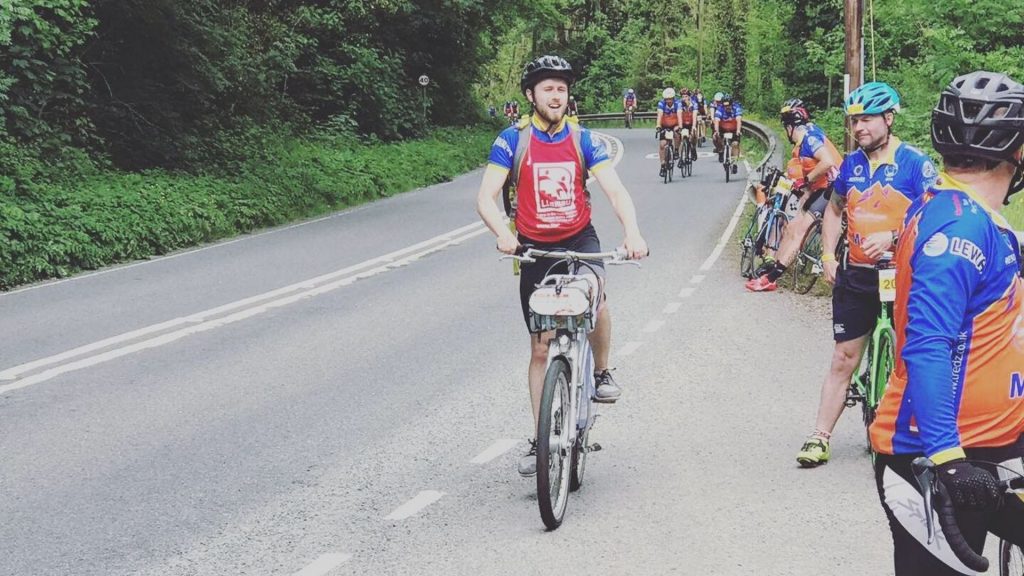 But I have to say, it was an incredible event and I couldn't have asked for a more supportive group of riders around me. So many took the time to slow down and encourage me at different points. And the bonus for me was using those opportunities to share Llamau's story and raise awareness.
So everyone was talking about Llamau by the end. I'll take that as a win for now!
Ieuan Davies is a PhD student at Cardiff Business School. His research focuses on business ethics and social media.
Ieuan is also an ambassador for nextbike, which waived the rental fee for the challenge.
---
Comments