Creative freelancing: no funny business
16 July 2019
In our latest post, Lorna Prichard, comedian and former journalist, talks about the risks and rewards of creative freelancing following a recent event hosted by Cardiff Business School's Executive Education Team and Creative Cardiff at Glee, Cardiff.
Recently I had the great pleasure of being asked to do a set at Glee Cardiff for the creatives of Cardiff. It was a business networking event put on to celebrate National Freelancers Day. I felt honoured to be asked and tried to push down the inevitable dose of impostor syndrome. Who was I to give a talk to other freelancers? I'd only been doing it a year and a bit myself! And it was certainly a role-reversal, for me to be the case study. 
For the first 10 years of my career, I was the one finding them. I was a journalist at BBC Wales and then ITV Wales. Like I told my audience at Glee, the first ever case study I was tasked to find was a brothel for a special investigation into the sex industry. "Hi, I'm from the BBC, could we come and film with you..?" It sounds like an impossible task, but eventually I found one. It was a great way to gain perspective on any subsequent case studies I was tasked with finding!
A leap into the unknown
Being a journalist was great. I really enjoyed a lot of aspects of my job: meeting amazing people, live broadcasts, breaking news, telling stories, coping with the unexpected. But other aspects weren't a good fit.
"I struggled with the need to conform and suppress other things: my personality, my forthright opinions, my curly hair. These days, I wear what I like, say what I like and my hair can be as wild as it likes!"
But it's all pretty new to me. It still catches me by surprise to describe myself as a freelancer. Or to know how to explain my day to day life to anyone. It's such a mixed bag of creativity, admin, practice and performance. Basically I started doing stand up comedy as a hobby in early 2017, absolutely fell in love with it, realised I couldn't possibly do that plus be a credible TV news reporter anymore. So it was time to make a leap into the unknown. Not only into the world of freelancing, but also into a brand new career. So that's what I did in March 2018.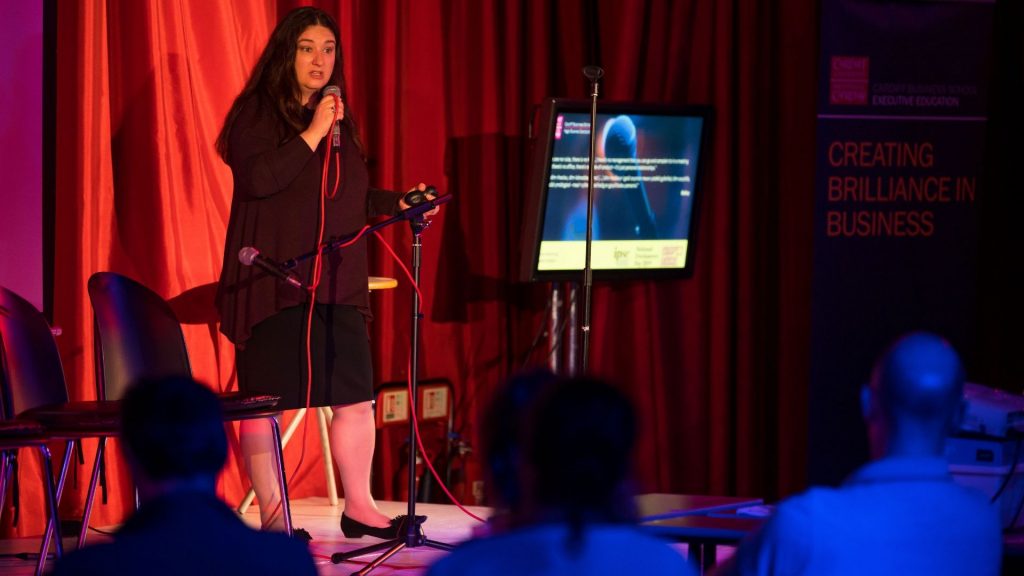 Giving academic context to the life of a comedian was Cardiff University's Dr Dimitrinka Stoyanova Russell. She gave a fascinating talk about research she's jointly done with Nick Butler into the stresses and strains of working in stand up comedy. She's spoken to 64 professional comedians for her paper No Funny Business: precarious work and emotional labour in stand-up comedy. She's keen to reach out to more comedians – particularly women.
The push and pull
One thing that really struck a chord with me was when she said most comedians felt they'd been "pulled" into it as a profession. It's really hard to explain to people why you feel this hunger to try and make a living out of making people laugh. There's so much more to it than a 20 minute set! It's such hard work. I'm in the really strange situation at the moment where I've never worked harder or been poorer. I'm absolutely not asking for sympathy though. I've honestly never been happier. That's the weird thing. It feels like I've met the love of my life. I think about comedy all the time, I struggle to take time away from it or see my friends enough. I pine if I don't have a gig imminent.
I'd say life as a comedian isn't for the faint-hearted. It can be very difficult. But it's also so rewarding! To be paid for doing something that you absolutely love, that gets your whole brain and body fired up and working. To communicate bits of your inner weirdness to an audience and find they accept that. It helps you accept yourself. Also the resilience you build from bad gigs, jokes that fall flat, audiences that don't like you. It's got to be good for you, right?
During my set I also talked about the need to develop a healthy amount of "straight white man confidence" in your day to day freelance life. I was being a bit facetious but it did seem to strike a chord. With women in the audience, in particular. I told them I thought I'd got reasonably far in life by having an unusual amount of self-belief. Which I think is how it should be – we should take risks, put ourselves out there, accept we'll make mistakes and learn from them. I reminisced about the last time I played a short spot at Birmingham Glee last Summer. I died on stage. My "bankers" i.e. the jokes I expected to always get laughs, fell absolutely flat. It was horrible. But I learned from it, rewrote my jokes and moved on.
Howl like a banshee (or a straight white male)
These days I book several pro nights of comedy every month under Howl Comedy, my own comedy franchise (again, how on earth did I end up with my own comedy franchise?!). What an education in straight white man confidence that is. I'll advertise a well paid headline spot and then get a flurry of emails from men I've never met or interacted with. One recent one went: "Hi, I can do this gig. John" No video links to other gigs, no cv, nothing. This of course is when straight white man confidence goes way too far. But I do notice men in the industry tend to propel themselves forward, be pushier than women, ask for more and therefore get more. And Dimi's research backed that up.
There's also a fair bit of sexism and backwards attitudes that female comedians still have to battle from certain promoters. Things are changing, but it's taking time.
"Like I said at the event, one thing I never thought I'd miss about being employed was a HR department. If someone acts badly towards you in comedy, for example tells you they won't book female comics for a certain gig because it'd be "too dangerous", there is no line manager you can file a complaint to."
Dimi talked about this aspect of life as a stand up comic too. The need to mask anxieties, ignore questionable behaviour from your peers because kicking up a fuss could affect your future bookings. Personally I'm all for calling out unacceptable behaviour.
After my set I took part in a panel discussion with Dimi and two other local freelancers – money coach Talia Loderick and creative producer Gavin Johnson. We covered a few topics – wellbeing, digital and finance. I left the finance to Talia and admitted tax was a monster I hadn't dared look in the face yet. It was clear Talia and Gavin loved what they did and felt similar struggles to mine – despite being in totally different industries.
There was so much positive to take away from the event. It opened my eyes to just how much help is available in the creative community in Cardiff and beyond.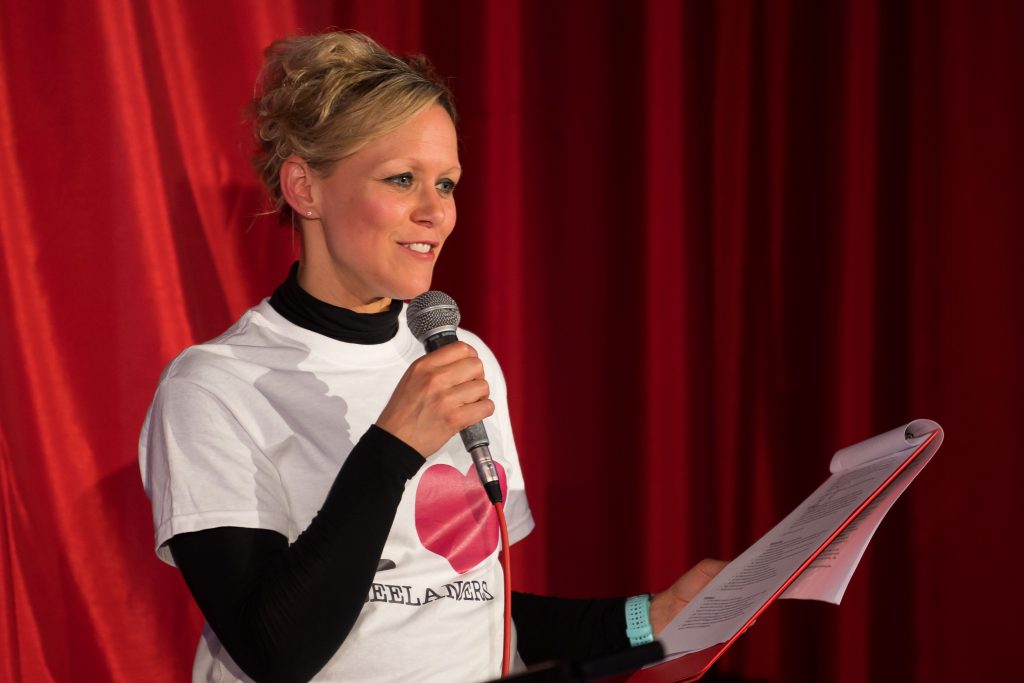 Sara Pepper of Creative Cardiff – who hosted for us – said there were workshops available and they'd consider putting one on that covered tax to help people like me. Can't wait! Sort of.
The event was put on jointly by Creative Cardiff and the Executive Education Team at Cardiff Business School. And they're really keen to reach out to the creative and freelancing business communities of Cardiff and beyond. They're going to find me pestering them from now on to be honest. If I can manage to get up in time after a late night gig, I'm definitely going to make it to their Breakfast Briefings. I also found out they work with large, small to medium and micro businesses to design and deliver custom learning programmes.
One idea I've been developing and trialling is 'confidence through comedy' workshops, and am meeting up with Cardiff Business School execs later this month to discuss further. So watch this space..!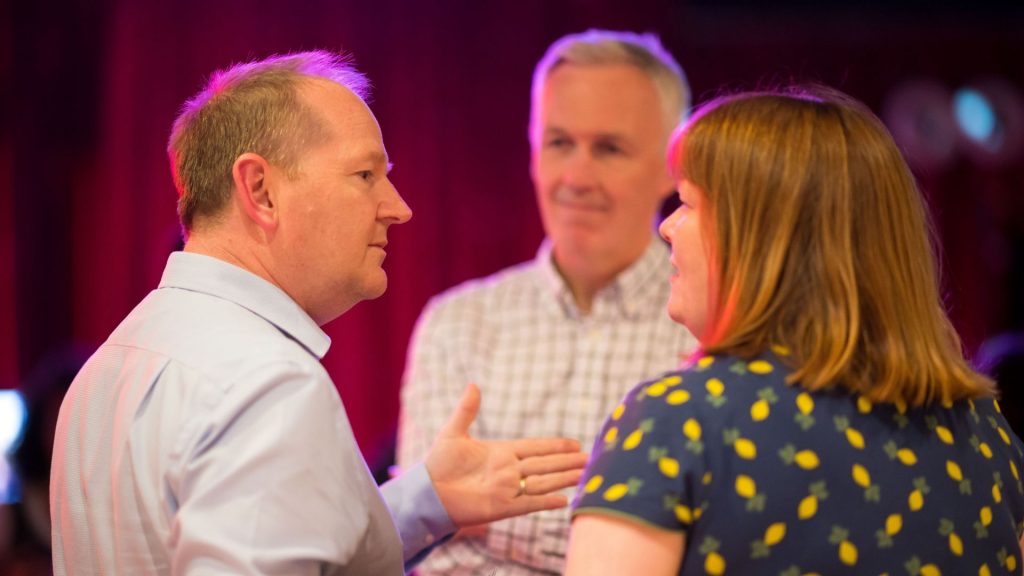 If you want to see if they can help you get an idea off the ground then why not join their community? And join Creative Cardiff's community while you're at it as well.
Despite the difficulties, I'd never give up life as a freelancer. There are certain things you can't put a price on: the freedom to choose when you work, take time off when the sun is out, follow your passions. It's certainly a lifestyle worth celebrating with events like this one.
Lorna Prichard is a Freelance Comedian.
Howl Comedy is a pro comedy night that runs monthly across venues in Cardiff, Barry and Penarth.