Gwrych Castle: the story behind the new location for I'm a Celebrity
26 October 2021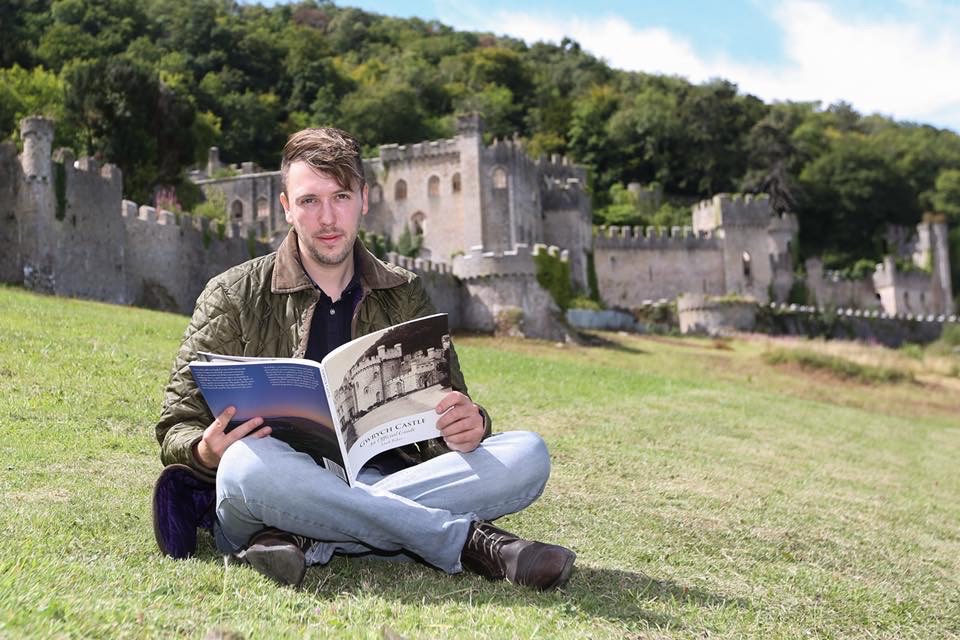 Mark Baker (MA 2008, PhD 2014) discovered the beauty and complexity of Gwrych Castle at the age of 11 and has devoted much of his life to protecting and restoring it, as well as publishing his first book about it at the age of 13. Mark describes how the castle not only caught his imagination, but also the eye of ITV producers of I'm a Celebrity…Get Me Out of Here.
I was always interested in history, even as a child. I was fascinated by people and what they could create, whether it was a portrait or an object, or even a building. I always had a fascination with the past, but also with material culture. It was a very basic, childlike curiosity.
I was an only child growing up in North Wales, and I was often bored and longing to explore my local area. This is why, at the age of 11, I created the Gwrych Castle Trust. When we were given a summer project to do at school, I chose to research my local castle. People became very interested in what I was doing and it got picked up by the National Press because I wrote to the Prince of Wales and the then Prime Minister, Tony Blair. To my astonishment, both wrote back, and the local reporters heard about this and published an article in 1997. People really got behind this child trying to save their local building.
The research process started to feel like a giant jigsaw puzzle that was coming together in my mind. I ended up writing about it and publishing my first book when I was 13. It was useful for my academic journey because it made me home in on telling a story and using historical data and documents to develop a narrative.
My academic career started at Bangor University, and then continued at the Courtauld Institute of Art in London. But I found myself wanting to focus on Welsh architecture, and there was no one who could supervise me. I decided to do my PhD at Cardiff University's Welsh School of Architecture because I had an amazing choice of supervisors. Judy Loach was incredible and Professor Denys Pringle, a building's archaeologist, had done huge amounts of work on the castles of the Crusaders, which were the inspirations for the castles here in Wales. I chose Cardiff University because of its great supervisors, but also because I love the city itself.
As a student, I really enjoyed the conferences that the University held, and I was always knocking about the library and signing up to digital journals and newspaper archives. I was quite heavily involved with the creation of the Rare Books Library at Cardiff University. One of my fondest memories was finding the earliest image of one of the most important Gothic buildings in Wales. It's been remarkable that such a unique moment in its history was literally captured by a tourist and ended up, after a couple hundred years, in a scrapbook at Cardiff University. That's one of my proudest moments as a student.
When my PhD finished, I turned my attention back to the castle. It was always there, bubbling in the background, and we ended up buying it back in 2018. We (the Trust) had a very good relationship with the National Lottery, and with other donors, and we managed to raise the purchase price. We did it within about six weeks, and it was nearly a million pounds. It almost killed me, but it was a great achievement because it ensured that the castle was safe for the nation.
We were very surprised to find the castle on the shortlist as a location for I'm a Celebrity…Get Me Out of Here. During lockdown last year there was a great nervousness within ITV about contestants returning to Australia for the reality TV show. A location agency was commissioned to track down a derelict castle in Britain. They looked at about 70 locations in the UK and Republic of Ireland and shortlisted 30, and, remarkably, we got the commission! It was all very surprising.
The project was overseen by the Castle Trust, and it was a multi-agency approach with Cadw, the local authority, and Natural Resources Wales. Most of the work that the show undertook was for the betterment of the building. We gave them our plans and they fast tracked them, which is amazing.
It's been fantastic, particularly for the local economy. One of our missions was to try and use as many local products and services as possible and ITV has taken that on board. We wanted to respect the Welsh language and culture and so they had special advisers on how to integrate the Welsh language.
It was the biggest show of 2020, with the biggest audience and viewing figures. We're seeing an influx of people coming to visit and it's been fantastic. Our visits have jumped from about 40,000 to just over 100,000 this year. These people aren't just coming to the castle and leaving, they're having holidays in the area and going out for meals.
I've still got big plans for the castle, the main one being to get it all back up and running. The whole process of restoration still gives me shivers. I went into parts of the castle a couple of days ago and just seeing the work that ITV have done, how they've transformed another space into something very wonderful – gives me butterflies.
My aspirations are to protect and reassemble as much of the castle as possible. I'm looking forward to the day I can sit down and write an in depth, definitive history of the estate. I've published about 20 books in total and I've got another one coming out this month, which is a behind-the-scenes guide to the making of I'm a Celebrity at the castle.
Gwrych Castle is a very useful prism to look through because it's been involved with so many national events and crises. In World War One it had many military hospitals associated with it, and in World War Two it housed Jewish refugees as part of Operation Kindertransport. It's a gateway into telling 2000 years of history, starting with the Romans on site and then trailblazing its way through the 21st century by hosting I'm a Celebrity.