£10k bursary in memory of fallen Second World War airman, to support future students
7 September 2021
Donald Philip Glynn Miller (BSc 1940) graduated as a Bachelor of Science in mining engineering from the University College of South Wales and Monmouthshire, a founding college of Cardiff University.
A resident of Richmond Crescent in Cardiff, Donald had previously studied at Cardiff High School for Boys, where he passed the Central Welsh Board School Certificate in 1936.
Shortly after finishing his studies, he enlisted in the Allied Air Forces and trained as navigator-observer. He served in the Siege of Malta and throughout the North African campaign from Alamein to Tunisia. Following additional training, he went to Belgium in January 1945 to serve with the Tactical Air Force on the Western Front.
Tragically just a month later, in February 1945 and aged just 24, Warrant Officer Miller was killed by a flak shell splinter while carrying out an air raid. His four crew members were taken as Prisoners of War after an emergency landing on an airfield in Eindhoven.
More than 75 years later, his nephew, who is also named Donald Miller, has dedicated a gift of £10,000 in his uncle's memory, with the aim of supporting future Cardiff University students.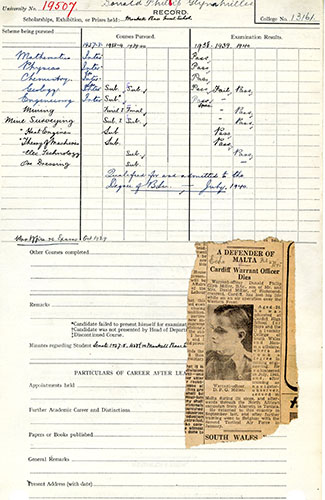 After growing up in Cardiff, Don moved to Malaysia in 1978. There he met his wife and had a successful career, in a land quite as welcoming and friendly as Wales.
"Inviting students, resident in Malaysia to benefit from this award is a small sign of gratitude to those wonderful people and the country that has been my home for forty years.
"I never met my namesake, Uncle Donald, but twenty years after his death, when I applied for a scholarship at the Coal Board he was still remembered by an official there, for his potential. He would surely have had a great life, career and family.
"This bursary is a very personal recognition of the sacrifice made by my uncle Donald. He was the only member of our family to be harmed or killed in the Second World War and his early death, in the last months of the hostilities, was grim."
The DPG Miller Bursary will support students domiciled in Malaysia who wish to attend Cardiff University to study engineering.


Find out more about remembering a loved one with a gift to Cardiff University, and help to save, change and enrich lives in Wales and beyond.