Becoming Finnish and living in the EU during Brexit – For Alumni, By Alumni
25 January 2021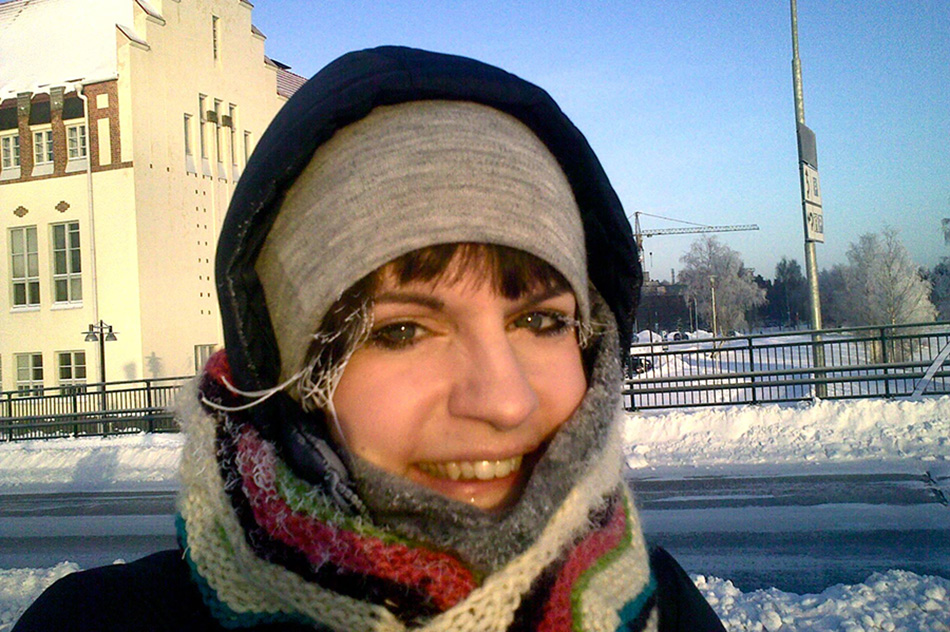 Chloe Wells (BA 2007) worked for Cardiff Council after graduation before emigrating to Finland at the end of 2010 where she gained her Master of Social Science and her PhD. Here, Chloe talks about her memories at Cardiff University, becoming a British-Finnish citizen, and living in the EU during Brexit.
I lived in Cardiff for six years, three of those as a Cardiff University student. I graduated with a BA Hons in Ancient History in 2007 and then worked as a customer service agent for Cardiff Council.
I really relished the social life I had a student: many great nights out and fancy dress parties! I also enjoyed being a member of the then newly created Harry Potter Society, which I am pleased is still going. During my time in Cardiff, I saw the building of 'St. David's 2' and the new library – the city changed so much during those few years. My favourite part of Cardiff was the Bay; it always felt like taking a mini holiday to go there and stroll around. This was also the time when the BBC series Torchwood was being filmed, so that added some extra excitement to visiting the Bay.
At the end of 2010, I decided to emigrate to Finland. I had visited several times on holiday with my sister, including during the snowy winter, so I had some idea of what living there would be like. I had also read a lot about Finland's history during World War II and appeared on TV's Mastermind (2010 series, episode 19) with Finland's 'Winter War' as my specialist subject. When holidaying in Finland, I fell completely in love with Finnish nature and the peace and calm that Finland provided. Something just 'clicked' with me that this is where I should live. After 10 years of living here the 'honeymoon period' is certainly over but I still appreciate the good things about Finland – although I sometimes miss the liveliness of other places! The lack of daylight in winter (at the moment we have only about 5 hours of daylight) and the 'white nights' in the summer take some getting used to. The midnight sun is beautiful, but you can easily lose track of time in the evenings as it never gets dark. In the winter it's hard to find energy, but vitamin D and naps help!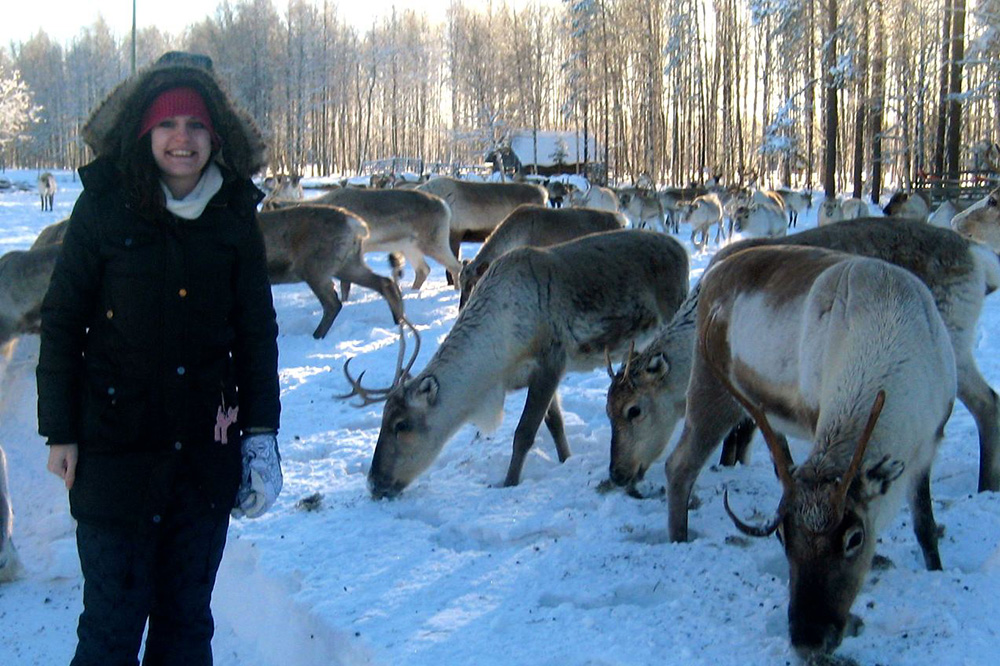 Moving to Finland to work as an au pair meant I lived with a Finnish family, so I was not 'out on my own.' I worked as a live-in an au pair for two different families and both took me with them traveling around Finland. I met Father Christmas in Rovaniemi on the Arctic Circle and visited former WWII battlefields in eastern Finland. During my time as an au pair, I also learnt how to ski (badly!), ice skate (badly!) and shovel snow (quite well!).
Learning Finnish has proved challenging. Finnish is very 'different' to other European languages (except Estonian); perhaps the only Finnish word we use in English and Welsh is 'sauna' (Welsh: 'sawna'). For me, learning Finnish will be a life-long process, and my learning has been hindered by the fact that I have spoken English in my working life and conducted my studies in English. I did, however, get my Finnish language skills up to the level needed to apply for citizenship. The other option here to gain citizenship is to pass a Swedish language exam. Finland, like Wales, is officially a bilingual country, although the number who speak Swedish as their first language is only 5%. Finnish sign language, Karelian, the Sámi languages, and Romani are recognised minority languages.
After working as an au pair, I was accepted to study in the Border Crossings International MA programme at the University of Eastern Finland, with my major subject being Human Geography.
My research topic was the medieval borderland city of Vyborg, Russia which before WWII was Finland's 'second city.' I worked with young people in Finland to find out what meanings and memories they associate with this 'lost' Finnish place. I defended my PhD in November 2020 in front of a small, masked audience and the defence was also streamed online.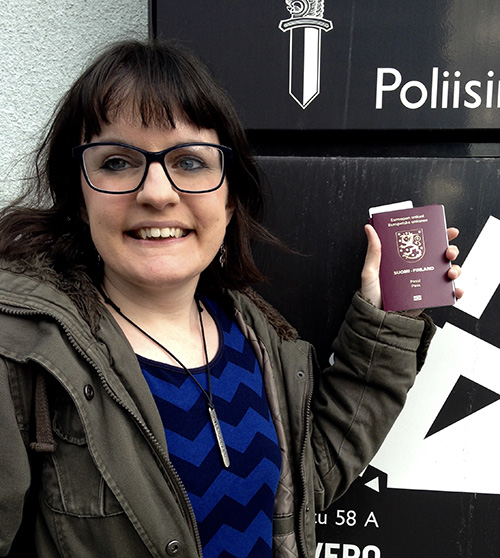 After passing the Finnish language exam in 2015 and having lived in Finland long enough I applied for and was granted Finnish citizenship in 2017, Finland's centenary year. I am now a dual British-Finnish citizen. I am thankful every day for my Finnish citizenship as Brexit makes life for British citizens in the EU very uncertain. Here in Finland, all British citizens need to re-apply for residency and pay for biometric ID cards. Brits will also be 'locked in' to living in Finland whereas someone like me can still choose to move to and work in another EU country with very few barriers. I feel very lucky and also very angry that this freedom of movement has been taken away from British citizens in the EU, many of whom were not able to vote in the EU referendum due to having lived abroad for over 15 years. As you can tell, Brexit is a topic I am passionate about: maybe my post-PhD career should have something to do with the researching the lives of Brits in the EU!

Dedicated to the memory of Laura Walden (nee Maggs) (BMus 2007) 1985 – 2019


Tell us what matters to you
We've introduced 'For Alumni, By Alumni', because who knows our alumni community better than…you guessed it, you! We'd love to hear from you with ideas for articles or online events that you're interested in, you can give insight on, or maybe you ARE the story! Check out our full line-up of articles and watch back our live events playlist.