A faith response to crisis
27 March 2020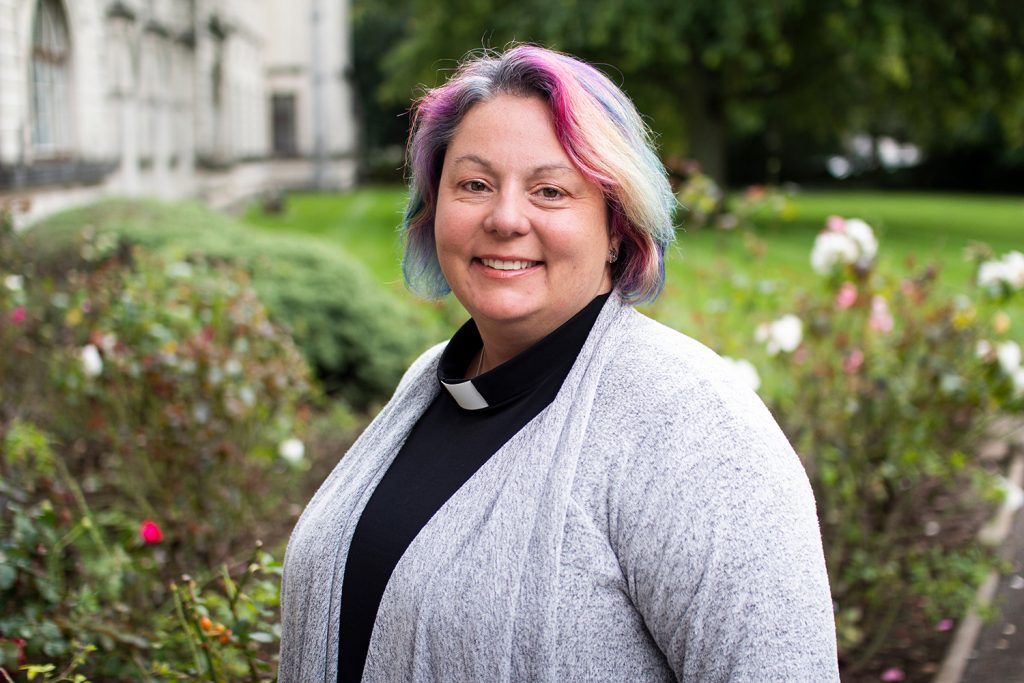 Reverend Delyth Liddell (BTh 2003, MTh 2014) is a Methodist minister, and is the Coordinating Chaplain for Cardiff University's Chaplaincy. The Chaplaincy provides a place of friendship, hospitality, reflection, prayer, support and dialogue, where students and staff can engage socially and explore faith and spirituality. Each of the chaplains comes from a different faith and religious background.
At this time, as always, the Chaplaincy is here for the whole Cardiff University community. The challenges this pandemic presents, from anxiety and loss to the impact of social distancing, will affect different people in ways we can't begin to guess. It's more important now than ever to highlight the Chaplaincy's presence. We can never guess who will need our support.
We are supporting the University's response to the Coronavirus pandemic. We offer a prayerful presence, and are available to deal with issues which may transpire for individuals or for groups. We are adapting fast in a rapidly changing world: for instance, right now we are changing the way we deliver religious services and other gatherings. But in keeping with our core mission, we will focus on providing our pastoral care and faith support for Cardiff students and staff, through compassion and through love.
I love my work. It's a calling, not a job. Providing spiritual, emotional and pastoral support for students and staff, regardless of faith, is very special and fulfilling. I came to Cardiff in 2000 to study for my Bachelors in Theology, and returned as a Methodist Minister to become Chaplain in 2010. In 2017 I became Coordinating Chaplain for the Chaplaincy. Cardiff is my home now, so it makes me especially glad when students return years after they've left, to let us know they are building successful and happy lives. Sometimes, the help we gave them was a catalyst to their success.
Religion is an important part of the Chaplaincy's work. The Chaplaincy provides an open and inclusive space where people can talk about faith, religion, ethos and ethics – supporting religion as a protected characteristic under the Equality Act 2010. Staff and students worship and pray with our chaplains, who are Anglican, Catholic, eastern Christian, Jewish, Methodist and Muslim. All of us work with faith-based student societies.
But we offer more than faith-based support. Students and staff sometimes need a caring person to listen, a kind word, or a helping hand. We reach and support many staff and students with our weekly £1 lunch (great company, great curry!) and weekly evening events, and through confidential meetings. Everyone – including alumni – who visits the Chaplaincy at 61 Park Place will find a warm welcome and a cuppa. Of course, these events have ceased during the pandemic, but the chaplains are still available by email and telephone.
Social media helps us reach across the community quickly. Our Twitter, Facebook and Instagram pages, and intranet presence enable us to touch many lives. We strive to keep people informed and engaged, and most of all to remind them of our presence. People value the reassurance that our chaplains are here for them when we are needed.
The Chaplaincy is alongside and in the University and Students' Union – but not of it. We are independent from both bodies, but are very blessed to have many connections into them. We offer a neutral and safe space for students and staff.
Highlights of the year start with Fresher's week, where we work hard to ensure that students and others know we are here for everyone, whatever their faith. We are a prayerful presence at civic and religious festivals all year – for instance at the Remembrance Day service, and Christmas Carols round the tree in the VJ Gallery. Ramadan and Eid, as well as Easter, often happen outside of term-time, but as religious chaplains these are a big part of our life and work. Graduation is a true joy and privilege for us: we delight in celebrating the achievements of people we've supported and loved.
We support such a wide range of people. Of course, we help those with serious needs to find resources and assistance; but the Chaplaincy is mostly a place for students and staff to find affirmation and kindness. People come to us and feel they've been heard, seen, understood, smiled at, prayed for if that is appropriate, or prayed with if they wish. We can help lessen isolation, lift the spirits, build friendships, and start healing. For instance, we work with LGBTQ+ students: many of them find university a liberating place, but they then face what can be a scary or isolating time in coming out to family and friends at home. As a lesbian myself, I do my best to offer empathy and insights to the situations those students may face.
My advice for anyone facing a troubled time or feeling anxiety, fear, loneliness is: be gentle on yourself. Do what you need to do to relax – whether that's taking a bath, saying a prayer or binge-watching Netflix! We cannot escape the worrying time we face right now. But my faith teaches me that we can face our fears because love is with us. That might be the love of friends and family; for others that will be the love of God, who is with us always.