What next for Wales in the world? Six things we learned
29 March 2019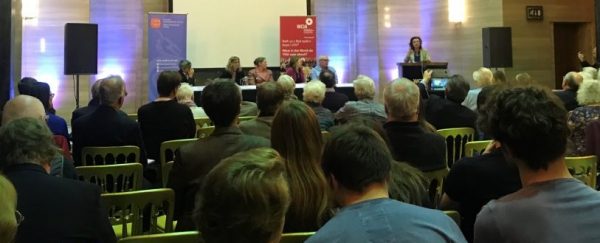 1,008 days after Britain voted to leave the European Union and mere hours before it was scheduled to do so, the only certainty is that it won't. Yet.
Where does this deepening uncertainty leave Wales, and what of its future place in the world? On 27 March, Cardiff University's Wales Governance Centre (together with the Welsh Centre for International Affairs) convened a star panel of academics and alumni to debate just that.
What did we learn?
1 – The UK might pay to play
Leaving the EU needn't mean leaving its programmes, according to Cardiff's Professor Kevin Morgan.
According to him, the UK could continue to participate in teaching and research programmes such as Erasmus+ and Horizon 2020.
2 – Diplomacy isn't just for politicians
Dr Rachel Minto of Cardiff's School of Law and Politics highlighted the role that non-governmental organisations (NGOs) play in diplomacy – lobbying for causes they believe are not championed by the state and representing Wales as a distinct environment.
In any post-Brexit landscape, their role will be critically important.
3 – Wales has the best deal of its kind in Europe – for now
As is stands, Wales has better "sub-state" access to Europe than almost any other comparable nation, according to Dr Elin Royles. It enjoys full accreditation to represent itself independently at key meetings and committees. Can it maintain this status?
4 – Our own union needs reform
Devolution is 20 years old, but for some corners of Whitehall it's like it never happened.
That's the view of former UK Permanent Representative to the United Nations, Sir Emyr Jones Parry (BSc 1968, PgDip 1969, Hon 2003). In order to have Wales' view represented on the world stage, we must first ensure it is heard here at home.
5 – Brexit is just one piece of the puzzle
For Eluned Morgan (Hon 2012), Minister for International Relations and the Welsh Language, Brexit is just one piece of the puzzle: the US-China trade war, a shift in the global economy and a rise in protectionism are all challenges of equal weight.
To be an outward-looking "nation of sanctuary", foreign relations needs to be incorporated into the brief of every Welsh government minister.
6 – Opportunity still exists
You can't simply walk off the international stage even if you wanted to, insisted Dr Christopher Huggins.
Citing the example of the Swiss regions and Norwegian cities which actively engage with the EU from the outside, he was confident that whilst formal mechanisms might disappear, "opportunity will always be there".