Support services in the Centre for Student Life
5 April 2023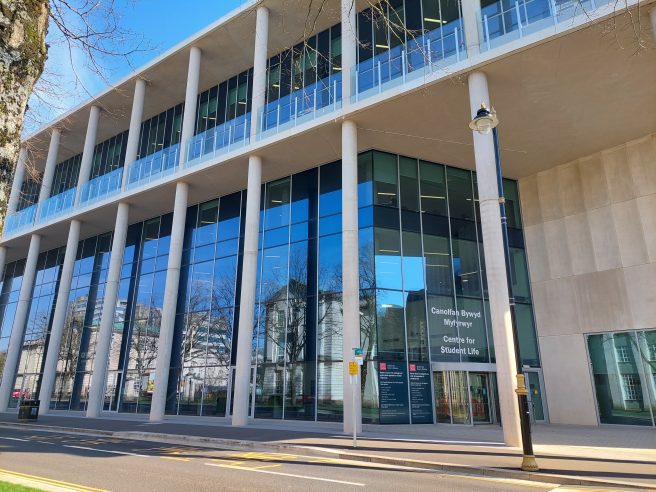 As a prospective and current student, it is important to know that you will be supported throughout your student life. A big part of the services offered sit within Cardiff University's fairly new Centre for Student life, located right next to the Students' Union building.
Student Connect is at the heart of most services in the Centre for Student Life. They are based on the ground floor of the Centre for Student Life and can help with any queries you have. Once you enrol at the University, you will be able to get in contact with them in a few ways, all of which you can find in the "get in touch" section at the end of this page.
Have a look through the Services you can access through Student Connect:
Student Health and Wellbeing
During your time at university, it is important to prioritise your mental health. At Cardiff, there are multiple sides to the Health and Wellbeing service:
Counselling or wellbeing appointments: no matter how small your worries are, you can get one-to-one counselling and wellbeing appointments free of charge. Appointments in Welsh are also available upon request.
Drop-in appointments: every Monday, Wednesday, and Friday between 2 p.m.- 4 p.m., the wellbeing and counselling staff can meet with you for 15 minutes to discuss any challenges you are facing.
Self-help resources: there is a wide range of self-help resources, including helplines, websites, and useful advice you can browse through on more than 15 topics.
Workshops: from managing anxiety, to cultural shock and race equality and awareness, these short workshops can introduce you and help you understand different topics.
Support groups: a few therapeutic groups and peer support events are available for students who want to meet up in a safe space and share their experiences.
Trans support advisers: they can provide guidance and support for students in the process of transitioning and beyond, as well as for those who are non-binary, gender variant or gender questioning.
You can also get support from Wellbeing Champions, who are fellow students that can offer their experience and practical help during organised coffee lounges, events, meet-ups, and workshops.
Student Disability Service
The service offers a wide range of support, advice, and guidance for disabled students. They can talk you through receiving suitable adjustments such as accessible accommodation or exam arrangements as well as DSA support. Below, there is an image showing the services they have available.
Student Visa Support
The Student Visa Support service can help international students with any queries you might have during your studies. They can offer advice on working in the UK, as well as support and information on different aspects of visas. The service also has a range of resources and signposting links for international students with families living in the UK. You can also have a look at the other support options and information for international students.
Student Futures
Located on the 1st floor of the Centre for Student Life, Student Futures is there to help prepare for your future work life. Services include help with checking your CV, opportunities to spend time abroad, one to one guidance on job applications or mock interviews to name a few. They also have a platform you will be able to access once you enrol, on which you can find internships and work experience.
Student Advice and Money
The Advice and Money team provides information on aspects such as financial assistance you may be eligible to apply for, types of funding, and offers advice and guidance on ways you can manage the cost of living crisis.
Academic Study Skills
No matter in which year of university you are in, you can sign up for different classes meant to help you in your academic journey. They range from essay writing skills to time management, note taking techniques or exam revision tips, along many others. It can be a helpful way of acquiring new skills and learning how to manage your studies in an easier way.
There are a few more services available which can be of help throughout your studies. Check out the services in the Students' Union on this link.