Useful services in the Students' Union
14 February 2023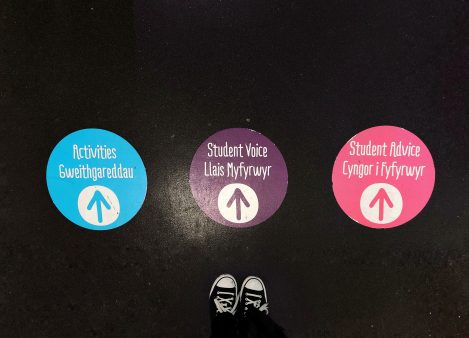 Cardiff University is not only known for being the Welsh University of the Year but also has the second-best Students' Union in the UK! There are multiple reasons why it is so highly ranked, from events and activities to services, study spaces and staff. Keep reading to find out more about one of these aspects: the services offered!
Student Advice
Whether you encounter an academic issue or need help with checking a student housing contract, Student Advice can offer 1:1 guidance, support, and signposting. As a confidential and independent service from the university, Student Advice offers impartial advice for free to any student who accesses it. Their main goal is to provide you with suitable information, signposting, and advice you may need during your studies.
They have an extensive list on their webpage explaining different issues in simple terms, split into categories such as academic, wellbeing and housing, to name a few. It can be useful to familiarise yourself with the issue you're seeking advice for before contacting them or while waiting for a reply from one of the advisors.
Student Advice is located on the 3rd floor of the Students' Union and is open 9 am- 5 pm, Monday to Friday. Students can get in touch with them in multiple ways, all of which, including contact details, can be found here.

Student Voice
Focused on representing students' suggestions, feedback, and ideas at higher levels, Student Voice aims to improve your student experience at Cardiff University.
The main areas in which they work are:
Amongst many other events, they organise student elections twice an academic year, where sabbatical officers and campaign officers are chosen by students' votes, and also hold an annual campaign, Speak Week, to collect feedback from students about their experience.
You can browse through other campaigns, activities, and events they organise or help with by following this link.
Jobshop
Jobshop is a platform the University and Students' Union uses to post different part-time or temporary jobs you can apply to. They have a wide range of paid opportunities, both within the university and externally. Students have previously worked during events such as Open Days, on sports or concert days at Cardiff's Principality Stadium.
It can be a great way to meet new people, improve your skills and earn money while studying. In most cases, you do not need to have previous work experience to apply for the advertised vacancies, so it can be a useful starting point if you want to try something new.
Once you enrol in the university, you will be able to sign up to the platform, complete a Right to Work check and browse through the different vacancies.
Student Activities
Getting involved in Student Activities is all about making new friends, exploring hobbies and seeing new places. Below, you will find a brief description of the different options:
From cultural and international to appreciation and artistic, there are over 200 societies you can join. It is a chance for you to meet other like-minded people with similar interests or even try out a new hobby you have never thought of before.
Even if you are a complete beginner, you can still join one of the teams! These range from sports you see in the Summer Olympics to more expressive ones such as ballroom dancing or ice skating.
Consisting of a radio and TV station and accompanied by a newspaper and an award-winning magazine, through Student Media, you can find out what it is like to work in a creative environment!
The GIAG team have a great deal of taster experiences, tours, and excursions around the UK and internationally. You can discover amazing new places and travel together with other students!
From mental health to the environment and helping children, your involvement could make a difference in someone's day.
Centred around wellbeing, the SLS campaign for raising awareness of different issues students might be facing. They are there to support and listen to students and provide a friendly environment for discussions.