Airport travel tips from an international students POV
14 February 2023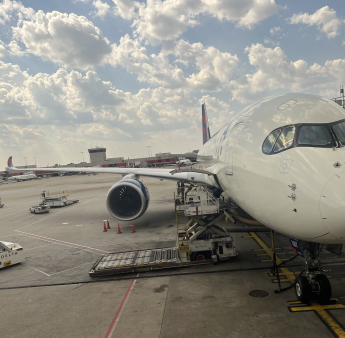 As an international student studying in Wales, I've signed myself up for a lot of airport trips back and forth from home.  The hassle of moving through the airport while you stop through baggage, customs, and security can be overwhelming when you're having to juggle all your luggage and documents. After many flights full of trial and error, I have finally figured out some tips and tricks that help me create a peaceful travel experience. To assist in manufacturing stress-free travel days, I have compiled my list of tips and products to make your airport journeys smooth and simple.
Buy a bum bag
I know, I know, bum bags (aka fanny packs in the US) are not the fashion trend nowadays. But I promise you, having one can be a lifesaver when needing to rummage through your must haves at the airport. Through security, having your passport, identification, wallet, important documents, etc… right on you saves you time and stress. Instead of having to take off your backpack or open up your carry on, set it down, and find these things, a bum bag is attached to you, making it easier to get to what you need. Plus, it acts as another bag that stays on you on the plane, not counting it as a carry on or extra luggage, saving you money and space elsewhere.
Budget for airport food/take advantage of airplane food
After booking flights and managing money for travels, one thing that often slips my mind is budgeting for airport food. It's often very tempting to buy a coffee or a meal at the airport. But we often forget to budget that in our travels. Remember to budget for the cost of food at the airport. When I am tight on money, I often will bring snacks in my carry on. However, also take advantage of the food and drinks offered on the flight. Especially if you are traveling from far distances, take advantage of the "free" meals and drinks offered to you. This can save you money at the airport and these meals come with your plane ticket.
Invest in a neck pillow
I've spent many years refusing to buy a neck pillow. I always thought it was a waste of money and too much to carry. However, I eventually caved and can not recommend it enough. When I am spending days traveling through multiple airports and on 8+ hour flights, I get tired quickly. The only way for me to  actually feel rejuvenated is when I comfortably sleep. The neck pillow has been a saviour when it comes to long flights and sleeping in airports during layovers. The neck pillow slips right around my backpack or carry-on handle and it's like it's not even there. The key to making it through travel days is comfort and a neck pillow is how I maintain one aspect of comfort on my flights.
Bring a reusable water bottle
Though security will make you throw out your water, having a travel reusable water bottle is very helpful. Because I am not a fan of airport fountain water, I often will ask for bottled water on the plane and fill my reusable bottle up with those. This keeps you hydrated for your long journeys and can taste better than the water at the airport. I also highly recommend a collapsible water bottle. It saves space when not in use and is easy to clean and maintain.
Be conscious of your luggage
I learned a trick early on in traveling that you need to make your luggage easily identifiable to you but not out there enough where people will be so intrigued. I often put a unique ribbon on all my luggage so that I can easily see what luggage is mine. Also, take pictures of your luggage, inside and out, before you travel. If your luggage seems to be tampered with or broken, these photos will allow you to give proof and potentially get money from the airlines to replace any broken or potentially stolen items. By being conscious about your luggage, you are saving yourself  time and money in the future.
Collect mini products
Every carry-on needs to be packed with mini products like hand sanitiser, face wipes, deodorant, tooth paste, tooth brush, and lip balm. I keep a pack of these mini items in their own bag in my carry-on and when I am not traveling, I keep them tucked away wherever I am. This on the go bag is easy to take with and has every essential I need especially for those long flights. Keep yourself fresh and healthy by "investing" in mini products for your travels.
These tips and products have been lifesavers when it comes to traveling. I feel refreshed and ready to take on my travel adventures because I have incorporated these aspects into my travel needs. I highly recommend all these tips but also, find what works for you and I can guarantee, you won't be sorry.
Hope this helps,
Lilly <3