MEDIC TIPS CONTENTS 2020-2021
14 Ebrill 2020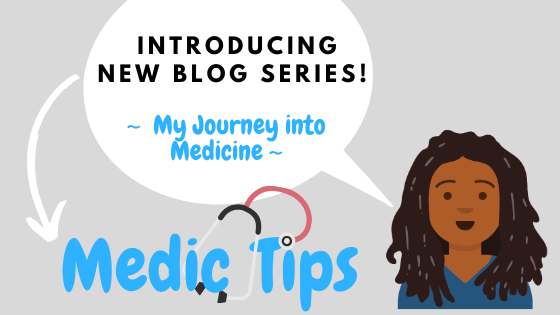 Hi everyone! Please find all the links to my content from 2020-21 which is full of relevant advice for the whole process from start to finish for applying and getting into medicine as well as some insights into what's it like at university.
For current content and any other updated information, please refer back to my 2021 relaunch page, which will collate all my links from 2022 onwards: (LINK TO BE ATTACHED SHORTLY)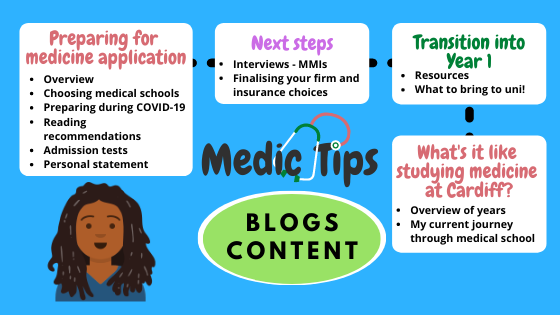 How to contact me?

You can contact me directly via Unibuddy which is a platform where you can directly message me and I will endeavour to respond as quickly as I can 7 days a week!
I often get asked about my journey into medicine, so here is a short insight into my preparations. I will expand more on these in the relevant blogs!
---
A Levels

Having done well in my GCSEs, I knew that I had the academic ability to do medicine so I ensured I picked the classic "medicine trio" of A levels: Maths, Biology and Chemistry. However, I was also strongly considering Maths & Music as a degree (my two favourite subjects!) so I did A level Music as well!
Extra-curricular activities – Work and Voluntary Experience

Organising work experience for medicine was harder than I expected. Before turning 18, there were certain restrictions which meant that I couldn't see certain specialities and the waiting list to get experience was so long! Having been encouraged by my mum to start applying for experience early in Year 12, I managed eventually to have a week of clinical shadowing on a hospital ward.

I was fortunate that my sixth form college encouraged us to use our Wednesday afternoons to do volunteering and so I volunteered in a local hospice helping in the Day Centre Unit. I did this consistently for a year and a half to show a long term commitment and I thoroughly enjoyed it!
Once I was 100% sure and determined to do medicine, I was simply excited! I started looking at universities very early on. I found a map of all the medical schools and I was surprised to know that there were so many medical schools to choose from! I wanted to see some of them and in actual fact, Cardiff was the first open day I went to in April 2017! Instantly I had a good feeling about the city and the medical school so I went ahead and put it down as a UCAS choice!
Preparations

One of the entry requirements for most medical schools is to do an admission test and so in the summer I sat the UKCAT (now called UCAT). I chose to complete it before starting Year 13, so that I could evaluate my choices based on my score, rather than doing it after submitting my application which I just thought was too risky! I started preparing early on which I am grateful that I did as closer to the time, a very close family member passed away, which paused my revision for a while.

I also started planning ideas for my personal statement near the end of summer and made a VERY rough first draft that I was able to get fantastic support from my college to improve. After ten drafts (!), I was very happy with it and went ahead and submitted my UCAS application.
Interviews and beyond
After a period of agonising waiting (also known as continuously refreshing emails everyday), I was relieved to secure some interviews which I did in December – January. Having done an MMI with a different university beforehand, I felt a bit more prepared for Cardiff MMI but of course I was quite nervous. I remember the weather was horrendous there was such thick snow that I had to take an early train to deal with all the delays – I was expecting it to 3-4 hours instead it took me 7 hours!
After interviews, the only thing I could do was carry on working hard in my A Levels – I tried not to refresh my emails as often and near the end of February, I heard from two universities that I had offers – one of them of course being Cardiff! The decision was easy for me to firm Cardiff because it was the furthest away from home! Being an only child I am thankful that I have been nurtured to become strongly independent so I wanted to experience a complete new life, encounter new opportunities and I had already fell in love with the city from the open day!
I was working hard already but after securing the offers, I was so determined to get the grades and fast-forwarding the clock to 16 August (results day), I remember sitting on my parent's bed as soon as 8am hit, I logged into UCAS and opened my screen…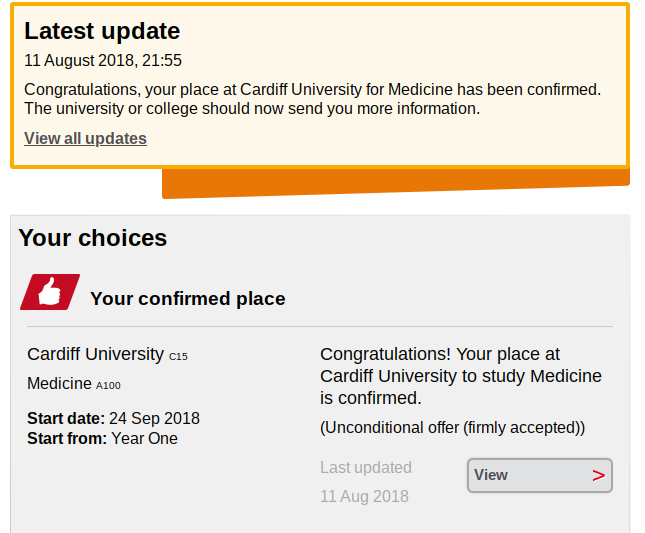 … all I could do was scream in excitement that this long application process was successful. I think my parents were more excited – jumping on the beds, crying in happiness- it was a celebratory time! In actual fact, I went into collect my results and few hours later ended up going down to Cardiff to explore the city- turns out my parents had booked a hotel for a weekend – no pressure at all!
Becoming a Fresher 2018-19

A few weeks later, I begged my parents to go to my favourite place … IKEA! We had a few days of university shopping filled up our spare room with new stuff – the mess stressed my mum out but finally on the 22nd September, we drove down to Cardiff – this time not for an open day, not for a weekend away but to officially start my new journey as a medic! I am glad I got my top choice – to stay in Talybont accommodation (Taly North) because I wanted to be equal distance from Cathays and Heath Campus, which was definitely the best decision!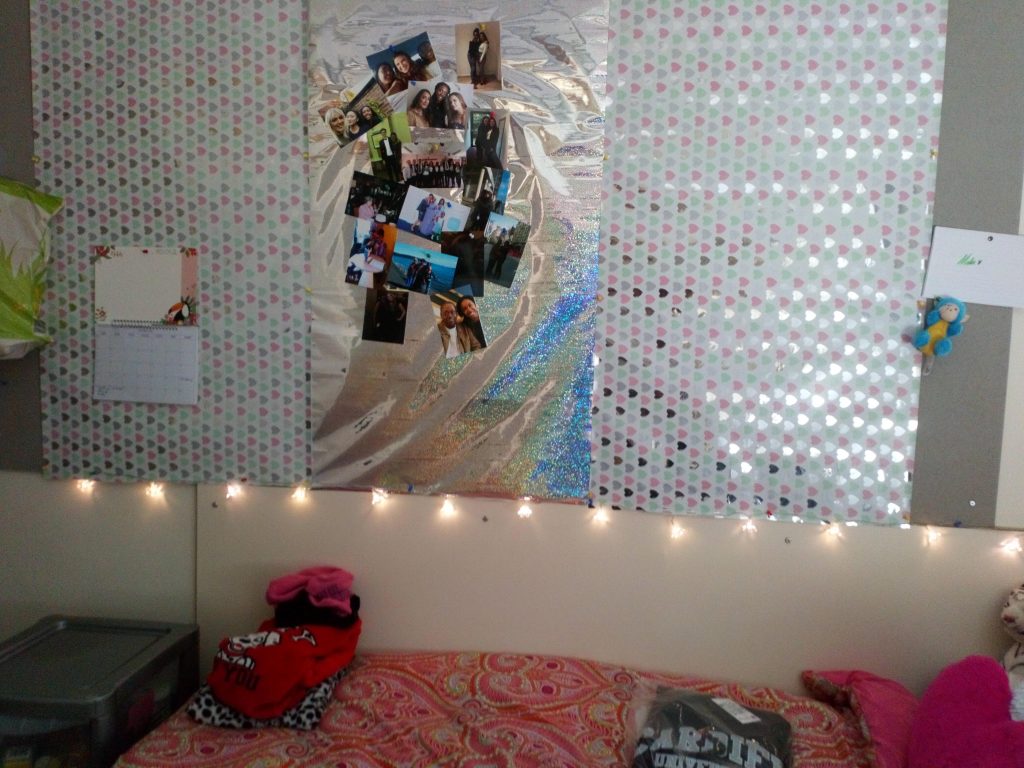 My favourite part of the moving in day was decorating my room – my noticeboard was massive and my mum came up with genius idea of putting up wrapping paper on my wall. If you look closely, you will also see the classic university hoodie that I bought practically the next day – it just had to be done!
The first semester went very slowly for me it was weird not having a half term like in A levels, transitioning to learning style but before I knew it 1st year was over and I had a great year, which actually flew by! I joined lots of societies, made some new amazing friends and happy to say that Cardiff is my second home!
I hope you enjoyed my whistle stop tour of my journey into Medicine! It is a long journey, requiring commitment and motivation but you can do it! You can find the links for the rest of my blogs below – in the mean time, please feel free to leave a comment or contact me through UniBuddy where I am more than happy to answer any other questions you have!
---
Blogs!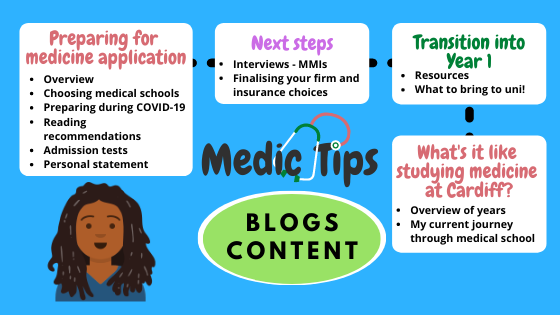 These have been organised into headings to help you navigate to content you would like to read! Simply click on the blue highlighted text to be navigated to the blog! Alternatively, you can find all the blogs in order of release and expected content at the bottom!
Preparing for medicine application
Next step:
Transition into Year 1:
Resources! (These were curated in 2020 to help you bridge the gap from your previous studies into PCS , which is the first semester of medical school at Cardiff University. You are in no obligation to use all of them, but will be useful to do in the summer before Year 1 to keep your brains stimulated!)
What to bring to uni! – useful blog listing the types of items that are useful to bring! I will add a downlodable PDF shopping list soon!
What's it like studying medicine at Cardiff?
These blogs are useful for prospective applicants to get an insight into what's it like as well as current medics to hear about my experiences!
Overview of years!
Overviews of Year 2 & 3 to be released this year!
OTHER LIFE REFLECTIONS
Reflective writing is so important to keep up, to be aware of one's feelings and express thoughts. I spread my reflections across my blogging, social media and written journal, but will endeavour to share some thoughts when I can here.
Studying, stress and self-care
 Lessons learnt from turning off social media notifications
---
IN ORDER OF RELEASE:
2020 BLOGS
2021 BLOGS