Make the most of your time at home!
18 June 2020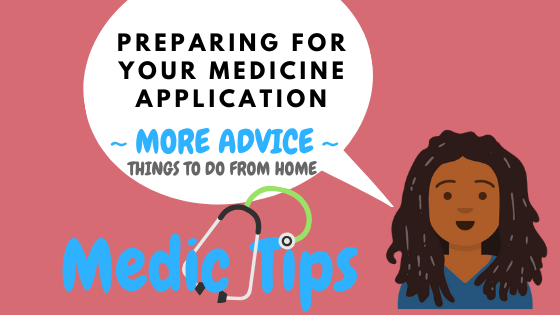 Thought it would be a good time to share some advice on how to make the most of your time at home to prepare for your medicine application during COVID-19! Hopefully, you should have already seen the guidance from the Medical Schools Council on gaining relevant experience. This contains some fantastic resources, so be sure to check this out – this blog will serve as a supplement to this!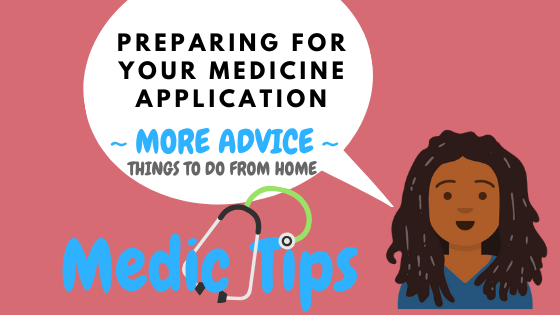 ---
Since the beginning of lockdown back in March, I have had many students contact me via Unibuddy, feeling quite nervous about the impact of COVID-19 on their journey into medicine. I want to start by reassuring you that you will be okay! Everyone has had to adapt to this new way of life and that means coming up with fair solutions and actions to reduce any negative impact that may occur. Use your energy to focus on being as prepared as possible and I have every hope that you will overcome any difficulties!
So what can you be doing? During this period, there have been some great opportunities popping up which is why I waited a bit longer in order to collate and share these resources with you! I have organised it into five GOs!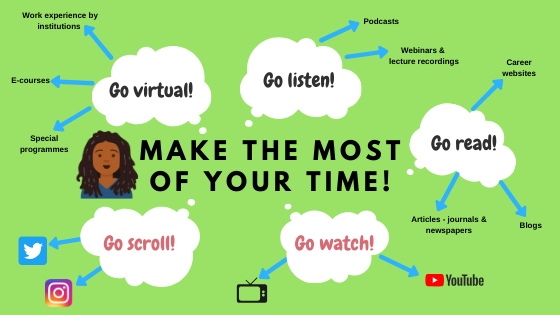 GO VIRTUAL!
Previously, I have mentioned how work experience is an essential component of a personal statement, as it is an opportunity to share reflections of the insight you have gained into the career. However, during this COVID-19 pandemic, this has made it even more difficult and unlikely to arrange. Hence, the requirements for each medical schools have adapted. Luckily, there have been some interesting virtual opportunities for you to do self-directed or as part of a programme!
By institutions

Many of you will have already tried the work experience offered by Brighton & Sussex Medical school + "Observe GP" by Royal College of GPs (hyperlinked in the guidance).

You may not be aware that St George's London has a platform too, named "Taste of medicine", which introduces types of careers, further work experience resources, guidance on improving communication skills and preparation of university teaching!
E-courses

Following on, Open University offer a range of free courses on their sites:

* On Open Learn, I would recommend refining the topics to health, healthcare careers, mental health & public health! – These range between 1- 24 hours, so perhaps pick a few that genuinely take your interest and spread it out over a few weeks! Do not just do it for the sake of it you need to be able to speak passionately about it at interviews! Another bonus is that the majority you can download a statement of participation as evidence too!

* On Future Learn, there is a great variety of free healthcare medicine courses. I've picked out a few to help you narrow some choices down (and some reasons why!):
– The NHS Explained: how the health system in England really works (very popular one!)
– Critical care medicine (very important at this time!)
– Basic first aid (might as well learn some practical skills!)
– Physiology: the Science of Life (keep your brain stimulated!)
I would recommend checking out how long each course remains active for once you start so you don't get caught out if you choose to start more than one at a time.
Special programmes

There have been many widening participation programmes, who have transferred their support virtually – if you are in the UK and there is a medical school near you, perhaps find out if their WAMS (Widening Access to Medical School scheme) are running any sessions. I have picked out three new opportunities which have resulted out of COVID-19 for you to look at as well: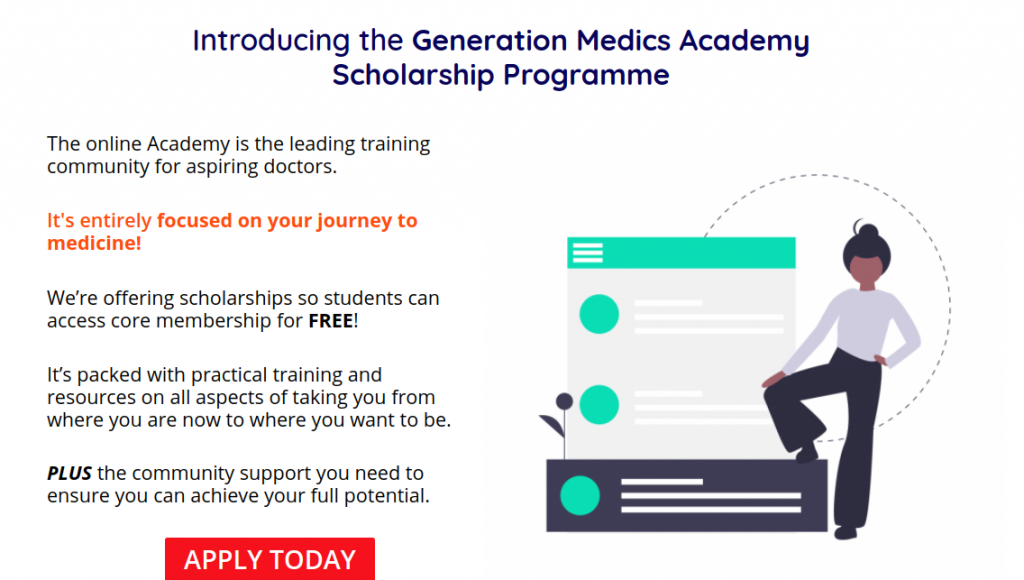 Generation Medics: this programme involves a members library with resources to support your application, e-courses to explore career interests, exclusive opportunities and a forum – a support network to meet like-minded people! Eligibility criteria includes: 13 or over, UK & from a state school
Medic Mentor Virtual Society: another opportunity to be part of a community – weekly meetings with guest speakers and teaching & more resources to support on your journey into medicine. They also have a podcast series called OpenPod where they interview Medical Students from different universities across the UK- this should help you with choosing your medical school too!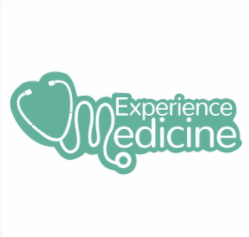 Warning: There is a small cost to this virtual work experience workshop (£2.99) – it comprises of two parts: personal and professional development with lifetime access to the workbook included as well
---
GO LISTEN!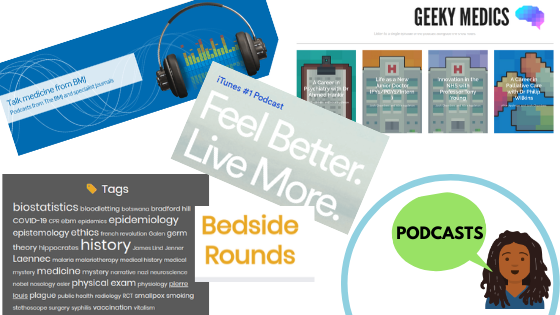 Podcasts

There are so many great podcasts to listen to – I wish I got into these before coming to uni! I've picked out some fascinating ones:
* Bedside Rounds – interesting collection of podcasts discussing the human stories that have shaped modern medicine – can see some of the tags in the collage
* Feel Better Live More – this podcast is run by Dr Chatterjee – you may recognise the name from the TV programme Doctor in the House & also appearances on The Breakfast show! He also has a health blog on his website
* Geeky Medics – when you become a medic, this website will become your best friend particularly for learning examinations, but they also have podcasts which help to give a good insight into careers!
* BMJ Podcasts – had to mention this! It is regularly updated and is contributed from specialist journals as well, some will be quite advanced topics, but just pick and choose to your taste !
Lecture recordings

There is a great engagement scheme here at Cardiff University called "Science in Health" -an initiative to inspire the next generation of talent. Within this programme, there are public lectures which discuss current health care issues. You can listen to these recordings from the past 10 years HERE!
Webinars

There are also past and upcoming webinars that you can tune into – here are some examples:
* Medical Projects – give an insight into careers, introduction to clinical conditions & advice for application
* Becoming a doctor – Live Q & A panels for aspiring medics to ask any questions to find out more about the course or careers
* Kaplan – expert advice for aspiring medics, covering work experience and other parts of the admission process
* Premedicus – providing free online lockdown webinars targeted at pre-medical students
---
GO READ!
Career websites

There are two that I would like to draw your attention to:
1) NHS Health careers – provides info on different specialities & pathways
2) Bright Futures – also looks at medicine careers, understanding the NHS and the wider world of medicine
Blogs

There are so many blogs to check out – blogs by doctors & medics like myself, but also by health magazines and newspapers. These are easily found on Google – they are usually a light read but are informative and insightful! I would also recommend checking out some of the blogs by the BMA (British Medical Association).
Articles – journals & newspapers

Reading academic journals can seem overwhelming and I have to admit as a medic myself, I still have a long way to go in terms of interpreting journals. However, you can easily get the gist of articles, whose titles take your fancy. Perhaps start off with the BSDJ (British Student Doctor Journal) and look at topics stemming from your special interests at A Level!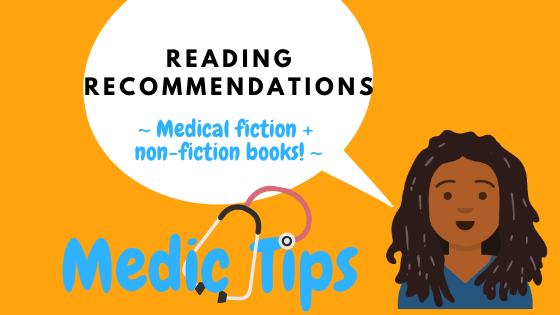 If you are a lover of books, check out my reading recommendations blog – see if any of these give you some inspiration for some summer reading as well!
So far, I have covered GO VIRTUAL, LISTEN & READ! I just wanted to reiterate that with all of these suggestions, ensure that you are keeping reflections of what you have learnt. These will be useful for interviews where it is likely that you will need to demonstrate that you have an insight into medicine and how you tackled this. If you are uncertain how to do this, the RCGP (Royal College of General Practitioners) has produced a useful reflective diary guide HERE.
---
GO SCROLL!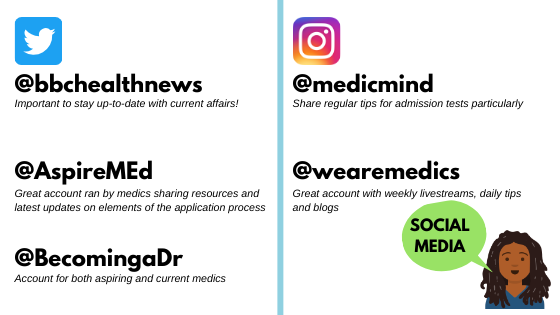 ---
GO WATCH!
Finally, there are lots of programmes to watch to get an insight into real life medicine – don't need to write notes from these but I'm sure you'll get hooked on some episodes, in between preparing for UCAT obviously 😉
BBC have done some great programmes – you can find the health & wellbeing collection HERE – one of my favourites has to be Junior Doctors aired last year!
24 Hours in A & E is another great one as it includes the social perspectives from friends and family of patients as well
If you are an avid YouTuber, there are lots of medic and doctor vloggers to get an insight into their lives- one of my favourites has to be Ali Abdaal who has his own website too!
---
I hope this has been useful! Please feel free to leave a comment or contact me via UniBuddy where I am more than happy to answer any other questions you have! I've added the links to the other related blogs on preparing for medicine application below as well: