How to start your medicine personal statement
12 April 2020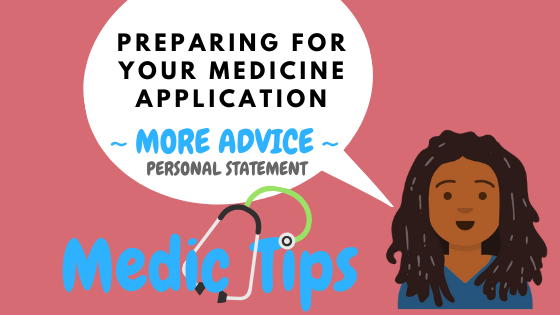 I just wanted to do a follow up blog from the overview so that I could share some tips and more about my approach to writing my personal statement.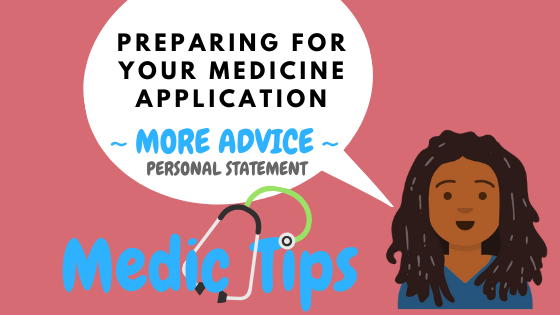 INVEST IN A NOTEBOOK
This was my treasured notebook (only cost £1!) – I kept all my notes in it from UCAS talks, open day talks, useful reflections, as well as notes from UCAT prep. It was so handy to have everything in one place when planning content of my personal statement.
What do you reflect on?
Work experience

It is so useful to keep a log of what you do for the time that you are on work experience. Due to data protection laws, you can't write down personal details and indepth identifiable information about patients. Instead, write a brief description (e.g. saw a patient with type 1 diabetes) and focus more on the learning points from your observations. See if you can identify any moments which demonstrated good medical practice – for example communication between professionals and also with the patients.

Also, if you get the opportunity to speak to doctors, don't be afraid to ask questions about how they got into medicine and how they are finding their careers! This experience is also a chance for you to see firsthand if this environment is for you! You may be put off and uncertain, you may be surprised to hear this but that's okay! Make sure you do lots of research and ask as many different people that you can about medicine before deciding not to pursue it. It has to be a committed decision – there is no halfheartedness in medicine as harsh as it sounds!
Voluntary experience

Similarly, keep a small diary of what you do each time you go to volunteer – you never know when you come back to write your personal statement – there may be a moment that you want to reflect on from your volunteering so it is great to keep it noted down! Note down any of your personal development changes as well that you may notice the longer you are volunteering – this may be about your attachment with the people you interact with, your confidence to lead activities etc.
Wider reading

As I mentioned in the previous blog, it is great to build on your intellectual curiosity, but it's so important that you keep a few notes on what you learnt from books/ papers etc. When you finally come to writing your personal statement, there is no space to waffle. You need to be clear on what you have learnt otherwise there is no point adding it in down and later on, it may cause an issue if it is brought up at interview and you can't remember it. I always recommend to reread materials closer to interviews as well, which I will speak in a later blog.
Other

I would always have a small MISC section (miscellaneous) in my notebook, for me to scribble down any interesting phrases or advice that I have heard – this could be from podcasts, YouTube vloggers or even webinars that I tuned into!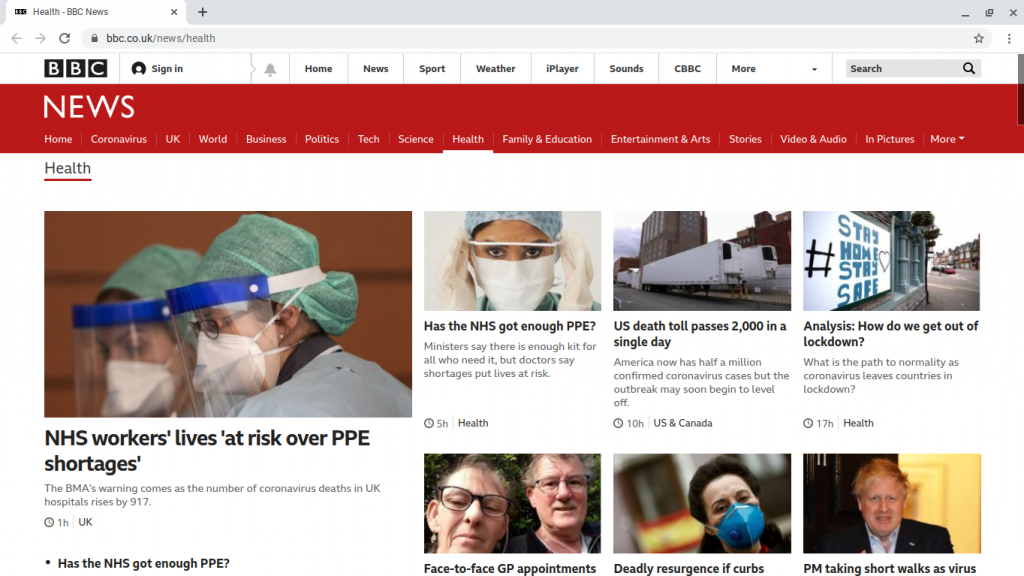 Also, make sure you stay up to date with hot topics in the news – for example, at the time of writing this, the coronavirus pandemic was the main hot topic. Previous hot topics have been: Charlie Gard case – right to life, decision-making involved; postcode lottery – unequal distribution of care in North and South. Be sure to Google these if you have not heard of them before!
---
PERSONAL STATEMENT: START WITH BULLET POINTS
So, if you are at the stage where you are ready to write your personal statement, where do you even begin? I remember when I first sat down I stared at my Word document for an hour and had no idea what to do, even though I had read lots of examples and guidance online. I got frustrated with myself because I knew I had content but I didn't know how to get it down. I wanted it to be perfect, but as you will have read from before, it took me 10 drafts to be satisfied with it!
I've added this checklist here again, because this formed the basis of starting to write down content. I wrote down in bullet points everything I had to answer each question into a table – here is a rough example of how I began to fill in the table so you can get a picture of what I mean:
Why
medicine?
– Motivation: chronic pain condition as a child – inspired by my treatment
– fascination of human biology
– love interacting with new people and working in different environment
– love a challenge
Work
experience
Week on rheumatology ward:
– what I got to see: …
– what did I learn from it? ….

Voluntary
experience
Day centre volunteer at hospice:
– details of role:
– what did I learn from it?….
Shop volunteer:
– relevant skills: customer service, leadership, etc.
Intellectual
curiosity
– A level biology – e.g. further reading on lymphocytes
– read a paper on … – what I learnt from it:…
– Book – Being mortal, Atul Gawande – what I learnt …
Extracurricular
activities
– violin – performance diploma/ symphony orchestra leader – skills from this: dexterity, control, time management
– senior prefect – skills from this: demanding role, teamwork, role model
– to relax: puzzles – particularly Hanjie and logic problems which also engages critical thinking
Other personal
qualities
– hardworking, focussed, logical – good decision maker
– bubbly, approachable – useful for communication
– more points?
The key thing to note is that for every single point that I put down – I put an explanation as to why it was relevant for medicine/ what I learnt from it. If you can't think of a reason, still put it down but put it in brackets! When it comes to forming sentences, you need clarity and explanations. Remember you only have 4000 characters for your personal statement, so you need to make each word count.
So what next?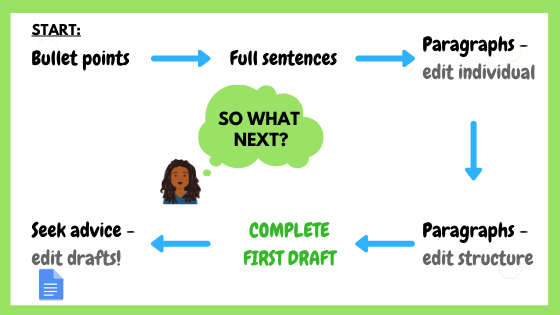 Once I filled the table in with short bullet points, I made a copy of the document and this time I made the points into fuller sentences. At the bottom, I made note of any key phrases that came to mind as I made each point into a sentence.
Made another copy of the document and this time, took out the sentences from a table so it looked like paragraphs – could now see the start.
I went through each paragraph – read them out aloud, changed sentences around to get a flow in each individual paragraph and added any extra information that came to mind. I did the introduction last because I knew I would change it so many times (which I did) so wanted to focus on the middle content.
Made another copy of the document and this time, I read it out aloud from beginning to end. This copy I wanted to work on the structure – I decided to combine some of the sections from my intellectual curiosity section with my work experience paragraph. I cut down some of the extracurricular activities. Decided to work on a short conclusion.
I read it out aloud again – it was by no means perfect and it was certainly over 4000 characters, but at this point I could class it as my first draft and when I started in September, I had it proofread by a tutor who gave me pointers on how I could improve it, but I have to say the greatest eye of all = Mum!
I went back and forth to get the correct word count and make it clear and engaging. It actually took a lot of work, and although the way I have described makes it sound easy, it did make me stressed at the times but I am so grateful for the support I had for it. Note start it by yourself before you seek help! I've had a few students ask me for help and turns out they wanted me to write it for them. My first answer is always NO because actually a) your personality will come out in your writing style; b) if you have nothing at all, you have made no effort in even trying and c) it is simply lazy! Give it a go – feel free to comment or message me on UniBuddy. I'd love to see if my technique helped you! I will do a blog on finalising the personal statement later on!
---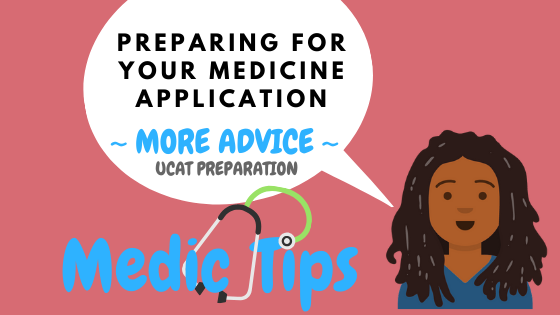 ---
Comments