A day trip to Swansea
16 March 2023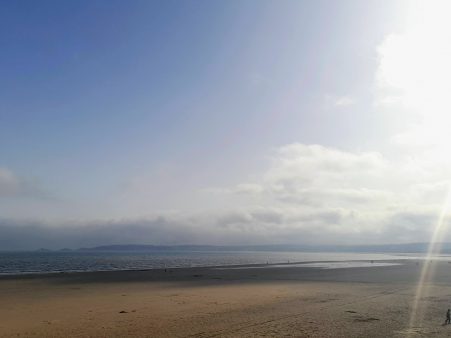 As Spring is approaching, Cardiff students may be scouring the internet for beach days from Cardiff. One of the first options would be the beautiful golden sands of Swansea bay. Only an hour away from Cardiff, this Welsh city is easily accessible via train or coach and has plenty of activities to fill a day. I last visited Swansea last summer and can confirm that it is the perfect location to make the most of the improving weather.
Relax on the beach
Swansea beachfront is one of the main attractions to attract people to Swansea. With miles of sand to stroll along and enjoy the scenic view of the sea, beaches in this area are well-known as natural beauty spots. You can find out more about the beaches and the water quality of the sea here. Despite being able to spend an entire day on the beach with a book in hand, there is more to Swansea than its scenery.
Wonder around the National Waterfront Museum
The National Waterfront Museum is a must-see while in Swansea. With the help of interactive displays, the story of the development of industry in Wales is told. This is such a great insight for students with an interest in discovering local culture and history. As an English student studying in Wales, I found this particularly intriguing to learn about the development of South Wales which I was previously very unaware of. 
Swansea Market
The Swansea market is a particularly favourite spot of mine. When visiting, I was surprised by its size and the wealth of local confectionery available and places to eat. As the largest indoor market in Wales, there is something for everyone, from cafes to studying to a variety of food options. 
Swansea Grand Theatre
At the heart of Swansea's cultural life, the Grand Theatre is known for its beauty. The eccentric Victorian design provides the perfect setting for the myriad of shows, bands and comedians which occupy its stage. From tribute acts to musicals, there is something for everyone to enjoy. This makes Swansea Grand Theatre a great option for planning to visit Swansea for a day. You can see what's on here. 
Glynn Vivian Art Gallery
For art lovers to those who simply want to escape the sun for an hour or two, Glynn Vivian Art Gallery offers local and international art exhibits and a café which everyone can enjoy. This month there is an expedition from behind the scenes of the BBC and HBO's His Dark Materials, for those who enjoy local art, the Swansea Open displays art from the competition for local people. 
Here we have the ultimate starter suggestions for a day in Swansea. A visit can help you get a taste of South Wales outside of Cardiff, while learning about the development of industry – as well as letting you enjoy the local beaches and scenery. This means that a day trip to Swansea is a must-do while studying at Cardiff and, as the weather improves, there is no excuse to not visit this Welsh city.