Studying in Wales from an English students perspective
21 February 2023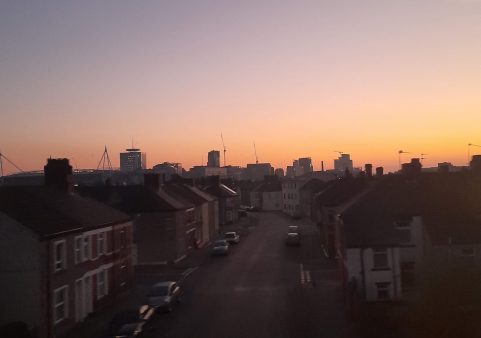 Although the use of Welsh on signs was something that I found particularly exciting when I first came to Cardiff, it is not the only difference of living in Wales as an English student. Studying in Wales has given me a unique insight into culture and politics. Being an International Relations student, I've found it so interesting to observe the Welsh-English dynamics through learning about Senedd Cymru, the independence movement and Welsh culture. 
Discovering Welsh government 
Despite living close to the Welsh border growing up in England, I didn't actually visit Wales until I went on a school trip to Cardiff Castle when I was 13 years old. Little did I know that I would end up moving here. With Cardiff being my second choice university and applying during Covid, I actually knew embarrassingly little about Welsh culture and politics. I even didn't know that Wales has established its own government until surprisingly late. Perhaps it's because English school systems neglect to educate people on English colonialism in Wales or my own failure to learn despite my desire to travel. Having lived here for 18 months, I have witnessed independence protests, learnt about Welsh history and learnt (scratched the surface on) Welsh politics. Simple facts such as Wales' persistence with a Labour government while England sways for a Conservative one. This has also helped develop my understanding of other issues surrounding the UK, such as Scottish Independence. It's also been very interesting to observe the difference in funding priorities in Wales, from free prescriptions, and student loan increases for Welsh students actually being in line with inflation and funding for students with learning disabilities, demonstrating what England is missing.  As a consequence, despite being in Cardiff was not part of my original plan, I have no regret about moving here and learning to see these issues in a new light. Living in Wales as an English student is a really eye-opening experience, offering a unique insight into British culture.
Wales is beautiful
Living in Wales opens you up to a new world of nature to immerse yourself in. For instance, despite living in the heart of the capital city, the Beacon Beacons is just an hour's drive away. Having such easy access to nature and the sea has provided great opportunities for an escape from university to a local beauty spot. A key experience is a sunrise at Barry Island, a surreal experience. Witnessing a golden sunrise reflecting in the sea from a quiet beach is magical, but I would definitely recommend remembering flip-flops and a towel for walking on the sand (which I learnt the hard way). It's even only a 30-minute train ride from Cathays. 
Studying in Wales as an English student is definitely a unique experience, I've learnt so much here that I couldn't have elsewhere. The people are so kind to the point where I sometimes find it surprising when I'm in other cities and not greeted with the same familiarity. Cardiff, and Wales as a whole, are definitely great places to experience student life. This explains why Cardiff is dubbed the 4th best student city in the UK.