The Cardiff bucket list: must do things in Cardiff
21 February 2023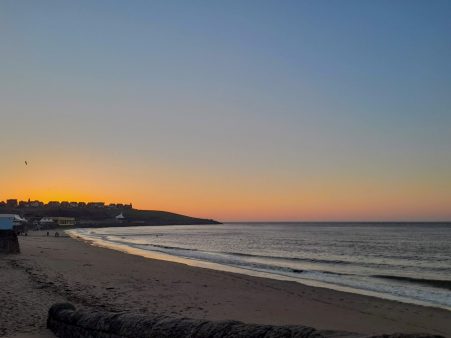 When you first start university, it can feel like it will go on forever. Unfortunately, in reality, it is only a short time of your life. Having just reached the halfway point in my degree, I was struck with this feeling of panic that there was so much that I wanted to do in Cardiff, but such little time. As a result, I've begun accumulating ideas for my Cardiff bucket list, which I've decided to share. Here is a list of things that you just must do before you graduate. 
Sunrise over Barry Island 
Waking up at 4.30 am to get a train to Barry on a freezing March morning wasn't exactly my idea of fun, but watching the sunrise over the sea was the perfect way to kick off my day. Reconnecting with an old friend for hours, chatting mindlessly about our lives while watching the sunrise get brighter and brighter was a very special experience, perspective-changing that I think every student in Cardiff should experience at least once. 
Bute Park to Cardiff Bay boat trip
When I came to Cardiff on a solo day trip when I was considering choosing it for university, I went for a walk in Bute Park to find the boat dock and was invited to join the trip to Cardiff Bay. Unfortunately, I didn't have the time until my train back home to be able to go but it lingered on my mind. In my first week here, I dragged some new friends to do the boat trip for the first time. It's definitely a unique way to see the city from the water and an experience worth doing at least once. 
Walk to Penarth
Along the lines of exploring Cardiff Bay, there is an excellent scenic walk you can do across the barrage to Penarth. The walk offers beautiful views across the water as well as being a great vantage point to see the bay from a different angle. On the way, you walk through the beautiful Alexandra Park, until you reach Penarth pier. This makes for the perfect day out from Cardiff. 
Visit the Brecon Beacons 
Not having access to a car, this isn't something that I've tried yet. Something on my own Cardiff bucket list is a visit to the Brecon Beacons. You can witness the views of the beautiful Pen y Fan, or visit some of the many waterfalls. This is an idyllic day trip from Cardiff and such a short journey. If you also don't drive, there are some bus routes into the Brecon Beacons, but it might be worth planning your day. At certain times of the year, the Students Union may offer some give-it-a-go trips too. 
These are some of the great must-do things while being a student at Cardiff University. While focusing on your studies, it's important to appreciate the short time that we will be students, be adventurous and get to know the local area a little bit better.