The best breakfast/brunch spots in Cardiff
22 February 2023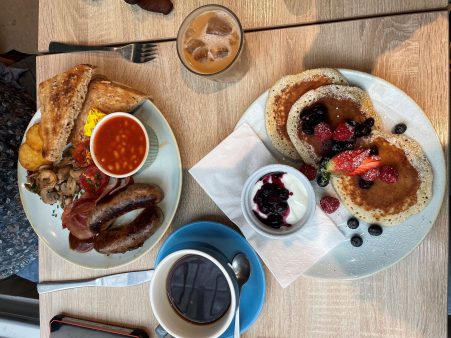 Brunch: the most important meal of the day (some may say). As we settle back into the swing of university and regain some routine, it's still important to factor in some time to enjoy ourselves alongside our studies. The workload is definitely starting to ramp up now, but it's really important to find some time to have fun!
For many, this might look like a night in the SU or a trip to the pub, but if, like me, you prefer a wander into the city centre and a visit to a café for some smashed avocado and poached eggs (also great after a night out, might I add) then have a read of some of my favourite independent breakfast and brunch spots in Cardiff. I've rounded up my top picks, all of which source their ingredients locally from Cardiff suppliers, so you can enjoy your eggs knowing you're also supporting local businesses.
Located in Wyndham Arcade between Mill Lane and St Mary Street, Waterloo Tea is a lovely little spot for a quiet brunch with friends. As the name suggests, it offers a multitude of teas and infusions, as well as coffees and cold drinks. Serving an all-day brunch menu until 3pm which includes plenty of vegan options, they pride themselves on sourcing ingredients from local suppliers.
At the counter, you will also find a delicious selection of locally sourced cakes, again with a variety of both vegan and gluten-free options (my personal favourite is the chocolate and avocado cake.) I believe they also offer Afternoon Tea, which can be booked in advance. The teahouse boasts a relaxed and calm environment, and the service is extremely friendly. There are two floors of seating, as well as some extra tables on the exterior. The Cardiff Arcades themselves are lovely places to wander through, so if you fancy a delicious brunch in an aesthetically pleasing setting, this is the place for you. Open Wednesday to Sunday, this has become a go-to spot for my friends and I, (although be aware that it can get pretty busy at around 11am on the weekends, so get there early!)
Just a stone's throw down from Waterloo Tea, and created by the same team, this is another spot located in the Wyndham Arcade that has become a bit of a go-to for me, especially when my parents visit, which might have something to do with their affordable prices and no-fuss breakfast options. Taking the same approach to their menu as Waterloo Tea by sourcing all local ingredients from Cardiff Market, the Wyndham Cafeteria offers what I would call a classic breakfast; I'm talking cooked breakfast, bacon sandwiches and pancakes. By no means, however, is their food basic. Their menu includes all the typical fry-up options, as well as their American-style pancakes and a selection of brioche buns with various fillings (I recommend "The Hashroom" if you like hash browns.) The interior is simple but attractive, and with a casual and relaxed environment, it's a great place to go for an easy breakfast. Open 8am-3pm Wednesday to Sunday, this is an absolute gem of a café that I can absolutely see myself going back to regularly.
As stated on their website, "Kin means family, ilk is your kind". This is a small Cardiff-based chain that opened their first shop in 2015, serving fresh and locally sourced food. KIN+ILK is a more modern, minimalist approach to a café that has become especially popular among students and young people. With locations in the city centre and Pontcanna, they offer a wide variety of specialty coffee, loose leaf tea, and an all-day brunch menu. From sourdough to pancakes, their menu has all the elements you would expect from breakfast food with a little something extra. If you don't have time to stop and eat, you can also pick up a fresh pastry or choose something from their "Grab + Go" menu to take with you, from a selection of options including toasties, wraps and baguettes. They are open Monday-Sunday, and with a location right in the city centre, this is a great spot for brunch, a good coffee, or even to study with your friends.
So, there you have my roundup of some of the top brunch spots in Cardiff. There are plenty more out there, many of which I am yet to try myself, but hopefully this will give you an idea of how much Cardiff has to offer in terms of local and independent spots. Happy brunching!