Calling CS industry leaders! Join us to train tomorrow's experts
2 June 2023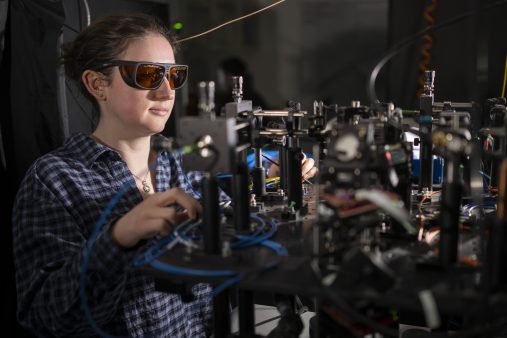 How industry can support a CS student to solve a real-world problem
The Centre for Doctoral Training in Compound Semiconductor Manufacturing is unique among doctoral training Programmes in providing both intellectually challenging and industrially relevant training to PhD students.
Run by Cardiff University with our partners, the Universities of Manchester and Sheffield and University College London, all PhD projects have an industrial partner as a co- supervisor, to enable students to produce CS research which is transferable to industry and can be translated into production.
We are now recruiting a fifth and final cohort of students for the CDT in its current iteration. They will start their MSc in Compound Semiconductors, following either an electronic or physics/photonics route, in October this year.
The CDT is currently compiling a list of projects from which these students will choose their PhD topic, before starting this as their MSc dissertation in 2024 and then transitioning that to their PhD in October 2024.
CDT Manager Sarah Brasher explained how CS industry can get involved in this scheme.
"We are looking for real world CS manufacturing problems which can be turned into a PhD project. Companies get to define the research problem alongside a team of academics. Those that do not currently have academic contacts can get in touch and we will do our best to find them potential co-supervisors from one of the four partner universities, Cardiff, Manchester, Sheffield and UCL"
"This represents amazing value for a company – companies get a highly skilled student, already with at least one MSc under their belt, devoting three years of their life to solving their specific research issue, and backed by some of the most renowned scientists in the sector, all for approximately £14k a year for three years".
The CDT already partners more than 20 industry leaders in CS research, including some of the biggest manufacturers in the sector, including IQE, Leonardo, Rockley, Zeiss, Oxford Instruments, Lumentum, and Mitsubishi.
We also work closely with newer and emerging companies, some still at the spin-out stage, such as Applied Nanolayers, SEEQC and Ionoptika, who value the ability to involve intelligent and committed researchers at very low cost.
If you would like to know more about the CDT and their current project call, visit their website at EPSRC Centre for Doctoral Training in Compound Semiconductor Manufacturing (cdt-compound-semiconductor.org).
Alternatively mark a date in the diary to attend the upcoming Industry Collaboration Day on 4th July, at the new state of the art Translational Research Hub in Cardiff, where current academics in CS Research will be available to discuss their areas of interest and how it might mesh into industry needs.
The closing date for the submission of projects is 30th September, but they must be submitted by the Lead Academic Supervisor. Contact semiconductors-cdt@cardiff.ac.uk for more information.