Nobel winner opens Net Zero industry hub
5 June 2023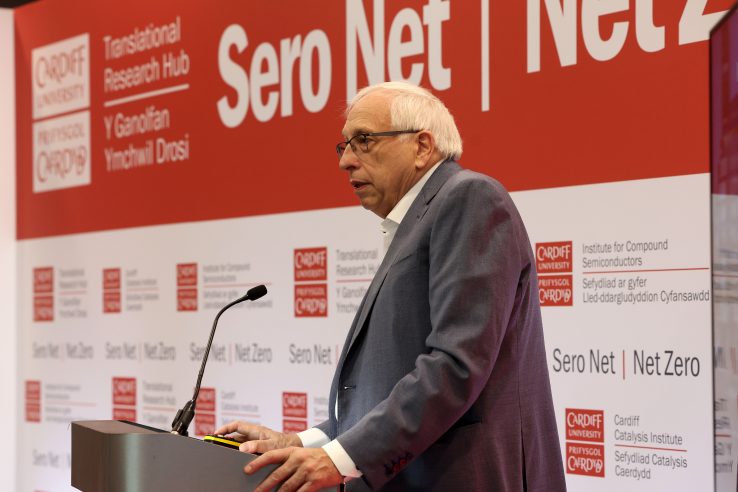 Nobel Peace Prize-winning US climate scientist, Professor Donald J. Wuebbles, has launched the UK's newest centre for Net Zero industry solutions.
A former White House advisor and co-recipient of the 2007 prize, Professor Wuebbles formally opened the Translational Research Hub (TRH), which brings industry and experts together to solve complex global challenges. Here, we highlight opening speeches…
Professor Colin Riordan, President and Vice-Chancellor, Cardiff University
"Welcome to the Translational Research Hub! Through our unfailing commitment, and with support from industry, government and public sector partners, we have built this 'best in class' facility, which opened last summer.
The Hub is testament to our determination to provide for industry and for society: to build and develop next generation technologies that attract investment, create prosperity and contribute to Net Zero.
During my decade as VC, we have delivered a campus masterplan by freeing up university finances, raising a bond, and attracting research funding to build an array of bespoke facilities that attract outstanding researchers who can develop new processes and products with industry.
The buildings on our Innovation Campus are individual magnets for excellence, and home to our new Innovation Institutes: the Net Zero Innovation Institute, based here in TRH; next door in sbarc|spark we have the Data Transformation Innovation Institute and the Security, Crime and Intelligence Innovation Institute, and, in neighbouring Hadyn Ellis, we have the Neuroscience and Mental Health Innovation Institute.
Our talent for building partnerships was a major factor in funding this building. TRH attracted income for its build from multiple sources: the UK Research Partnership Investment Fund, Welsh Government, the EPSRC, the Wales European Funding Office and the Higher Education Funding Council for Wales.
Above all, our people are key to our future success.
Thank you very much. Diolch yn fawr iawn."
Professor Rudolf Allemann, Pro Vice-Chancellor, led TRH towards completion.
"Built with industry, for industry, the TRH is a magnificent industrial facility dedicated to disciplines that support us in our quest for Net Zero.
In TRH, we collaborate with commercial partners to bridge the gap between research and business. We develop new products and processes for a cleaner, greener, sustainable future – from cleaning up chemical processes to developing better transport systems.
Under this roof, talented people from two of the university's leading research and innovation centres – Cardiff Catalysis Institute and the Institute for Compound Semiconductors – are providing the expertise to help us reach the UK's Net Zero targets.
Cardiff Catalysis Institute collaborates with international scientists and chemical engineers in exploring advancements in areas such as fuel production and water consumption. Catalysts speed up chemical reactions, making key processes feasible, scalable and economically viable. They are the heart of nearly all industrial processes and products.
The Institute for Compound Semiconductors (ICS) is a bespoke facility for researching, testing and commercially developing compound semiconductor technologies. Using elements either side of silicon in the period table, compound semiconductors are superfast next-generation electronic chips. They will drive our lives in the 21st Century, from the Internet of Things to robotics, autonomous vehicles, 5G and healthcare technologies.
Alongside the two institutes, TRH is home to our newly-launched Net Zero Innovation Institute. It brings together expertise from disciplines including physical sciences, engineering, the built environment, biosciences, geosciences and planning.
Above all, TRH has been built with a high degree of openness. Its glazed corridors, offices, labs and walkways put science on display, as you'll see if you walk past the newly-created ICS Clean Room, an open-access facility which enables the production of CS wafers up to eight inches in diameter, crucial for industrial relevance.
Indeed, 'we are an open facility' could be our motto. We are open to industry, open to partnerships, open to innovation. Thank you. Diolch yn fawr."
This slideshow requires JavaScript.