Looking for love through music?
1 February 2021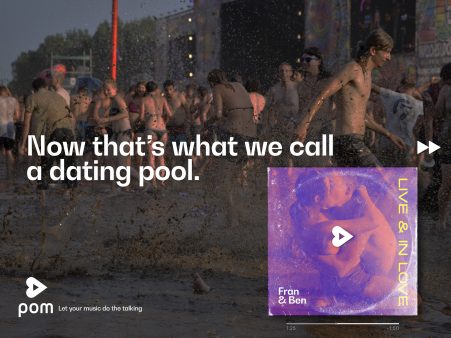 Cardiff University student start-up POM bids to forge meaningful connections through a shared love of music.  Here, founder and CEO, Vihan Patel (BScEcon 2020) outlines his eureka moment, the turning down of a graduate job offer and his journey of entrepreneurial discovery to raise £250,000 – less than a year after graduating.
"The 'eureka moment' for me was an event I hosted in my second year at university. The event was for a different genre of music to my other events and the crowd was very different to what I was used to – from the way they dressed, to the way they spoke and even what they drank. This made me realise that the music we listen to has an impact on who we are with the potential to connect people and in-turn create relationships. All the pieces fell into place and I knew that I had to start what would become POM.
Dating apps have become superficial and extremely 'gamified', reducing dating to swipes and a game of hot-or-not focused on the angle of a holiday photo rather than a person's emotional character. This can feel impersonal and inhuman and I felt that it removed the magic of dating. In POM I am trying to bring back the organic nature of meeting someone, building an app that can still feel as exciting as meeting someone in a bar or a club.
The beautiful thing about music is that transcends race, religion, language, and every other barrier you care to think of. Music is truly universal. I could play a song to 100 different people from 100 different countries and they would all be able to feel it and take something away from it emotionally. POM is fundamentally built to be global and to change the way people approach and think about dating apps. Superficial means of dating are a fad and real, genuine connections are the ones that last.
We are looking to launch in London but expand aggressively soon after. The aim being to partner with the largest festivals/events and take POM out of the purely digital space and into the real-world we want to drive people to meet through the app but experience events together. The Covid-19 pandemic has obviously had an impact here, but we believe the pandemic has really shown people the value of human contact and emotional support.
We are an ever-growing team of five; me, co-founder Vlad and our three amazing Tech leads. From the very beginning I have learned that a title in a start-up means basically nothing: everyone has to wear multiple hats. Technically, my title is 'CEO', but I work on marketing, branding, tech, legal and everything in between.
And how did I get the idea off the ground? During lockdown one, where I was mean to be revising for the online exams, I mapped out the business plan, but realised that I needed money. So, after completing my exams, I literally googled "how to raise money", and it said you need to find angels.
I took to LinkedIn and sent out 221 cold linked in messages asking if they'd be interested in discussing further, and each with an individual video message and a unique pitch deck tailored to their previous investment strong holds – e.g if I saw they'd invested into a SAAS product before I'd emphasise the SAAS element of my product etc.
With the climate at the time the appetite to invest wasn't there so out of that 221 only 31 replied. But we didn't give up. After that it was more video messages, and a few zoom meetings, until we managed to find our 9 wonderful investors, raising £250,000 in a matter of weeks based on a start-up valuation of £1.1m."
When asked about starting a business straight out of university, I often remember the risk I was taking. Turning down a job offer to pursue this was a big thing for me. I overcame the fear with the belief that POM was something special. I have not looked back since. The longer you wait, the less likely you will start. Take the risk while you can!"
Vihan Patel
Founder and CEO, POM