Catalysing Innovation
25 January 2021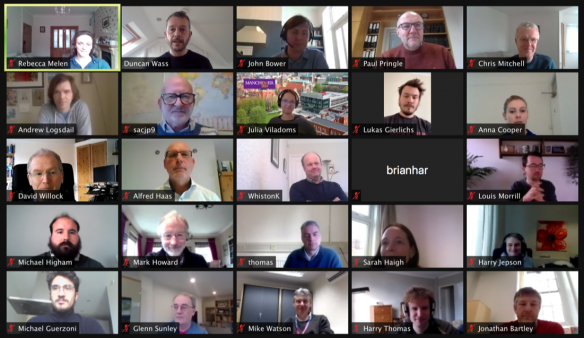 Switching online for its eighth annual conference, Cardiff Catalysis Institute's showpiece symposium continued to attract top speakers from academia and industry. Institute Director, Professor Duncan Wass, outlines the success of the recent event. 
"It's long been the highlight of the Cardiff Catalysis Institute calendar. The CCI Annual Conference attracts experts from around the world. We usually meet over two days, enjoying lectures, lunch and presentations from researchers in the University's Main Building, together with a set-piece dinner to thank our collaborators for their continued support. 
"Despite the rigours of the pandemic, our 2021 event continued to blend academic expertise and industry application. In all, some 120 guests logged into our online sessions over two half-days.  
Among our distinguished speakers, Professor Ben Davies FRS, University of Oxford, outlined his research group's focus on the chemical understanding and exploitation of biomolecular function, with an emphasis on carbohydrates and proteins. 
And it was wonderful to welcome Professor Nora de Leeuw back to Cardiff, albeit virtually. A specialist in computational chemistry, Nora served as Cardiff's Pro Vice-Chancellor, International & Europe, before joining the University of Leeds as the inaugural Executive Dean of the Faculty of Engineering and Physical Sciences. 
Regius Professor John Bower, University of Liverpool, shared his research group's insights into organic synthesis catalysis, whilst Dr Alfred Hass gave us a fascinating insight into the work of HTE – a German company specialising in high throughput experimentation.  
The striking, and perhaps most pleasing, overarching message from this year's event can be summed in one word: progress. In these most difficult of times, catalytic scientists are continuing to make advances and are eager to share their results. I think this shows the resilience of researchers in the CCI and more widely, even in the most challenging circumstances. 
We're really delighted that so many experts chose to join us online this year: it is clear evidence not only of our status as an internationally leading centre for catalyst science, but also of the spirit of the industries and academic institutions with which we work. 
We look forward to meeting face to face, shaking hands and sharing a meal in 2022. We hope it will be a landmark year for the Institute as we move into a bespoke Translational Research Hub on Cardiff Innovation Campus, complete with state-of-the-art labs, a microscopy unit and a suite of new offices.   
From this Home of Innovation, CCI will play a key role in our recovery by developing new technologies needed to achieve the UK's net zero carbon goals. 
Professor Duncan Wass, Director, Cardiff Catalysis Institute.