Banking on innovation
18 January 2021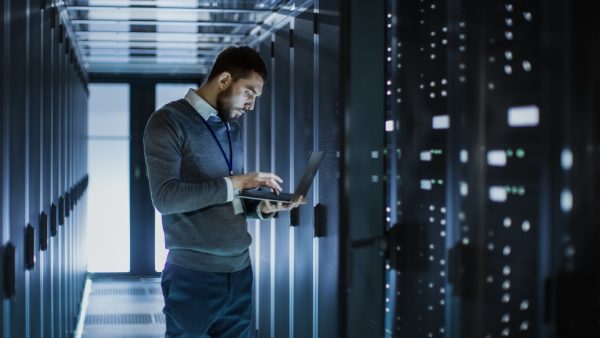 The Development Bank of Wales works with Cardiff University to turn research into products and processes that drive prosperity. Together, we share knowhow to nurture home-grown businesses. Here, Dr Nick Bourne, Cardiff University's Head of Commercial Development and Dr Phil Barnes, Investment Executive in the Development Bank's technology venture investments team, examine a long-standing partnership.
Dr Phil Barnes
"Working with Cardiff University brings great mutual benefits for Wales.
Set up by Welsh Government as Finance Wales 20 years ago, the Development Bank launched in late 2017 offering equity investment to give spinouts and start-ups the best opportunity to fly. During all that time we have supported the University's outstanding track record for developing innovative technologies.
Getting ideas off the launch pad is a major part of what we do. Through initial seed and venture capital, we provide equity to finance pre-revenue research and development costs, and currently hold more than 80 companies in our TVI equity portfolio.
For technology startups we provide equity investment from £50,000 to £5 million with £2 million available per round enabling innovators to start, strengthen or grow a business.
At the half year in 2020-2021, the Development Bank invested £137 million directly into Welsh businesses (including £92m from the Covid-19 Wales Business Loan Scheme). Our tech venture team invested nearly £5 million into 18 early stage businesses which leveraged a further £7 million.
We also keep a keen eye on regional incubators in Wales and have strong links with all HE innovation spaces across the country.
Cardiff Medicentre – the joint venture between the University and Cardiff and Vale University Health Board – has produced outstanding tech successes.
Prior medtech investments include three successful spinouts: Q-Chip (acquired by MidaTech Pharma), Intelligent Ultrasound (now AIM-listed), and Alesi Surgical.
In addition to providing venture capital, we facilitate co-investment from syndicates, angels and high-net worth individuals through Angels Invest Wales and offer a network of experienced contacts to help strengthen management teams.
Our partnership is built on long-standing cooperation. I worked with the Tech Transfer team at Cardiff University before joining the Development Bank, as did my colleague Carl Griffiths, our seed fund manager.
Together, we sit on the University's Commercial Advisory panel which meets once a month, giving us early insight into projects that might benefit from our support.
We are boosting our technology venture investment team all over Wales and we look forward in 2021 to working with Cardiff, helping more home-grown tech businesses to get the finance they need.
Dr Nick Bourne
"Our partnership with the Development Bank of Wales brings a whole host of benefits to our academics, researchers and business partners, and feeds into the wider economic footprint of the University on a Wales, UK and global level.
Not only that. The Development Bank's input and expertise has helped us maintain 3rd place in a recently published UK league table of universities with distinguished track records for spinout success.
The ranking grades institutions for their ability to convert research into thriving high-value companies.
Creating spinout – and sound business decisions – rely on good data. In 2018 Economic Intelligence Wales launched, a unique collaboration between Cardiff Business School, the Development Bank of Wales and the Office for National Statistics.
The research unit – with expertise from Cardiff Business School – publishes regular reports on finance, business and economic issues from the perspective of small companies in Wales, helping to build a body of objective, expert analysis, and helping to respond quickly and effectively to changing market needs.
We have a great relationship with colleagues at the Development Bank and these long-standing ties enable us to introduce them to potential spinout projects as and when appropriate.
Innovation is built on trust over time, and open feedback, and they can offer frank advice, telling us if a spinout is potentially at the right stage for investment, or whether we need to do more groundwork to prepare the fledgling business for the investment market in general.
In addition to roles on our Commercial Advisory Panel, their people act as external panel members and trusted advisers on our Impact Acceleration Account funding Panels with the Engineering and Physical Sciences Research Council (EPSRC) and the Science and Technology Funding Council (STFC), and provide expertise on projects along with other external panel members such as the Welsh Government.
We hope that our relationship will bear more fruit in the years ahead as we recover from the effects of the pandemic.
Many of Cardiff's future ventures will find a new home on our Innovation Campus, currently under construction.
Designed by award-winning architects Hawkins\Brown, our new sbarc|spark building will create a vibrant community where tenant companies and early-stage ventures use its bespoke innovation spaces, labs and lettable offices to connect, collaborate and create.
It will be in this melting pot of research expertise, entrepreneurial acumen and business support that we work with the Development Bank of Wales in the years to come, and we thank them and the Welsh Government for their ongoing help and support."