University delegates from Scandinavia visit Cardiff University's sbarc | spark
24 June 2020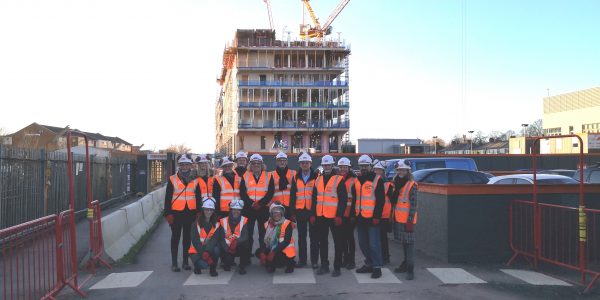 A delegation from Danish and Swedish universities, councils and business incubators has visited Cardiff University as part of a knowledge sharing event, focused on social and humanitarian sciences.
The visitors, from the cities of Aalborg, Århus, Lund and Malmö are collaborating on their own project Science for Society, helping PhD students form careers outside of research and increasing the impact of research as a means of accessing future research funding by ensuring its link to actual societal challenges.
Over the 2-day visit there was the opportunity to discuss approaches to societal research, student entrepreneurship and the similarities and differences between current strategies in Scandinavian countries and the UK. This included a visit to the construction site of sbarc | spark and a chance for question and answer sessions with SPARK academic director Professor Chris Taylor who spoke of the role of the new building as 'a front door of the university for policy makers, practitioners, private and third sector organisations, both in the UK and internationally, who are interested in the role of interdisciplinary research in tackling the greatest challenges facing societies'
Sally O'Connor, Cardiff Universities sbarc I spark programme manager said, 'This is one of a number of delegations SPARK has hosted from European Universities. I hope we can continue to share and exchange ideas and approaches over the coming months and years'
Ivan Butler of Aalborg University commented on the similarities in approach highlighted by the visit, 'what Cardiff University is doing on impact is either also being done by ourselves or is going to in the coming years in our Scandinavian context…There seems to be a rather fundamental agreement on the future of entrepreneurship, collaborations with society at large, impact and the need to be able to meet physically across disciplines.'
The sbarc|spark building is being built on Maindy Road as part of the wider Innovation Campus. The six-story crucible will be the world's first social science research park, co-locating leading researchers, practitioners, and policy makers. Based across three floors, Spark will be a bringing together of interdisciplinary expertise from ten Cardiff University research institutes with their partners to co-create innovations that can help make society healthier and safer.