Are you having a laugh?
11 May 2021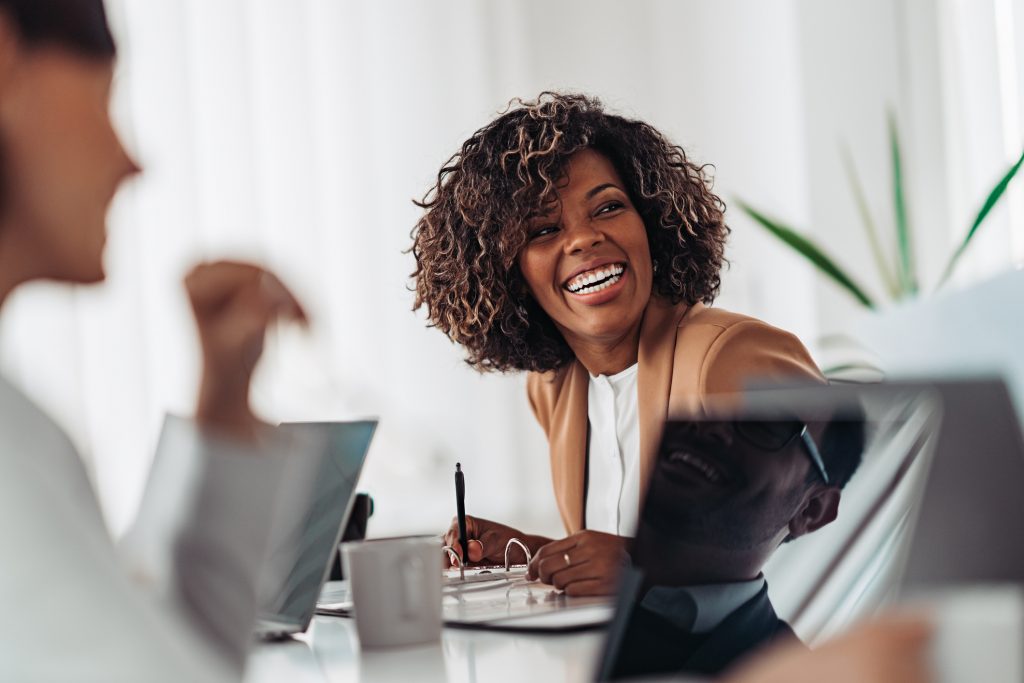 In our latest post, Dr Rebecca Scott reflects on the importance of humour in the workplace and its effect on human behaviours like leadership, trust, communication and relationship building in business.
As a consumer researcher, I've led projects on extraordinary experiences like offshore yacht racing and Tough Mudder. My research stream on the social and cultural aspects of consumption is orientated around 'the body' which has led me to explore consumption phenomena orientated around the darker aspects of multisensory experience such as physical pain, death, suffering and spatial isolation. The embodied experience of laughter was a road I was yet to travel.
But at the start of 2021 it was time for levity and laughter to take the spotlight. I read a book called Humor, Seriously written by my Marketing heroes, Jennifer Aaker and Naomi Bagdonas. Both authors are Marketing Professors at Stanford and they teach 'Humor Serious Business' on the Stanford MBA to some of the world's most ambitious and brilliant business minds. In this class and in their book, they outline how to use humor and levity to transform an organization. Students get the same credit on this course as they do for 'Managerial Accounting' and Financial Trading Strategy!
I won't claim to be an expert in the area of humour, but I'm passionate about using my academic platform to be a protagonist for its uses, both in my teaching and my forthcoming research. As we grow up and enter the workforce we become serious business people. I fell victim to this, and in doing so, I lost my levity in a sea of slide decks and emails. And that's a problem, because levity at work has so many powerful competitive advantages such as: idea generation, leadership, teamwork, trust, making an impression, getting your foot in the door and so much more.
For example, in 2019 a Harvard Business Review survey found that 58% of employees trust a complete stranger more than their own boss. 45% of them cited this lack of trust as the single biggest issue impacting their performance at work. And leaders agree, 55% of CEOs feel this lack of trust is a threat to organisational growth. Today's workforce are looking for authentic human leaders, aspirational yes, but also flawed. Humour humanizes us to our colleagues, breaks down barriers and balances authority with approachability. Research shows that the lack of levity in our work lives has dire consequences for our physical health, our relationships and our teams and companies.
Learn to laugh at work
In March, I had the pleasure of joining Rod Banner, founder of JoyTech [Business Architect, Brand Marketer and Technologist] and Neil Mullarkey, co-founder of The Comedy Store Players, to talk about the value of humour in the workplace.
Neil, who has appeared on Have I Got News For You, Whose line is it anyway? and QI is, as you can imagine, very funny, but he's also savvy about the part humour can play in our lives.
It was a fascinating and funny discussion, and if you're interested to the answer to the joke "what happens when a comedian, a technologist and an academic walk into a bar" this discussion is for you.
Humour at work
I followed up my discussion with Rod and Neil by participating in Cardiff University's Continuing Professional Development (CPD) Online Spring School programme.
The two-week long event ran from 12-23 April and was packed with free webinars, Twitter Q&A takeovers and other CPD content from across the University.
My session introduced the concept of 'levity', and illustrated how when we refuse to take ourselves so seriously we relieve ourselves of the stress standing in the way of serious work, create more meaningful connections with our colleagues and open our minds to more innovative solutions.
I showed how Humour at work has a wide appeal to all industries, but for the purposes of this session focused on its appeal to management consultants, graduates, and those in the early stages of their career.
If you feel inspired to spend more time in a state of "being receptive to, and looking for humor" [or indeed, levity], then I highly recommend taking a look at the video links in this blog and reading the book Humor, Seriously. I close with a thought from the Dalai Lama:
"Laughter is good for thinking because when people laugh its easier for them to admit new ideas to their minds."
---
Dr Rebecca Scott is a Senior Lecturer in Marketing at Cardiff Business School.