Where to walk in Cardiff
29 June 2023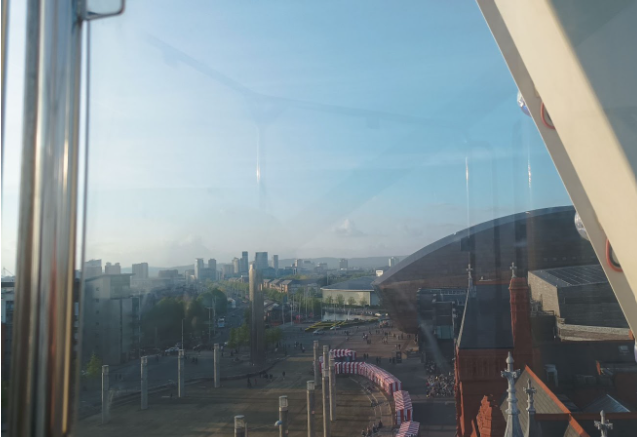 In the wake of the recent high temperatures and 21st June 2023 being the first day of summer, this blog aims to give you a guide on where to enjoy these long summer days with a walk. The NHS has identified how walking is often "overlooked as a form of exercise, walking briskly can help you build stamina, burn excess calories and make your heart healthier". In addition, there have been proven to be a lot of mental health benefits of walking. To help this, these are my favourite places to go for a walk across Cardiff.
Penarth  
Penarth is a beautiful, seaside town on the opposite side of Cardiff Bay to Cardiff. You can read this previous blog on what you can do with an afternoon in Penarth. This is one of my favourite places to walk, there is a small town to enjoy as well as the beach and pier. Additionally, a 30-minute walk from Penarth Train Station is Cosmeston Lakes Country Park and Medieval Village which is a great local nature spot to enjoy on a summer's day. 
Roath Park and Lake
Right next to Cathays, Roath Park and the lake is a great local spot for a walk in between work – or for when you do not want to venture too far from home. There is a great park and recreation grounds (which are also perfect for picnics!). This is perfect for a lap around the lake and a stroll to the park during a break in the day. If you find yourself to be hungry, my favourite Italian food in Cardiff is authentic street food from Puglia, by Franco Street Food, which is now located at the top of the lake, where you can purchase a snack to go on your walk. You can keep up to date on his Instagram.
Barry Island at sunrise  
Another beach stroll, Barry Island is less than an hour by train from Cathays. I particularly enjoy walking here at sunrise before it is too busy. Walking from Friars Point to the WWII Coast Artillery Search Light Emplacement is a great walk to see the best of Barry and enjoy the coast views of the Bristol Channel.
Alexandra Gardens, Bute Park and the Taff Trail
Another great walking location in Cardiff is Alexandra Gardens and the general Taff Trail. This is really close to Cathays and the university campus and has a great atmosphere of people enjoying the summer days. Servini's at The Summerhouse is a great place to stop for an affordable coffee with great views of the Taff River.
Cardiff Bay
Finally, Cardiff Bay and the Bay Barrage is a really unique area to enjoy a walk. When walking along the barrage, you have the experience of seeing the boats enter and exit the bay as well as having the Bristol Channel and the Bay to either side of you.
Ultimately, this blog aimed to give you ideas of areas in and around Cardiff to enjoy the mental and physical health benefits of a walk during the summer months. Cardiff is an excellent city to live in to be close to nature while still enjoying the benefits of living in a Capital City.