Top Tips For Making the Most of University Life in Winter
25 January 2023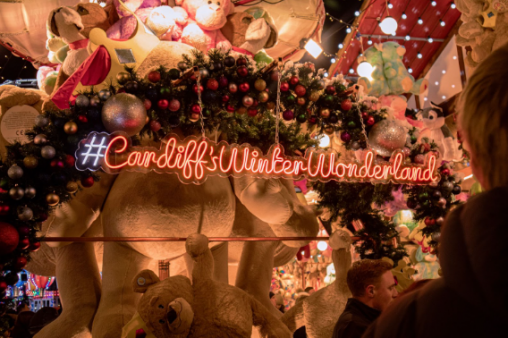 During the long dark days as we start the new year (and that time in the semester when there are mounting deadlines), it is important to appreciate the good parts of university life. Cosy up with these top tips to help you enjoy university life during the cold winter months.
Dress up! The cosy winter aesthetic is so fun and easy to replicate. You can add your own spark to your personal style and experiment with what makes you feel most confident. This is a great excuse for a fun shopping day at

St David's

and making use of your student discount, or, try something new and try the charity shops on

Albany Road

.

Do a coffee (or various hot drink) run to a café slightly further away from your accommodation, listen to music and enjoy your winter walk and the crisp air. 

Try something new. You could get a taste for natural wine at

Sibling

, or, try craft beer at

Paradise Garden

, on City Road, with some live music.

Get outside and appreciate moments of the sun. Seeing the sun in Cardiff in winter can be rare, so it's important to appreciate those moments, and take time to go for a walk in

Bute Park

or around

Roath Park Lake

. 

Go to the beach (but wrap up warm). Have a coffee while admiring the view from

Penarth pier

. While you're there, don't forget to explore the cute town and

Alexandra Park

!
Photo by Llio Angharad on Unsplash
Appreciate where you are in the moment, while taking a study break in your favourite café. Try journaling to write about the moment around you. This can help you appreciate where you are right now while leaving a memento for post-university you to look back on. 

Be intentional, for example, make a plan to watch a film with friends and snacks instead of binge-watching the entire season 5 of

The Crown

in bed one night. This makes it more of an intentional, fun experience, rather than passively watching shows for hours (though I am guilty of this too).

Remember your "why", is it to be a renowned journalist, like Rory Gilmore in Gilmore Girls

? What made you want to come to university in the first place? What makes you stay? Knowing this can help you be more intentional when engaging with your degree. 

Take care of yourself. For example, cook a new recipe with music and wine or develop a skincare routine to prevent dryness from the cold, winter air.
There are so many things that you can do to romanticise university during winter time. You can use these tips to enjoy your every day while studying here in Cardiff and really appreciate your time as a student in the moment.