Where to go on a Six Nations match day
1 March 2022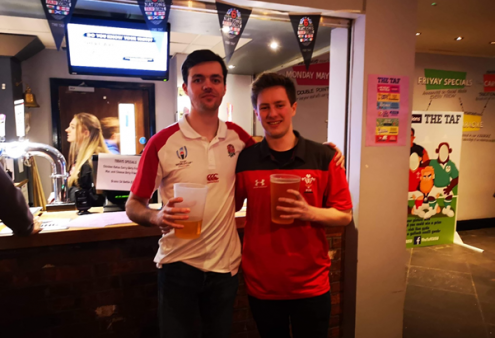 Every February the most highly-anticipated event in the Welsh sporting calendar comes round – the Six Nations. Whether you are an avid rugby fan or just a casual observer with no real investment in the game, it's difficult to avoid the excitement in Cardiff before every match. When Wales are playing away, almost every entertainment venue is packed full of spectators, however when Wales play at home, this hubbub of excitement is taken to new heights. Alongside the Principality Stadium's capacity of 75,000 spectators, approximately 250,000 people enter Cardiff on a game day, and with this huge crowd comes street venders, daffodils and if the Scots are in town, lots of kilts! As a student it is worth going into town just to experience the energy in the centre of the city.
There are many options for places to go on the day. If you are lucky enough to get a seat with friends or family in the stadium itself, then make sure to bring your glasses and adorn yourself in the best fancy dress/rugby kit you have, depending on who you are supporting. It's an experience that I would highly recommend every student does at least once, being a unique atmosphere that you will likely remember as a highlight of your time at Cardiff. For most of the matches though, it is far more common to either go to one of the pubs in Cathays, such as the Woodville or Taf, or to host a viewing party with friends at home. The friendly atmosphere and competition, particularly between Welsh and English fans, is unmissable and a great way to spend a Saturday. A word of advice, if you find work at a pub behind the bar, the Wales vs England game will probably be the most stressful day of the year for you.
I mentioned dressing up in your best rugby-fan attire if you are attending the stadium; however, this behaviour is certainly not limited to only those people. You will see some phenomenal outfits if you enter town on game day, yet even at the local pubs you will see dragon onesies, daffodil headpieces, and red face-paint, and that's just the Welsh supporters. Wherever you end up, you will likely get into conversation with other spectators, and I have made several long-term friends through people who wanted to see England beaten just as much as me!
My personal experiences of the six nations have included watching the games from all the aforementioned places, including getting to watch Wales win the Grand Slam in the stadium itself, a memory I will likely treasure forever. In the coming weeks, I will be exploring one more option for students on match day, working at the principality itself. For those who want to find some temporary work and enjoy the atmosphere of match day without being too worried about watching the game itself, this is a perfect opportunity! With the Six Nations being such an integral part of the Welsh calendar, my advice for any new students would be to throw yourself into the atmosphere and excitement of the weekends by watching at least a few of the games at a local pub or friend's house, gather some friends and expect to make more when watching the match.