Exploring Cardiff beyond Cathays and the City Centre
28 February 2022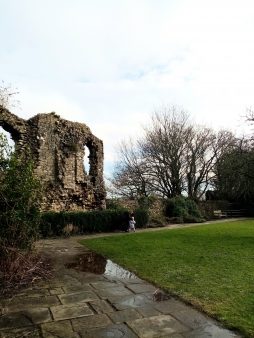 It's easy to stick to the areas of Cardiff that are close to campus, but there is so much more to explore in the city beyond the City Centre/Cathays area. With a few years living in Cardiff, it only seems right to become acquainted with as much of the city as possible, because it has so much to offer. Here are just some of the areas of Cardiff worth exploring if you're looking to venture off campus!
Llandaff
If you live in the Talybont set of residences, you're not too far from Llandaff – just cross the River Taff and you'll find yourself  here. This is a wonderful place to get away from the hustle and bustle of the city centre without venturing too far.
While here, take in the views of the grounds and interior of Llandaff Cathedral and admire its gorgeous architecture, dating back centuries. If the weather is good, grab a bite from one of the nearby cafes along High St. and take a seat in the gardens within Old Bishop's Palace to relax. Deli Bach just behind Garlands florist is a stone's throw away, serving up Welsh produce.
Heading westwards, you can find yourself at Insole Court, a mansion house nestled in a wide compound. Entry is free into the house and grounds, in which you can explore a part of Cardiff history. The house was once home to the Insole family, whose history you can read more about on the heritage attraction's website.
Canton
In contrast to Llandaff, Canton hosts more contemporary attractions, sure to satisfy university students. By far the biggest must-visit place in Canton would be Chapter Arts Centre. Home to an independent cinema, an art gallery and performance spaces, Chapter is perfect for those wanting to explore a part of Cardiff's art scene. There's also a Café Bar that is spacious and perfect for meeting up with friends and soaking in the creative atmosphere.
The main road cutting through Canton is Cowbridge Road East, and along here you can find plenty of eateries spanning different cuisines that are bound to satisfy your tastebuds. Looking for nature here? Try out Victoria Park and Thompson's Park, neither as big as Bute Park but still  nice treasures tucked away. Slightly further out you'll find The Bone Yard, with local businesses set up in shipping containers. It's a quirky attraction that makes for a fun Sunday outing.
Pontcanna
Neighbouring Canton, Pontcanna bears similarity with its wide range of eateries scattered around the area. Particularly if you're a student with School of Journalism, Media and Culture, you might become well acquainted to this area given its close proximity to the 2 Central Square building.
Have a wander around and you'll find small, cosy local cafes and restaurants serving up delicious fare. King's Road Yard is what one might call a hidden gem – you can easily walk past its entrance and miss it. While the space is tight, it is rich in its variety of occupants. From creative businesses to a Saturday Farmer's Market, this place is brimming with things to check out weekly.
These are just three areas that Cardiff has to offer. Each one with a different character, you're spoilt for choice with places to wander around. I hope you find this starting guide useful as you begin to broaden your hangout spots!