The musical opportunities at Cardiff University
25 February 2022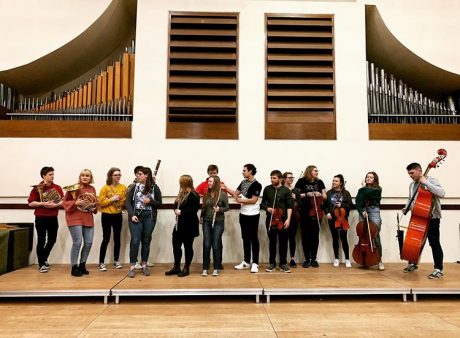 Whether you have Grade 8 distinction on multiple instruments or have just started singing and want to keep it up, there is a group or ensemble for every musical enthusiast at Cardiff. These opportunities can be neatly divided into university-run ensembles and those led by students. Whilst the School of Music offers a variety of high standard orchestras, bands, and choirs, many of which I have been a part of during my time here, the number of these ensembles is dwarfed by the number of performances put together by students (often with the assistance of university admin).
If you are a classical instrumentalist or singer, then I would highly recommend looking into the School of Music run ensembles. You DO NOT have to study music to participate! I've ended up spending more contact hours in the music block than in my subject school's building some semesters; wonder if I get extra credit for that? If you are more into funk, jazz, rock or pop music then I'd highly encourage joining societies such as the Music Society or Jazz Society to meet other like-minded musicians. Even if there currently isn't a group perfectly suited to what you want to play, you will likely meet other musicians enthusiastic to set up a new band!
For those of you who are highly proficient on your instrument or are an experienced singer, the School of Music ensembles are likely best for you, being auditioned. If you do not want to audition however, there are equivalents to all these groups led by students that are completely non-auditioned and much more relaxed, focussed purely on the enjoyment of their players who need a well-earned break from their uni courses. I could list the plethora of ensembles available at Cardiff, but due to their evolving nature I'll instead recommend checking out the School of Music and Music Society pages for full lists.
My personal experiences with music at the university have led me to perform with multiple orchestras, bands and student led groups, performing at venues such as the BBC Hoddinott Hall, St. David's Hall and Llandaff Cathedral. I have also been on trips to places such as the Royal Northern College of Music with the University's Symphonic Winds where we reached the finals of the National Concert Band Festival. I have had the pleasure of leading several ensembles and working with hugely talented students and conductors alike to reach some performances that I will never forget. All this is available at Cardiff, with the best advice I could give to any musician or music enthusiast being to just throw yourself into as much music as you can and worry about how you balance it with your course later!