Where to find sustainable fashion around Cardiff: inspired by @sustainablefashionshowcardiff
10 February 2023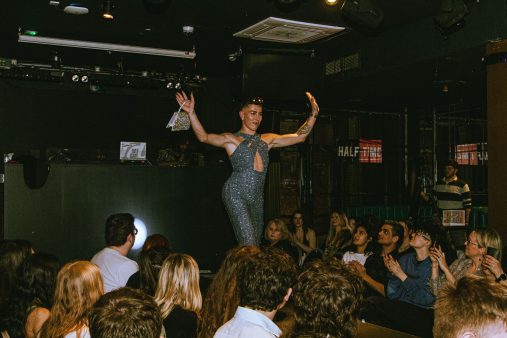 After working in retail fashion for a few years, I have become frustrated with the lack of sustainability in the production and distribution of high-street fashion products. I can sympathise with the common frustration with popular fashion brands being unsustainable. Being of the generation most focused on the impacts of climate change on the world's future and values sustainability, it can be frustrating that most fashion brands available to a student budget, such as many of our high street and online favourites, are environmentally damaging which directly work against the priorities of our generation. Therefore, this blog aims to get you started in where you can find sustainable fashion in Cardiff, inspired by the fantastic sustainable fashion show I recently went to in partnership with Cardiff's Sustainable Fashion Society.  
Angels Clothes Rentals  
Angels Clothes Rentals is a local clothes rental service in Cardiff which, in their own words, is "tackling sustainability issues in fashion [by] saving the planet one dress at a time." So why not try something new and rent a high-quality dress for your next university event, supporting a local business and the environment at the same time? This also helps a student's budget as it will often work out much cheaper than buying something new for each event while giving you the flexibility of trying multiple styles.  
Daydream Vintage  
Another great sustainable option is Daydream Vintage, a local vintage store with a well-thought-out selection of vintage clothing options. The queer-owned vintage shops offer unique, high-quality purchases. Located on Crwys Road, it is in a perfect location to browse after studying in one of the local cafes. If you cannot make the time you can also shop their selection on their depop.  
Penny Lane Vintage  
Located in Wellfield Court Arcade, Penny Lane Vintage is a local vintage boutique selling fashion, jewellery, antiques and gifts. Being a winner of the Best Cardiff Fashion Retailer award in 2016, the boutique is recognised for its hand-picked vintage clothes with fair prices. This makes for the perfect afternoon of coffee on Welfield Road, then exploring one of the best sustainable vintage shops in Cardiff.  
Fussy Vintage
Fussy Vintage is a quirky new vintage show (in a train carriage) in Barry. Even if you are not into fashion, it is worth following their Instagram for great sunset pics on the beach! This store offers sustainable sourced and one-of-a-kind pieces, inspired by the 70s, 80s and 90s. It is worth the journey to have a beach day and a sustainable vintage show; there are many colourful options. 
Unfortunately, this blog does not include all the great sustainable fashion stores in Cardiff, but we are always open to new suggestions. These options, however, should be enough to get you started in exploring the local sustainable fashion stores around Cardiff to help you move away from fast fashion options. This enables us to have fun while affordably supporting sustainable fashion options, keeping our generation aligned with our wider goals and priorities for the future.