The thrift shopping scene in Cardiff
17 June 2022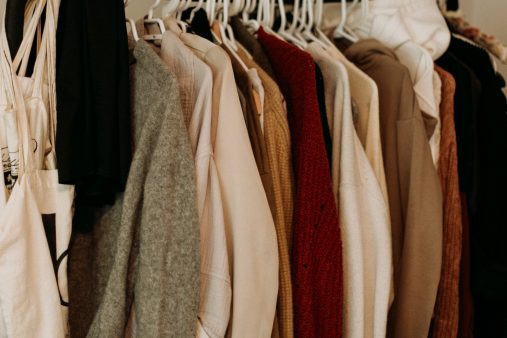 With the conscientious consumption of fashion on the rise, thrift shopping has emerged tremendously, with many people now turning to second-hand clothes rather than the conventional high street store. While Cardiff isn't the largest city, it does have quite a few thrift shopping options available so you'll have options available to you at your doorstep. If you're ready to start your thrifting journey, or want to continue, below are some of the thrifting places you can easily visit as a Cardiff University student.
Albany Road charity shops
Charity shops should be your first stop for any thrifting journey, since you not only get to give pre-loved clothing a new home, but also have your money benefit a good cause. Lucky for those of us in Cardiff, Albany Road in Roath is a congregation of charity shops of various causes. To name a few, there are the British Red Cross, Greyhound Rescue Wales, and the British Heart Foundation. Charity shops are probably the most affordable options on this list, and not only can you find clothes in them, but also goods like home decor, DVDs/CDs, and bags.
Cancer Research UK, City Link Retail Park
This specific Cancer Research UK outlet in Cardiff, located in City Link Retail Park, is a superstore and has much to offer. While charity shops are typically limited in its offerings and are in a cramped space, this Cancer Research outlet allows for a spacious charity shop experience. It is worth noting that it is a bit further out of the city centre which many Uni students are based in, if you're looking to visit a charity shop with many options, this would be your stop. As with every other charity shop, it's not guaranteed that you'll find a whole bag of items to your liking, but do give it a chance if you're willing to make the trip.
Children's Wales Air Ambulance Shop
This charity shop may not be obvious to many students who walk Queen Street due to its slightly more conspicuous location. However, this charity shop is surprisingly large given its central location. It deserves special mention on this list if you are hoping to decorate your Uni flat. From larger home furnishings like sofas, lamps, and even dining tables to the typical clothing fare, this shop means that if you don't wish to travel out for the Cancer Research superstore, you'll still be able to have a larger store close by.
Sobeys Vintage Clothing
Perhaps this is the most expensive clothing shop on this list, but it is the most creative, original one for sure. Located in the city centre in the Royal Arcade, Sobeys is tucked away from the crowds but beaming with beautiful clothing. While Sobeys does offer your typical vintage clothing fare that many other thrift stores do, they also offer reworked clothing. For example, denim dungarees made more colourful with sewn-on colourful fabrics to make the clothing piece pop and truly one-of-a-kind. It takes thrifting to a whole new level.
Hobo's Vintage Clothing
Hobo's is a student favourite, and for good reason – besides the student discount they offer. Like Sobeys, Hobo's Vintage Clothing is located in one of Cardiff's many arcades, this time in the High Street Arcade. Hobo's has many articles of clothing to choose from, spanning two levels. The ground floor has tshirts, hats, jeans, and pants to offer, with some shoes as well. The basement, which you access via a spiral staircase down, is full of racks of jumpers, raincoats/ski jackets, and coats. These are especially helpful to cope with Cardiff's erratic weather and cooler, wetter weather during winter.
Flamingos Vintage
Ever heard of a kilo sale? Flamingos Vintage is a permanent kilo sale right in the heart of Cardiff city centre, in Capitol Shopping Centre right by Queen Street station. A brightly lit store, find your next vintage outfit here, from head to toe. Flamingos has many different, carefully curated articles of clothing in store, and changes quite frequently. Clothes are tagged according to different prices by kilo, which works differently from many other thrift stores. You can be certain though, that at Flamingos you will find some hidden gems.
Bootysale
Last but not least, this list will not be complete without mentioning Bootysale, located on the ground floor of the Students Union. It is a new addition to the building, having opened in the later part of 2021. Opened by a former Cardiff Uni student, Bootysale allows students to sell their clothes for a small fee, to other students looking to buy second-hand. It's like the University's own little thrift shop, and perhaps knowing all clothing was once 'approved' by a fellow student is a perk?