Talybont Gate Interview
20 September 2020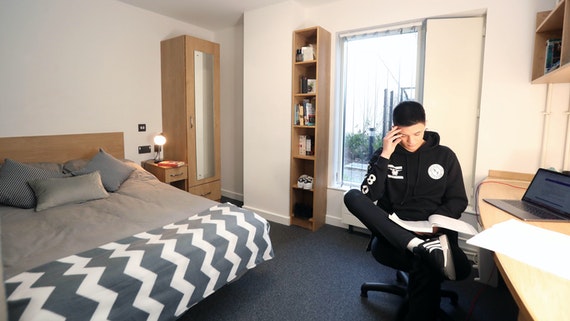 Beware the jealousy of Taly northers and southers, there were rumours of marble en-suites. This is not entirely true, but the bathrooms are very modern and much bigger than South and North bathrooms. To learn about what it was actually like living in these halls, rather than listening to the south laundry room talk, I interviewed Courtney.
What was your favourite thing about your halls and why?
I would probably say my favourite thing was how nice the rooms were and how close it was to Tesco.
What was something you wish you had been told before you moved in?
I wish I had been told that Talybont gate is one of the less social residencies, we went to South and North a lot for parties and pres.
If you could pick accommodation again, where would you pick (not to be with friends, but singularly about the accommodation)?
If I could pick again, I would probably choose South purely because it's a lot more social and I'd be willing to give up the nicer room for that.
Which shop did you mainly use?
Tesco extra was about a five minute walk from gate, so I mainly used that! It was definitely worth getting a club card considering how much we used it.
How did you socialise within the accommodation?
There were a few pres in other flats but I mainly went to south or court because the gate flats mainly stick to themselves.
How did you find sharing a bathroom if you did?
We didn't, we had really nice spacious en-suites.
What were three key points about the halls?
The rooms were really nice and they had en suites which was a really nice factor plus the kitchens were really spacious. The only downside was the laundry room was in north which was a bit of a walk!
Three key points I'd say would be the nice rooms, the closeness to Tesco extra and the en suite.
Could you describe the experience and overall vibe of these halls?
I had a positive experience overall; it wasn't overly social, but it pushed me to go out and meet new people as opposed to sticking with my flat. It's usually quite quiet so would be good for people who don't like going out.
If you want a space that you can concentrate and study in, with great rooms and an en-suite, while also getting to enjoy the social sides of Taly south and north – gate is great.