Talybont North Interview
20 September 2020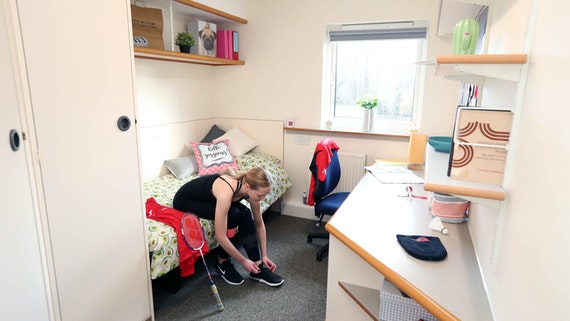 Talybont North is located between Talybont Gate and Talybont South, it's location is perfect for athletic students or Macdonald lovers (KFC is also round the corner). To learn more about what it was like to live in these halls, I interviewed Sasha.
What was your favourite thing about halls and why?
I loved the community feel in Taly North and how friendly everyone in my house was. My Taly house had balcony's outside each room which was a benefit when you wanted to get some fresh air or socialise outside of the flat without going too far – especially for smokers at pres or parties.
What was something you wish you had been told before you moved in?
I wish I had been told how much smaller the taly north rooms were in comparison to the taly South rooms! When visiting the accommodation, we were only given a tour of a Taly South room and I assumed they would all be the same size. That was just laziness on my part to not confirm though.
If you could pick accommodation again, where would you pick (not to be friends with, but singularly the accommodation)?
I would pick Taly South because the buildings were newer and nicer with more of a community feel. It would also stop people claiming I lived in the ghetto when I told them which halls, I was in.
Which shop did you mainly use?
I was in house C which meant I was really close to the smaller Tesco in between North and South so I could pop in there for a quick shop, but I wasn't too far away from big Tesco for a bigger shop.
How did you socialise within the accommodation?
We had a group chat formed before we moved in and the first few weeks were really social with a lot of big pres before we formed smaller groups. I really liked this as it meant I was familiar with the vast majority of people in the house.
What were three key points about the halls?
It was very friendly which made it easy to make friends
It was in a good location
Was very cheap and had en–suite!
Could you describe the experience and overall vibe of these halls?
Overall experience was very positive, main issue I had was an autumnal ladybird infestation. Everyone was really nice and we had a good system in the kitchen with sharing crockery etc. Would have been nice to have a better communal area with sofas like in taly court and gate but that would have come at a cost which I wasn't willing to pay.
The cheapest of the Talybont residencies, Taly North means you will probably still have some of your loan left over. It has everything you need and a great community spirit – not to mention being a hop, skip and a jump from the athletic pitches, the gym and the study room.