Talybont Court Interview
20 September 2020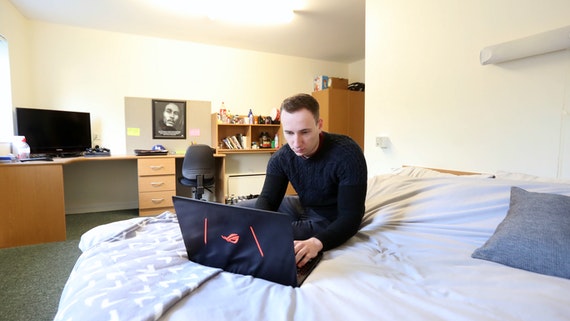 Talybont Court is next to Talybont South and the closest of the Taly residencies to university and town. It was great in first year for Taly-south students to go to for pres as it had such a good amount of living space in comparison to Talybont south kitchens. To learn more about what it was actually like to live here once the parties had finished and the spilled drinks were cleaned up, I interviewed Rhiannon.
What was your favourite thing about your halls and why?
My favourite thing about Court was the amount of space there was in the kitchen. With an open plan kitchen leading into a social space, court was the most spacious for pres. The bedrooms had a lot of desk space and also en-suite bathrooms meaning you didn't have to share with flatmates.
What was something you wish you had been told before you moved in?
Looking on all of the forums before uni, I knew some of the accommodation had silverfish insects, but no one told us about the ladybirds in the summer! We had to get rid of them ourselves.
If you could pick accommodation again, where would you pick (not to be with friends, but singularly about the accommodation)?
I would probably choose court again based solely on the quality of the accommodation.
Which shop did you mainly use?
Tesco express was just up the road, so we used that for little things like mixers or snacks, but for the main food shop I walked to Tesco Extra which was a bit further away.
How did you socialise within the accommodation?
I joined the group chats on facebook for freshers, found who I was going to be living with and got to know them a bit before I moved in. When we were all actually there, we went to parties or pre-drinks to meet people.
What were three key points about the halls?
The first point is definitely the spacious living area, it was such a good social area and much larger than South and North. The second key point would be the location, it is the closest of the Talybont residencies to uni and there are two really nice pubs just a short walk away. The third point would be that compared to Taly South and North, Court is relatively quiet. This means that when you need to study its really good, and its close enough to the parties at south and north that you can get the best of both worlds.
Could you describe the experience and overall vibe of these halls?
The overall vibes are good. It was definitely quieter than the other accommodations, but everyone is friendly and if you ever needed help you could ask the Court group chat – someone would always help you out! I can't complain at all as I got the best of both worlds since I managed to socialise in the party side of South and study in peace in Court when I needed to. Reception was always really helpful as well.